KOREA
In anticipation of a crisis in the Far East, Air Technical Liaison Officers (ATLOs) were sent to Japan. Within a few months after their arrival, North Korea attacked South Korea on 25 June, 1950. President Truman ordered US armed intervention two days later.
During the early days of hostilities, the ATLOs provided guidance and council to the combat forces in air technical intelligence. Captured enemy materiel and documents became available almost immediately. Information of combat significance was processed in Korea or Japan when possible, but large quantities of materiel and some documents were sent to WPAFB.
— Publication 5, Intelligence for Joint Forces, National Defense University, Armed Forces Staff College, Norfolk, VA, August 1985, page 331
By Jan L. Aldrich
The origin of ATILO's — Air Technical Intelligence Liaison Office — involvement in investigating UFOs reported in the Korean War Zone, began with the foundation of the requirement for a specialized group of Air Technical Intelligence operatives to assess the technological strengths and weaknesses of the Axis powers during World War II.
During War World II the allies fielded joint Technical Air Intelligence Units (TAIU) in the Pacific to find enemy aircraft that could be exploited for their intelligence value. These Air Intelligence personnel earned the nickname "Crash Chasers" for their efforts.
Crashed and captured aircraft were located, identified, and evaluated (often in or near the front lines), before being recovered for further testing. Aircraft that were not too badly damaged were rebuilt for test flights that revealed vulnerabilities and performance characteristics that could be exploited. Examination of the materials used in the construction of aircraft allowed the Allies to analyze Japanese war production and methods.
In the European theater, specialized Army Air Force and Navy units scoured the war zone for any valuable assets that could be recovered. These included enemy aircraft, test facilities, factories, technical libraries, and for human capital, technicians, engineers, scientists and test pilots.
In England, Col. Howard McCoy ran a huge facility dedicated to compiling, exploiting and microfilming German technical manuals, while Col. Harold E. Watson, a former Wright Field test pilot and engineer, was placed in charge of Operation LUSTY, an acronym for the endeavor to recover "LUftwaffe Secret TechnologY".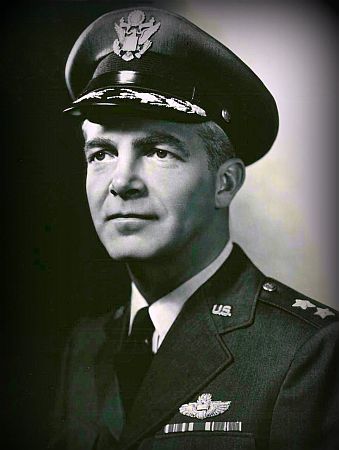 Brigadier General Harold E. Watson
Col. Harold Watson became legendary as the commander of "Watson's Whizzers", a dedicated retrieval team specializing in the capture of advanced Nazi aviation equipment and technology which was later repatriated to the United States as part of Operation Seahorse. Interestingly, the name "Seahorse" was an anagram for Colonel Seashore, the officer assigned to handle the delivery of the captured materiel to the United States aboard the HMS Reaper, an aircraft carrier on loan from the British Navy.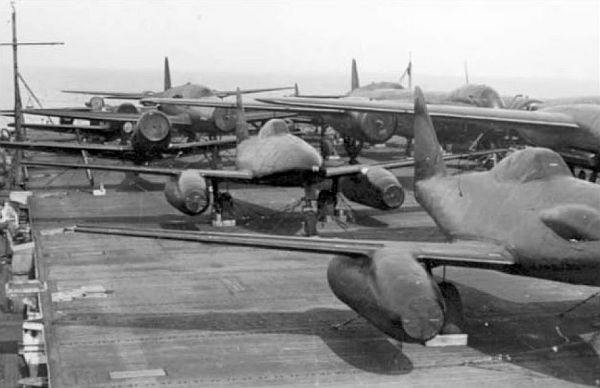 The spoils of Operation LUSTY. Captured German aircraft
on their way to the USA aboard HMS Reaper.

After the War an Air Intelligence Branch commanded by a colonel was established at U.S. Air Forces Europe (USAFE).
The Air Technical Intelligence Liaison Office in the Far East Air Force (FEAF) was aided by an important intelligence field operating unit, the 6004th Air Intelligence Service Squadron (AISS).
During the early part of the Korean War a few UFO sightings were reported back to Air Force headquarters and would arrive through channels at the Technical Intelligence Division (TID) at Wright Field. Ruppelt does write in an official document that some reports for the year 1950 were missing. Whether these involved reports from the Korean conflict is not known.
There appears to be no special guidance concerning UFO reports for the ATI personnel in either Europe or Korea. In a November 1951 UFO report the following paragraph is over the signature of Col. Robert A. Elder, Chief of the ATI Branch at USAFE:
"From time to time this office receives information similar to that presented in the report. It is requested that the Analysis Branch of Air Technical Intelligence Center, Dayton, Ohio, advise this office whether to continue to send back reports of this nature."
— Air Intelligence Report ATI 649-52 [USAF Europe, Air Technical Intelligence Branch Intelligence Report 649-51]
By the summer of 1951 there was a change in UFO policy at Air Force Intelligence. They reissued directives on UFOs and further instructions were issued again in January of 1952, reflecting the new requirements. At Far East Air Force, Letter FEAF AG 350-7, 5 March 1952, Subject: "Reporting Information on Unidentified Flying Objects," was issued and is used as a reference on some of the FEAF UFO reports.
(Project 1947 comment: We have yet to see a copy of this instruction.)
Finally, on April 29, 1952, Air Force Letter 200-5 was issued by Air Force Headquarters with a very important feature. The reporting of UFOs reverted to the old Project SIGN-era instructions where Air Force units were to send reports directly to ATIC with a copy through normal channels to Air Force Headquarters Intelligence. Previously, such reports were sent through channels to AF Headquarters and then further forwarded to Wright Field.
In both the Army and Air Force such "letters" were directives issued usually for one year or less, in anticipation of a permanent regulation. In April of 1952 according to the Top Secret quarterly history of the Air Force Headquarters Intelligence, the Air Force had already begun work on Air Force Regulation 200-2, and the commander of the Air Defense Command had been so informed. Keyhoe claimed that the more restrictive information policy in AFR 200-2 was a surprise that just appeared in 1953, but such policy was already in the works earlier the previous year. Since Marine and Navy culture are different from Army and Air Force, the retired Marine Major might be given the benefit of the doubt concerning the apparent change in policy which had been initiated in early 1952.
Now that Air Force Headquarters evidenced interest again, both the 6004th AISS, various Far East Air Force units and the Air Technical Intelligence Liaison Office (ATILO) began to investigate UFOs reported in the War Zone in earnest.
Mr. Wallace Bush, Electronics Engineer, Classified Reconnaissance Branch, Director of Intelligence, Headquarters, Far East Air Forces, had kept a file of material that had previously come to him or notes he had made in meetings where UFOs were discussed. Bush went out and re-interviewed witnesses involved in earlier UFO incidents and issued Air Intelligence Information Reports (AIIR).
Someone in FEAF did a summary of UFO sightings in 16 pages with a separate page for each incident so it could easily be cross-filed. Some of these individual pages are found in other Project Blue Book files especially when the other incident is similar to a Project Blue Book case. In June of 1952 Mr. Bush did a similar write up for a number of cases involving radar which was then turned over to the ATILO. The ATILO turned the information into an AIIR which could also be disassembled with one case per page.
Using the information submitted by Mr. Bush, Captain Charles J. Malven, Air Technical Liaison Officer, authored FEAF IR-29-52, Air Force Headquarters Intelligence Serial Number: AF494450, detailing "Radar and visual contacts with unidentified high-speed objects" by the US Navy carriers USS Philippine Sea and USS Princeton.
Mr. Bush comments on a number of the reported incidents and finally Capt. Malven provided a general outline with some additional comments at the end of the AIIR. Brigadier General Charles Y. Banfill, FEAF Deputy for Intelligence, approved the report. Either he or his assistants signed all such reports, so there was high level knowledge of such accounts in the Korean War Zone. Note BG Banfill's comment that the report was produced to insure against loss.
---
The References section in the report header cites previous AIIRs and documents:
AFL 200-5 (see comments on this document above.)
FEAF IR-20-52, Air Force Headquarters Intelligence Serial Number: AF475499, dated 14 June 1952 for a report dated 18 April 1952, Det. 21, 618th ACW SQ, Japanese Air Defense Force report from the unit involved (From the Project Blue Book files here is ATIC Electronics' Opinion: "Due to the short duration of this incident, an acceptable explanation of this target is impossible." — Capt. Roy L. James
Captain Roy. L. James, Acting Chief Electronics Division, (standing left), Maj. Gen. Roger M. Ramey (seated, left), Capt. Edward J. Ruppelt (standing, center), Maj. Gen. John A. Samford (seated, right), and Col. Donald L. Bower.
IR-23-52, Air Force Headquarters Intelligence Serial Number: AF475561, dated 26 June 1952, for a report dated 3 October 1952, Site #51, 529th ACW Group, Kadena AFB. Okinawa Report compiled by ATIL Office from information supplied by Wallace Bush.
(Project Blue Book file: "Based on the available information, and the fact that two radar experts have advanced two conflicting explanations of the phenomena, it is considered that further theorizing by ATIAE [Electronic Branch] would be pure conjecture." Signed for Lt. Col. H. C. Johnston, Chief [ATIC] Electronics Branch. Signature for signer on behalf of Lt. Col. Johnston is illegible. Capt. Roy James composed the answer.)
IR-25-52, Air Force Headquarters Intelligence Serial Number: AF494778, 16 pages. Different sightings on each page. So far we have found 8 pages. The full report eludes us.
IR-27-52, No AF intelligence report serial number assigned, dated 26 June 1952, for a report dated 15 October 1951, between Shantung Peninsula, Yellow Sea, Patrol Squadron 46, US Pacific Fleet, compiled by ATILO, FEAF.
---
The incidents listed in the AIIR appear to be misnumbered as details for the 18 April, 1952 radar UFO sighting — identified as being the item on Page 3 in the outline summary at the end of the document — do not appear in the body of Captain Malven's report.
It is not known why the report was included in the summary while the specifics of it were omitted from the AIIR, but the documentation for the missing 18 April, 1952 incident is included in the list below as item #3.
1. Radar and visual contact with an unidentified high-speed object, by the USS Philippine Sea (Carrier CV-47) off the east coast of Korea, 2 February, 1952.
2. Two radar plots made by site 7B, 527th AC&W Op, Japan Air Defense Forces, 2 Feb, 52.
[3. UFO Radar Sighting by Detachment #21, 618th AC&W Sqdn, JADF, 18 April, 1952.]
4. High-speed target observed by USS Cony (Destroyer-Escort - DDE 506) off Wonsan, Korea, 9 September, 1951.
5. High-speed targets observed by Patrol Squadron 772 (PB4Y-2) off Vladivostok area, 21 March, 1951.
6. Radar contacts with unidentified objects, by the USS Princeton (CV-37), and the USS Philippine Sea (CV-47) off the East coast of Korea, in April and May of 1951.
7. Unusual radar scope presentation observed by Site #6 621st AC&W Squadron, Niigata Air Base, Japan, on 7 October, 1951.
8. Radar contact with unidentified object, by Patrol Squadron #6, (P2V-3W) in the Northern Sea of Japan, 21 August, 1951.
9. Radar contact with unidentified high-speed object, by Patrol Squadron 28, (Navy PB4Y-2), in the Yellow Sea, 14 April, 1951.
10. Radar contact with high-speed object, by Patrol Squadron 42, (PBM-Mariner), off Tsushima Island, Japan, 9 March, 1951.
11. Radar contact with unidentified high-speed object, by Patrol Squadron 42 (PBM Mariner), off the East coast of Korea, 26 January, 1951.
12. Radar contact with high-speed objects by Navy Patrol Plane, off the East Coast of Korea, 15 February, 1951.
13. Radar contact with unidentified high-speed objects, by Marine Air Control Group 2, off the East Coast of Korea near Pohang, 16 February, 1952.
Each incident has a letter and a number evaluation such as "B-2." These two-character designations come from an evaluation system used by nearly all intelligence agencies and is discussed in the attached Air Defense Command's Air Intelligence Reports. Over the years the description may have slightly changed for each code, but the meaning remains the same.
The following document outlines the key to Air Intelligence Evaluation ratings for credibility of information received.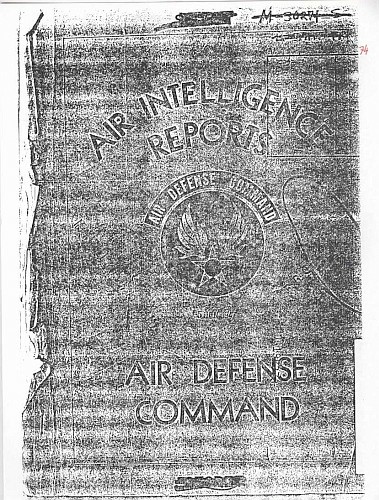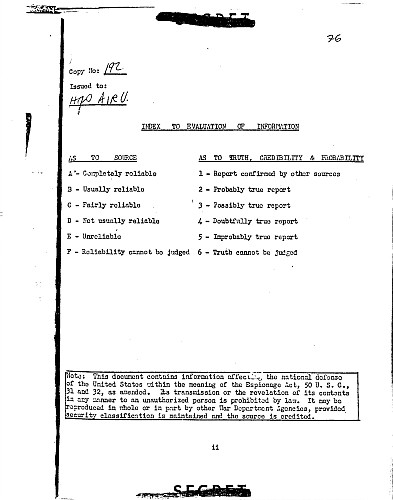 Click Image to Enlarge


Copy No: 192

Issued To:
Hqs AIR U

INDEX TO EVALUATION OF INFORMATION
AS TO SOURCE
AS TO TRUTH, CREDIBILITY & PROBABILITY
A - Completely reliable
1 - Report confirmed by other sources
B - Usually reliable
2 - Probably true report
C - Fairly reliable
3 - Possibly true report
D - Not usually reliable
4 - Doubtfully true report
E - Unreliable
5 - Improbably true report
F - Reliability cannot be judged
6 - Truth cannot be judged

Note : This document contains information affecting the national defense of the United States within the meaning of the Espionage Act, 50 U. S. C., 31 and 32, as amended. Its transmission or the revelation of its contents in any manner to an unauthorized person is prohibited by law.

It may be reproduced in whole or in part by other War Department Agencies, provided security classification is maintained and the source is credited.



Marine Corps documents show that they were aware radar cases should be sent to the Classified Reconnaissance Branch, FEAF, and that significant UFO cases would probably be investigated on the spot by the 6004th AISS.
During 1952 ATI Branch, USAF Europe also submitted a number of very interesting high quality UFO reports, mostly from Germany.
---
Update concerning UFOs sighted during the Korean War.
Barry Greenwood has recently found documents on the web for the 1st Marine Air Wing consisting of about one hundred pages of UFO, unidentified aircraft, unidentified objects, etc. incident reports with discussions of the unit's operations. These incidents are listed for just one unit. No other such searches have yet been done for other units stationed in Korea. These summaries have not yet been correlated with Project Blue Book incidents.
---