By Jan L. Aldrich
The Project Blue Book case index indicates a number of cases are characterized as "missing." Many of these of these are actually misfiled or interfiled in other case files. Some were found in the 4602d Air Intelligence Service Squadron files or in the Office of Special Investigations files. Others are contained on Project SIGN microfilms. Some, however, are in fact just missing.
Dr. Hynek, especially during the latter days of Project Blue Book, received copies of UFO-related messages, investigations and case files. Sometimes Hynek had material which was listed as missing, or had additional information for cases which were not found in the Project Blue Book files at all. The following material regarding the Philippine Sea case, while summarized in the ATILO FEAF Radar cases report, is not listed as an actual Project Blue Book case.
---
Military correspondence passing up and down the chain of command usually has the last comment on top with the initial correspondence next, then the intermediate comments are attached. To enable an easier understanding of the timeline of events, the following documents from Dr. Hynek's private files are displayed in chronological order.
---
The first item is a teletype Priority message from the Philippine Sea to the Commander Naval Forces, Far East (COMNAVFE) dated 0645 hours 03 Feb 1952 Zulu (Greenwich Mean Time) which seems to be the initial report of the sighting. Handwritten on the message is "To CNO" with Priority circled. This probably indicated that the message was to be re-transmitted to the Chief of Naval Operations (CNO) in Washington, D. C. Information copies were sent to the Commander 7th Fleet (COM7THFLT) and the Commander of Task Force 77 (CTF 77) (The Navy elements which were conducting operations off Korea.)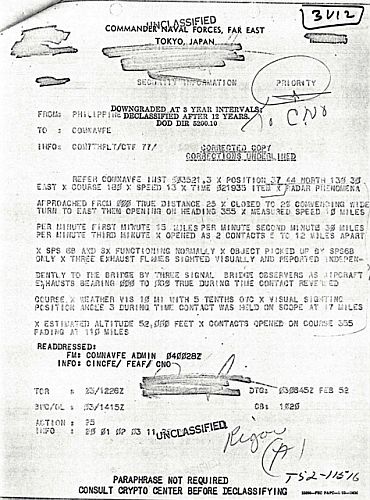 Click Image to Enlarge