During 1954 many UFO reports came from France, Italy, Australia and South America. Reports also came from many areas which had not previously been known for UFO activity. The Middle East and India with few previous reports seemed to participate in the 1954 worldwide flap.
See also 1954 reports regarding Col Frank Milani, Director Of Civil Defense for Baltimore after his appearance on a special WFBR UFO radio program.
---
Thursday, Jan. 7, 1954
Adelaide, South Australia, Advertiser
Reports On "Saucers" Jam Phones
     MELBOURNE. Jan. 6.
      Flying saucer reports today so blocked the telephone channels of the Civil Aviation Department's traffic control branch in Melbourne that the department had to ask the public for a "let-up."
      They followed an appeal by the department to forget their fear of ridicule and report unusual sights in the sky.
      In the past two days the reports were so numerous that the department had to qualify its appeal.
      It asked that all reports should be made in writing to its public relations section.
      The superintendent of air traffic control at Essendon (Mr. R M Seymour), said today "Airport traffic controllers are busy with matters of air safety. They cannot handle as many reports as they received last night and today."
      An RAAF statesman said tonight the air force was "definitely interested" in flying saucer sightings.
      "We would be fools if we were not," he said. "People are definitely seeing something, and we hope to find out what it is.
      "The RAAF has an open mind on saucers, and we have not rejected them as impossible, or accepted them as fact yet. There is a high ranking opinion that saucers do exist, and you cannot shake it."
---
Monday, Jan. 25, 1954
Melbourne, Australia, The Argus
Will film solve "saucer" riddle?
      A short moving picture taken by a Department of Civil Aviation official in New Guinea may solve the flying-saucer mystery.
      The Federal Government has sent the film to U.S.A. for special processing.
      The film was taken with a telephoto lens at Port Moresby by Mr. T. C. Drury on August 23 last year, when he noticed "a cloud building up as though being formed by vapor trails."
      He said: "Suddenly an object appeared from one side of it and climbed very fast in a roughly northwesterly direction."
      "It appeared to be some type of very high-speed aircraft, not a civil aircraft."
      "In any case, from the extreme altitude of the object, it certainly could not have been a civil aircraft."
---
Monday, Jan. 25, 1954
Perth, WA, West Australian
AMERICA WILL EXAMINE OUR "SAUCER" FILM
      SYDNEY, Sun.—The Federal Government has sent a film of a flying saucer-like object to America for special processing.
      This was announced tonight by the Minister for Air (Mr. McMahon).
      He said that American Government representatives in Australia had been asked to speed up the film's return.
      Mr. McMahon added that a Civil Aviation Department officer in Port Moresby (Mr. T. C. Drury) had taken the film with a movie camera fitted with a telephoto lens last August.
      Mr. Drury had reported that on Sunday, August 23, he noticed a cloud at a great height building up as though being formed by vapour trails. He watched the cloud growing in intensity for several minutes and suddenly an object appeared from one side of it and climbed very fast in roughly a northeastern direction.
      It appeared slightly bigger than a pin head.
Vapour Trail
      "Whatever it was, it left a clearly defined vapour trail behind it until it finally disappeared with a rapid gain of altitude," Mr. Drury reported.
      He said that it appeared to be some type of very high-speed aircraft.
      Air Traffic Control knew of no aircraft movements in that area. "In any case,from the extreme altitude of the object, it certainly could not have been a civil aircraft," Mr. Drury said.
      Mr. McMahon said that Mr. Drury's film had been initially processed in Melbourne. Examination when projected showed a very small light coloured object moving across the sky.
      American processing might bring the object out in more detail.
---
Saturday, Feb. 13, 1954
Pittsburgh, Pennsylvania, Pittsburgh Press
U. S. Steps Up Sky Chase
Airline Pilots Sighting
5-10 'Saucers' Nightly
Commercial Fliers Being Asked to Flash
Immediate Reports, Speed Up Interceptors
            By JIM G. LUCAS, Scripps-Howard Staff Writer
      WASHINGTON, Feb. 13—Commercial airline pilots report between five and 10 flying saucer sightings each night, it was learned today.
      Representatives of major airlines will meet Wednesday in Los Angeles with Military Air Transport Service (MATS) intelligence officers to discuss speeding up saucer-reporting procedures.
      The idea will be to "get the reports in the quickest possible way" so that the Air Force can send fast jet fighters to investigate.
      Heretofore, commercial pilots have landed and then reported to MATS through their companies. By that time, the trail usually is cold. Now, pilots are instructed to flash reports direct from the air to MATS intelligence Washington or to the nearest Air Force base.
      However, several "bugs" have been found in this plan. Some pilots, for example, don't know how to contact MATS intelligence. Others don't think it important enough. That's one angle to be discussed at the Los Angeles meeting.
      Airline pilots are asked not to discuss their sightings publicly or give them to newspapers.
      Navy Capt. Bernard Baruch Jr., MATS intelligence officer, is in charge of the project. Captain Baruch's headquarters are in New York, but MATS intelligence also maintains a large staff at Andrews Air Force Base, Md., near Washington.
      One well-informed source said that until recently the largest number of sightings were from the Southwest Pacific. Saucer sightings have been particularly numerous around Australia, where the British maintain a guided missile range.
In North Atlantic
      Recently, however, there has been an increase in saucer sightings in the North Atlantic, this source said.
      Simultaneously, the number of oil slicks and submarine sightings in this area has increased. However, some associate these sightings with the establishment of an Air Force B-36 base at Thule, Greenland.
      The same source said flying saucer sightings are "fairly common" throughout the non-Communist world. They invariably are made at night. Frequently several independent sightings of the same "saucer" are reported from different spots along a plane's route.
      Two reports made this week by commercial airline pilots were cited as typical.
Came and Went
      In the first, a Colonial Airlines pilot, en route to Washington from Richmond, said he saw a saucer descend from the stratosphere, approach his ship, hesitate for a moment and then reverse its course. He said it appeared to re-enter the stratosphere.
      The pilot was described as a "man of mature judgment, a college graduate and an attorney as well as a pilot."
      In the second, two Northwest Airlines pilots en route from Seattle to Anchorage reported a strange object with several portholes which exuded a "blueish light" flew alongside their ship most of the journey, disappearing as they were about to land in Anchorage.
      The pilots tried several times to close the gap between their ship and the strange object, but could not. They said the object was "definitely under someone's control."
      They were questioned for two days in Alaska before going on to Tokyo.
---
Friday, April 23, 1954
Lumberton, NC, Robesonian
Men Report Big Ball In Sky
HOT SPRINGS, Ark. — Six workmen, who had gathered late last night at a rural home near here to ride to work, told a reporter they watched a mysterious gleaming ball over the house for 20 minutes. One of the men, Les Reatherford, said the ball once dived toward him, and that he had to duck to avoid being hit.
      "If I hadn't ducked it would have hit me sure," said Reatherford.
      The men, all employees of a Reynolds Metal Co., aluminum plant, described the white ball of light as about 10 feet in diameter. They said it circled the house slowly, stopping for a moment at irregular intervals.
      One of the witnesses said the ball followed the men when they left in a station wagon.
      "We tried to put a spotlight on it," said one of the men, "but every time it would dodge the beam."
      Besides Reatherford, those who saw the object were Harley and Fred Skeets, Tom and Dayton Henderson, and John Vaughn.
---
March, 1954
Fort Worth, Texas, Cross Country NEWS Vol. 9 No. 8
Flying Saucer Story Number 29,119,109
(Special to XC News)
MIAMI, Fla.–Flying saucers are real, says Bill Nash, first officer for Pan American World Airways, and offers an explanation why Air Force investigators do not reveal all they know.
      "I am convinced the Air Force has collected hardware from outer space," he told the Greater Miami Aviation Association. "If it were to reveal possession of these objects or parts of them, it would have to establish proof.
      "I do not believe the Air Force cares to make all its findings public so long as the United States is threatened by unfriendly powers."
      Nash has reported sighting unidentified objects while flying a DC4 from New York to Miami for overhaul. Others in the plane confirmed his report.
      "From their maneuvers," he said, "there is no doubt in my mind these objects were controlled by intelligent beings."
      Nash described how craft in the formation oscillated over and under others. He suggested this was caused when the leader would reduce speed and others moved to avoid collisions.
      The flier said lights from the craft were 20 times brighter than those of Norfolk and Newport News, Va., near where the sighting was made. He said he and the crew saw six objects which later were joined by two more.
      "When you have seen them," he declared, "you realize they were not made on this planet."
      Nash suggested pilots of 'outer space' make no effort to contact this planet "because their civilization is too far advanced."
      "They must have found how to live in peace with each other or their science would have destroyed them,"he said. "We are still so stupid we cannot solve simple problems without resort to war."
---
Saturday 27 March , 1954
Miami, Fla., Herald
Round and White
Pilot Sees 'Object';
Was It a F----- S-----?
The Marines landed in Flying Saucer territory Friday.
Spotting of a "round, unidentified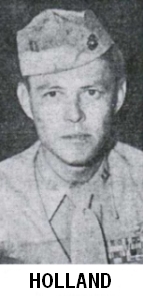 object, white in color not glowing," was reported by Capt. Dan C. Holland, 33, of 5196 E. Fifth st., Hialeah.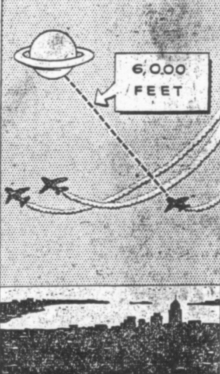 Captain Holland said he saw the object while flying in a formation of Third Marine Wing jets east of Fort Lauderdale about 3:20 p.m., Thursday. He called the attention of the other pilots to it and he said it sped off to the east at a high rate of speed and disappeared in about 15 seconds.
None of the other pilots in the formation saw it.
Capt. Holland, a decorated veteran of both World War II and Korea, said that until Thursday "I always thought anyone who said he saw a flying saucer ought to have his head examined."
The Marine flier said a commercial airliner was in the vicinity at the time and may have observed the object.
However, spokesmen for Eastern, Delta-C&S, National and Pan American World airways said none of their pilots had mentioned anything like that.
---
Sunday 4 April , 1954
Miami, Fla., Daily News
'STRANGE OBJECT' SEEN BY OTHERS
Five Citizens Back Marine On Sighting Flying Saucer
By LARRY BIRGER
Miami Dally News Staff Writer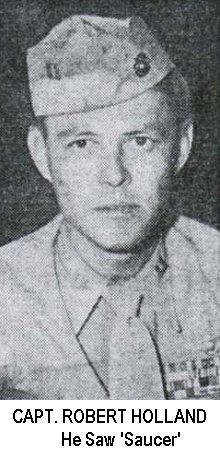 Spotting a "flying saucer" is one thing.
Making your friends believe it is quite another, a Marine flier — who "saw" the first one this young spring season — has discovered.
But even though most of his buddies are skeptical, Capt. Robert Holland, 32, has received "fan mail" from five citizens who are certain the pilot's eyes haven't gone bad.
Holland several days ago spotted a "strange object" about 25,000 feet up over the ocean east of Fort Lauderdale, and quickly reported it to his superior officers.
Expected Ribbing
"I'd never have reported it if I didn't believe there was something in the sky," he explained, "because I knew I'd be in for a big ribbing.
"Two pilots have told me that on another occasion they saw what they thought was a saucer but didn't report it because of the razzing they knew would come."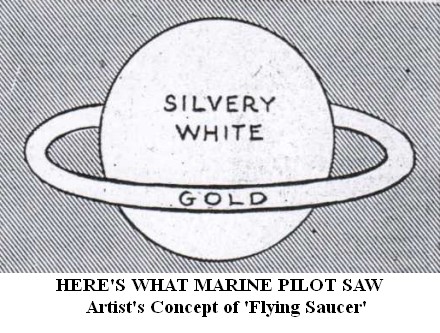 Fortunately, Holland's wife already believed in flying saucers before her husband did, so he didn't have any trouble convincing her he'd seen the real thing.
'Something Up There'
"She really believed in them," Holland related. "But I didn't until I saw one. It didn't look like a saucer, but there certainly was something up there."
Holland, in drawing what he saw, described the "strange object" as a round, silvery-white ball with a golden platform circling the lower half of it.
"The thing was flying away from me, at double my speed. I called to the other pilots in the formation, but it was gone before they could spot it," he said.
Nothing Like It
In his more than 2,800 flying hours, the captain, who won six battle stars and two Distinguished Flying Crosses in the Korean War, said he'd never seen anything like it.
"I don't have the slightest idea what it was. I'd sure like to know, though," he said.
"As soon as I hit the ground the ribbing began. Some of the fellows have kept it up, but after I reported it to Washington, most of the razzing stopped.
"I'll bet there are quite a few of them out here now that believe I saw one."
Others Saw It
Since the incident, five persons in the vicinity of Fort Lauderdale have written Holland saying they saw something in the air the same day.
"An old lady of 68 wrote me," the captain said. "'People thought I was crazy'," she related, "'until they saw the story in the paper. Now they believe me'."
A school teacher said that her students saw something, and an elderly man wrote the same thing, Holland added.
"Maybe we're not so crazy after all."
---
Sunday 3 October, 1954
Bombay, India, THE TIMES OF INDIA
800 Biharis See Flying Saucer
Calcutta, October 2:   A flying saucer was reported to have been seen recently by about 800 people living in three adjoining villages in Manbhum Bihar.
      Mr. Ijapada Chatterjee, 60-year-old manager of a mica mine, "Kadori", owned by a Calcutta business man, Mr. S. N. Gnose, told The Times of India News Service here today that he was sitting in the verandah of his house on the afternoon of September 15, when he saw a disc-like object descending about 500 yards away.
     Villagers came out from their huts to see the strange sight. Shaped like a saucer, it came down to a height of about 500 feet above the earth making a sound like the whirring of motor-car engine. It hovered for a few minutes; then, suddenly, the two sides seemed to get inflated. This was followed by what looked like smoke billowing from the two ends. Immediately the object soared upwards at an incredible speed.
GREY IN COLOUR
     Mr. Chatterjee said that the object was about 12 feet in diameter and dull grey in colour. At the centre of the side visible to him was a black patch that resembled an aperture. "As it soared upward, there was a tremendous gust of wind which caused doors and windows to rattle," he said.
     Later, the people from the adjoining villages of Borsi and Managalda also said that they had seen the same object.
     A local holy man interpreted the UFO as "something from heaven." The mine also produced beryllium for the Atomic Energy Commission.
---
July 22, 1958
Marysville, OH, Journal Tribune
Jerome "Object" Still Unexplained
Ex-Chief Recalls 1954 Sighting At School
The mystery of a flying object which pupils and two teachers at Jerome School saw in the sky back in Oct. 22, 1954 has never been solved, says Robert C. White who was at that time, chief of the Air Force's "flying saucer division."
     The teachers, Mrs. George Dittmar, of Marysville, and the late Rodney Warrick, of Raymond, and their pupils saw what they described as a "cigar-shaped silver object travelling at a terrific speed, that wafted a blanket of angel hair for at least three miles."
     Within a minute after the substance was touched, it would disappear, leaving a green stain on the fingers of whoever touched it. This stain did no apparent harm and could be washed off. Warrick said at the time, "I have never seen anything like it or heard of anything like it. It was the most unusual sight I ever saw."
     White, who is winding up a two-year tour as public information officer at this giant U. S. Air Force base 18 miles southeast of Casablanca, will shortly head for a top Pentagon assignment in Defense Department information work.
     Bob White, as he has become known to scores of U. S. and foreign newsmen who have been his guests in this land of mint tea, camels, and palm trees, will be no stranger to Washington.
     From 1953 to 1956, when flying saucers first sailed into the news, White worked in the Pentagon as de facto chief of the "flying saucer division" of the Air Force's central information services.
     This was no hush-hush, top secret research project, as it sounds. It was, however, a job which called for top-level diplomatic skill and the judgment of a King Solomon. Bob had to painstakingly investigate all reports of flying saucers or "unidentified object" sightings.
Heard Bizarre Tales
     An occasional writer of fiction himself, Bob encountered some saucer stories which, in his words, [missing text].
     The one saucer scare which he never could clear up, Bob says, was the one at Jerome school.
     But White is convinced that there never was a single saucer which was not either a hoax, the figment of imagination or which could not be rationally explained.
     "Its just a matter of getting enough information promptly," he says.
Began Writing in Brazil
     He began his Air Force career during the war in 1941 as an enlisted man and won his pilot's wings in 1944. While serving in Brazil he began to write. Several of his short stories have appeared in national magazines since.
     Trying out postwar civilian life, Bob found his taste for unusual places and situations leading him from a schoolteacher's job in Toledo, Ohio to four months of writing at Nogales, New Mexico - which he compares with Morocco in the fantastic beauty of its arid, landscape - and finally to a year on an Indian reservation at Pueblo Pintado, N. M.
     At Pueblo Pintado, Bob was a teacher, counselor and all-around sage to the small community.
     Back in the Air Force, he went to Madrid, Spain for a short tour of duty after completing the saucer assignment at the Pentagon.
     Bob met and married his wife Alice, of Livermore, Calif., in 1946. The Whites have a daughter, Monica, 4, a blue-eyed blond adopted in Germany, whom they hope to take back with them at the end of June.
---