"Looking to the north, I immediately spotted several extremely shiny round objects. They looked about the size of a dime and were rapidly moving toward us. Someone shouted, 'Saucers!'
"Everyone watched as they came closer. They seemed to go over, under and around each other in free easy maneuvers, giving the impression of a bubbling motion. The objects moved. south, then west, back east and finally drifted to the north. They appeared to follow an arc, dropping down as they went into the north, then rising and dropping again as they neared us.
"Suddenly, they formed a straight line and headed west at an incredible rate of speed. From this formation, we could count eight definite objects about the size of golf balls, only flat. The distance from the first to the last object seemed about 3½ feet.
"Bill and Wilma Eden, six children and myself watched the objects for several minutes. We felt certain they were somehow controlled and must be saucers. We did not see protrusions from their naturally round shape. The objects did not leave a vapor trail. No sound reached us.
"I ran into the house for my husband's binoculars. Through the glasses, the objects looked about the size of croquet balls. Each one looked identical with the other. Next, they drifted close to us, broke from the straight line pattern and began the bubbling motion once again. They changed position so quickly that no one knew whether the first, last or middle ones moved first.
"For the third time we watched them move in a straight line, zooming and banking. Someone screamed 'They're landing!' Then when they seemed about 75 feet off the ground, they broke formation and rapidly gained altitude.
"With that, I ran Into the house. Someone had to know about these 'things'". The operator gave me the Air Force detachment in Casper. After several minutes delay, I heard a man answer 'Air Defense, go ahead.'
"The airman was interested, polite and businesslike. He took our names, approximate location and description of the objects. On the following day, the commanding officer of the detachment called on us to obtain a more detailed report of what we had seen. We referred to telephone poles, ridges and drilling rigs to more accurately determine approximate location of the objects. The officer made notes during our conversation, and told us he was sending a report to Washington. He was extremely serious about all details and told us it was one of the best reports he had received.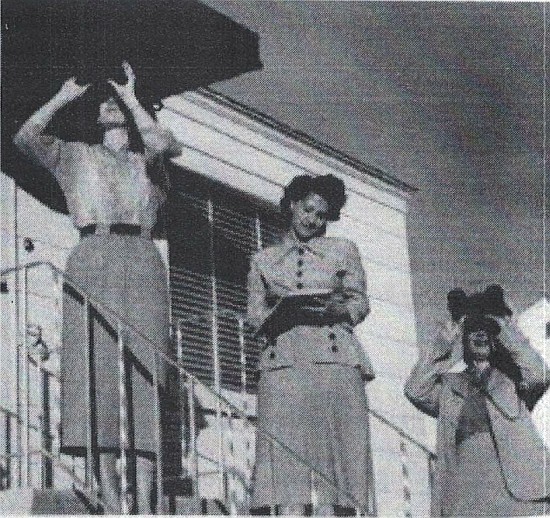 Three members of the South Cole Creek Ground Observer post observe and
spot aircraft. They are (left to right), Marge Michaelis, Doris Yelton, Marie Groth.
"Several days letter, another airman came out to discuss the possibilities of forming a Ground Observer Corps post at South Cole Creek camp. All of us expressed an interest in organizing such a post if we could receive proper instruction and training.
"My husband and I attended an open house at the Air Force detachment later that month. At that time, the commanding officer told us he had received an answer to his report. Washington knows what they are, he said, 'but they didn't tell me everything.'
"'What do we call them, just saucers?' I asked.
"He replied 'We have no better name for them.' He told us that on the same day we saw the objects, a group of pipe line employees working west of Casper had made an almost identical report."
Since the organisation of the Ground Observer Corps at South Cole Creek camp, five Phillips families have volunteered as observers. This group meets once a month to view training films, hear talks by Air Force personnel and discuss material in the Air Force manual.
Marge Michaelis is group supervisor. Bill Hatfield is chief observer. Wilma Eden is assistant chief observer. Other observers are A. L. Michaelis, Bill Eden, Jean Hatfield, Mr. and Mrs. C. L. Yelton, Mr. and Mrs. Bob Groth and Eddie Hatfield.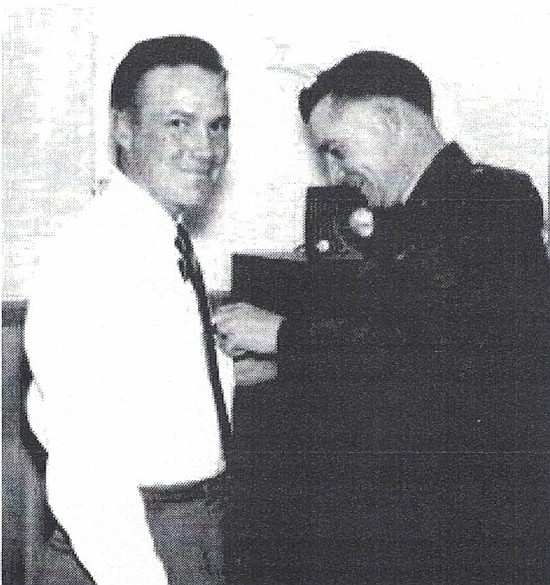 Bob Groth (left), light truck driver at South Cole Creek, receives his silver
observer wings from Major Merlon S. Evans, Casper Air Force detachment.
To earn silver wings, observers must complete 36 hours formal training. Credit hours are earned by attending monthly meetings and demonstrations, observing and reporting irregularities in aircraft flying over the camp and by participating in scheduled alerts.
Phillips families at South Cole Creek are to be commended for their work as ground observers and for the important part they are playing in our National Defense program.
---
May 2, 1954
The Ultimate Witness? Secretary of the Airforce, Harold E. Talbot
Contained in UFOs: A History, 1954 - January-May by historian Loren Gross, is the following item on page 61:
The Ultimate Witness?
Harold E. Talbot, Secretary of the Air Force, was in an airplane enroute to Palm Springs, California, the afternoon of March 24, 1954. While passing over Fresno, California; Talbot, his aides, and the plane's aircrew, all saw a large metallic-looking object following the plane in a position about a 1,000 feet below and a like distance behind. Talbot ordered his pilot to turn around, but when the plane banked, the UFO made a tight little orbit and streaked away at an incredible speed. There is no record of this encounter in BLUE BOOK files and debate about its existence surfaced in mid-May 1954.
In an article published on May 14, 1954, retired USMC Major Donald E. Keyhoe claimed that Secretary of the Air Force Talbot had seen a "large silvery disk-shaped object" in the sky. Talbot immediately denied Keyhoe's statement, saying "I have never seen a flying saucer."
While the authenticity of the claim is still open to question, we now know the probable source of the rumor: It was contained in a private letter to Donald Keyhoe from former head of Project Blue Book, Edward J. Ruppelt.
1911 Josie Ave.
Long Beach, Calif.
2 May 1954
Dear Don,
Just a short note as I have promised to take the girls to a movie to night. First of all I didn't mean to mislead you on what I said about referring to Dewey Fournet in my True story. I believe that I told you that I wasn't going to mention him. I really thought that it had been taken out but somehow it got back into the final draft.
Second, I rec'd a letter from a person whom I had had some correspondence with when I was on Blue Book. He is a good source as far as I know. I'll give you the interesting part of the letter verbatum (sic) leaving out the names.
"Two friends of mine ____ and _____ had breakfast with Harold Talbot, Secretary of the Air Force, in Palm Springs about four weeks ago. They said Mr. Talbot seemed pretty excited ( ____said badly shaken) over a flight into Palm Springs the previous morning.
It seems that south of Fresno they picked up a UFO which held loose formation /with/ the Air Force plane for over an hour. (About 1,000' below and 1,000' out) It was Large, silvery, and disk-shaped. With the Secretary was a technical advisor (my friends presumed it was Lindbergh.) who gave the Secretary a running account of the plausibility of its shape, why it probably couldn't land on the earth and other data. Also in the plane were the crew and other aides. After about an hour Mr Talbot was still not satisfied that he could exactly make out the shape so asked the pilot to swing over toward the UFO were upon (sic) it accelerated up and out of sight. This was a daylight sighting under extemely (sic) favorable conditions."
Take it for what it is worth Don. It seems to be kosher since the source claims to have known the two people who talked to Talbot. Maybe you could get some info from the Pentagon. Whatever you do, keep me out of it, please. As long as I don't appear in the limelight too much I think I can pick up some good info occasionally. I'd prefer not to have even Al Chop know that I am passing you this info. My reasons are rather long and envolved (sic).
How did your talk in Cleveland come off? I checked the papers out here but didn't see anything about it.
If this Talbot thing has any basis I would certainly like to hear about it.
As ever

/s/

Ed Ruppelt


Download Document as .pdf File
---
Tuesday, 18 May, 1954
Dallas, Texas, Times Herald
Glowed Like a Light
4 Jet Pilots Report Race
With 'Saucers' Over Dallas
By Dick Johnson
The Times Herald Staff Writer
A Marine Air Reserve pilot told Monday how he and three other jet pilots lost a race over Dallas Friday with 16 objects they could only describe as flying saucers.
Charles Scarborough, reserve major and an attorney, said the objects he and three other flyers sighted "glowed like a light."
"It was about noon Friday and I was flying at about 15,000 feet with Capt. Charles Stanton on one side and Maj. E. C. White and Capt. R. L. Jorgenson above us at 42,000 feet.
"We were going north toward Lake Dallas when I spotted the objects out to one side and above me. I radioed Capt. Stanton about them, but he could not see them then.
"However, Capt. Jorgenson cut in to say he could see them below him. The four of us decided to bring our S9F7 Jets into a formation to 'box in' these objects.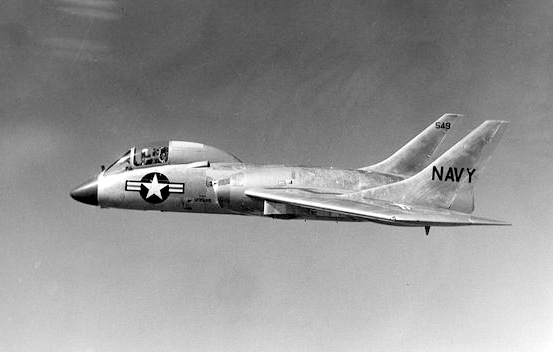 US Navy Chance-Vought F7U Cutlass Similar to Scarborough's Jet
"I peeled off and upward and toward them. Major White and Capt. Jorgenson dropped down. I lost the objects even as I was looking at them in the chase, but Maj. White said he was able to observe them speeding away. He said they went very fast."
The Dallas officer completed two weeks of reserve training at Hensley Field Saturday.
He and Capt. Jorgenson are Dallas residents, Maj. White is from Amarillo and the home town of Capt. Stanton was not known.
"We reported the incident to Col. Bill Crowe, detachment commander at the Naval Air Station," Major Scarborough said.
He quoted Major White as saying "the objects flew at an unreasonable amount of speed. Faster than I ever saw anything fly."
---
Excerpt from a lecture given by Major Donald E. Keyhoe, US Marine Corps, Retired, under the auspices of The Civilian Saucer Intelligence of New York, December 9, 1955 at the St. Nicholas Arena Ballroom in New York City.
"Take the case of Major Scarborough, a Marine [Reserve} jet pilot. On the afternoon of May 14, 1954, he was flying with another pilot at 15,000 feet near Dallas, Texas, when he saw a formation of 15 saucers above him. He immediately radioed to the two other jets of his group at 42,000 feet. The jets above dived, Scarborough and his companion climbed, trying to box in the saucers, but the object raced away from them and vanished. Meanwhile the pilot's radio conversation was heard by a radio ham on the ground, who asked Scarborough for confirmation; the story appeared in the Dallas Herald. The Pentagon at once issued orders for silence. I asked the Navy about it; they said they had never heard of the sighting. The Marine Corps wouldn't confirm it either. I wrote to Scarborough himself: after a long time he wrote and apologized, and said that my letter had been misplaced. Without adding any new details he did confirm the sighting. However, most pilots refused to admit even that much.
"….Since 1953 not one unsolved saucer report has been released to the public, except the few that put into this report [Project Blue Book Special Report #14] as examples to try to convince you that there's nothing to it. Just to test this, about every three months I call Captain Robert White, who is the official Air Force spokesman on flying saucers, and I always say, 'I am asking for the last six months' reports on flying saucers. I would like to see either the teletypes or the written reports, or go to Wright Field.' He says, 'I'll ask.' The next day he calls back, 'The request is denied.'"
- - - - - - - - - - - - - - - - - - - -
PROJECT 1947 Comment: Captain White and Keyhoe were friends and according to Keyhoe's notes he (Keyhoe) removed a reference in his manuscript of The Flying Saucer Conspiracy, then at the publisher, which said that White privately believed that UFOs were probably real, so as not to embarrass White.
---
June 22, 1954 Washington State IFF UFO Radar Case
Not Found in Project Bluebook Files
United States
IR-3-54
[handwritten:] AP624937
Unidentified Flying Objects
Northwest United States
D/I 25th Air Division (Defense)
[Date of Rpt] 23 June 1954
[Date of info] 22 June 1954
ODIN E. SORENSEN, CWO, USAF
See Summary
AFR 200-2 and SECRET Wire 25th/DTG 230730Z DE JWPDM 046B/Priority/ to ATIC
SUMMARY
FLYING OBJECT REPORT GROUND AND AIRBORNE RADAR SIGHTINGS OF UNKNOWN BLIPS OR TARGETS
An unknown blip or target was picked up on TIMOTHY [ADC 759th AC&W Sq, Naselle AFS, Wash.] radar control scope in Georef LE 1604, estimated 200 knot speed, estimated altitude 15 angles [sic] [angels] [15,000 feet], originally at 0314Z and intermittently thereafter for a total of three (3) sightings by TIMOTHY within a ten (10) minutes period after which time blip or target remained off. Upon first pickup, TIMOTHY relayed information to MERCURY ([ADC Air Defense] Direction Center) who took immediate action to vector two [F-86D] fighter interceptors, Pronto Blue #1 and #2, (who were on CAP [Combat Air Patrol], at 0400Z) off CAP to vicinity of blip or target. Pronto Blue #2 obtained an airborne radar pickup lower left portion scope, approximately twenty-eight (28) miles from blip or target which separated into two "clear distinct" blips at 0435Z; altitude 25,000 feet. Blue #2 attempted to close on 30 degree port heading in attempt to center blip, descending from 25,000 feet to 6,000 feet and to within estimated six (6) miles with speed increasing from .85 to .9 Mach. Blip then slid off scope from 30 degree port to 60 degree port. Blue #1 obtained an airborne radar pickup at 30 degrees at approximately 0436Z at 20,000 feet altitude. Blue #1 help pickup for approximately twenty (20) seconds, or three sweeps of AI [airborne intercept] radar after which time blips or targets slid off scope from 30 degrees port to 60 degrees port.
Information for this report was received from Senior Controller, GCI Site, TIMOTHY; Senior Controller, [ADC] Direction Center, MERCURY; Senior Controller, Division Combat Center, LAST CHANCE; the two F-86D pilots; a 25th Air Division pilot who was flying locally in T-33 and who heard all ground-air transmissions between F-86D pilots and ground stations.
RELIABILITY
A. (Pronto Blue #2) 2nd Lt [REDACTED], 317th Fighter Interceptor Squadron, 1124C pilot; approximately 193 hours, of which over half has been in fighter-interceptor work; approximately 270 hours in fighter aircraft; for approximate total hours of 463.
B. (Pronto Blue #1) 2nd Lt [REDACTED], 317th Fighter Interceptor Squadron; approximately 29 hours in F-86D aircraft; 80 hours (approximately) in fighter aircraft; 251 hours other type aircraft; for a total of 360 hours. The F-86D pilots were interrogated singly by Major Eugene L. Zechmeister, Director Of Intelligence and CWO Odin B. Sorensen, Asst Director of Intelligence, within four (4) hours of incident.
Classification ------- changed to
[handwritten:] Unclas, [typed:] effective [hdwrtn:] 5 Apr 78
______under the authority of ACS/I
[page edge cutoff] by [hdwrtn:] AFIS/INS Ltr 5Apr78
---
D/I 25th Air Division (Defense)
IR-3-54
2 2
Reliability (cont'd)
C. At the time of [IFF] first mode return picked up by [ADC radar site] TIMOTHY, question arose as to the possibility of malfunction. The site Tech Representative was on hand and monitored scope. In his opinion, malfunction of radar was definitely ruled out.
D. All weather stations, as well as Seattle AMIS [Aircraft Movements Information Service]; Navy; Coast Guard; 5 ADDC at Vancouver, B.C. Canada, were checked with negative results, ruling out possibility of weather balloons; boats or ships; or aircraft. One Navy P2V was found to be flying at time, but over one- hundred (100) miles from location of incident. A slight 3 degree inversion at 5,000 feet was present at 1900, but would possibly affect only a limited area.
E. The F-86D pilots were queried at great length in reference to the size and general appearance of blips presented on scopes. Both pilots appeared to have a very clear and firm concept of the difference between the observed blips as opposed to seaborne blips and B-36, B-52 type blips previously encountered.
F. All statements were obtained individually either in person or by telephone, ruling out possibility of subconscious innocent collusion. Superficially, all statements appear to support one another and to coincide.
EVALUATION
The blips or targets observed are tentatively evaluated as true airborne targets, similar in presentation size and general configuration (on ground-based and airborne equipment) to B-36, B-52 type aircraft with an estimated pullout speed of Mach One or better.
[/s/]
| | |
| --- | --- |
| APPROVED: | |
[Signed] [/s/]
EUGENE L. ZECHMEISTER
Major USAF
Director of Intelligence
1. Pilot [REDACTED] Statement w/1 Incl; [Map] Overlay
2. Pilot [REDACTED] Statement
3. Pilot [REDACTED] Checklist for UFOB
4. Pilot [REDACTED] Checklist for UFOB
5. Sr Controller (Div) Statement (Capt [REDACTED])
6. Sr Controller (ADDC) Statement (Capt [REDACTED]) w/2 Incls; Violation Report and [Map] Plot
7. Sr Controller (GCI) Statement (Lt [REDACTED])
8. T-33 Pilot Statement (Maj [REDACTED])


Download Document as .pdf File
---
Friday, July 2, 1954
(Newspaper Not Known)
Biggest One Changes Shape
7 Weird Objects Trail
Airliner Off Labrador
LONDON, July 1 AP— American and British air force intelligence officers today studied reports that seven weird flying black objects followed a British airliner for 80 miles last night near Goose Bay, Labrador.
BOAC Boeing 377 Stratocruiser as flown by Capt. Howard
Capt. James Howard, pilot of a British Overseas Airways Corp. airliner bound from New York to London, said the objects vanished when an American fighter plane came up to investigate. Howard, 33, from Bristol, is one of Britain's most experienced Atlantic captains.
The story of what he and his crew and some of the passengers reportedly saw 19,000 feet over the Atlantic, is told in these extracts from Howard's log book:
"At 0105 GMT on June 30 about 150 nautical miles southwest of Goose Bay, height 19,000 feet, flying in clear weather above a layer of low cloud, noticed on our port beam a number of dark objects at approximately the same altitude as our aircraft. I drew the attention of the first officer to them. He said he had just noticed them also.
Look Like Flak Bursts
"I jokingly said they reminded me of flak bursts. He agreed. It then became apparent that they were moving along on a track roughly parallel to ours and keeping station with us."
Goose approach, in reply to a query, told the first officer there were no aircraft in the area. It was 0107 GMT. The log continued:
"During this time the shape of the large object changed slightly, also the position of the smaller ones relative to the big one. Some moved ahead, some behind. The first officer then told Goose Bay what we were watching and they said they would send a fighter to investigate.
"The shape of the large one continually changed, but its position relative to us did not. It was always about 90 degrees to port. The distance from us appeared not less than five miles, possibly very much more.
6 'Dots' Accompany It
"During this time both engineers, both navigators, the radio officer, the two stewards and the stewardess watched it and all of us agreed on its shape.
"A number of small objects accompanying it, usually six, were visible. All were agreed they never saw anything like it before. At about 0120 GMT the fighter reported that he was approaching us. The objects immediately began to grow indistinct until one only was visible. This grew smaller and finally vanished at 0123 GMT, still at the same bearing from us.
"All who watched the objects are sure the large one, at any rate, was no sort of winged aircraft. The small ones were just dots. They left no vapor trails, no lights were seen, just black silhouettes."
See the November, 1954 FATE Magazine article "BOAC's Flying Jellyfish".
---
Thursday, July 22, 1954
Austin, MN Austin Daily Herald
IN FLIGHT OVER TEXAS
Glenn Hovland Photographs 'Flying Saucers'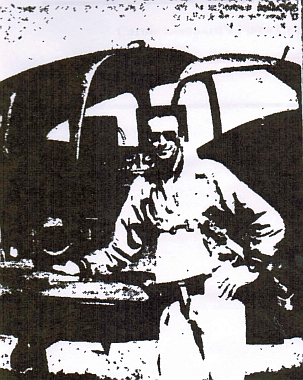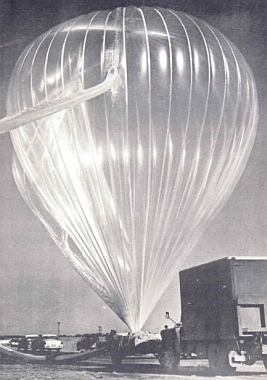 Hovland and his plane (left) were tracking balloons like the one shown
taking off at the right when the "flying saucers" were spotted.
Glenn Hovland, Austin Airport manager, not only has seen flying saucers — he has photographed them.
Hovland and a St. Paul man, Verne Baumgartner, an electronics engineer for Winzer Research, saw six of the aerial objects over eastern Texas last Jan. 29 while tracking a research balloon east of Palestine in eastern Texas.
Part of what was discovered that day is reported in Time magazine of July 19. The story which heads the science section tells all about "reversed matter," but says nothing of the flying saucers.
But that day the "saucers" were photographed simultaneously from the balloon floating above them at 100,000 feet and by Hovland in his tracking plane below.
2 Angles Clinch Point
"I guess that proves they were there because you can't photograph a mirage from two different angles at the same time," Hovland said.
Until he sighted the "saucers" the day had been a routine one for Hovland who has been tracking these research balloons since September, 1952.
This time, Hovland was working directly with Dr. Marcel Schein, University of Chicago physicist, and David Williams, 18, also of the University of Chicago, who will receive his degree as a nuclear physicist next year.
Hovland and Baumgartner were following about 20 miles behind the balloon and at a lower altitude than the 20 miles the balloon ascends.
Their job was to give the direction and speed of travel of the balloon; to warn aircraft of its position; and to observe whether any accidents should befall the balloon or any of its contents.
"We had just eaten dinner and I was sitting there watching this old balloon," Hovland said. "I saw them first and I nudged Baumgartner and I said, 'What do you see up there?'"
Companion Startled
To which Baumgartner replied, "'My - - - What's going on?'"
"I saw two objects," Hovland said. "He saw four so I looked back again Then there were six."
Hovland described them as silvery objects with a sort of "fluorescent glow " They were in a "trail formation" and just as perfectly spaced as "dots marked off by a ruler."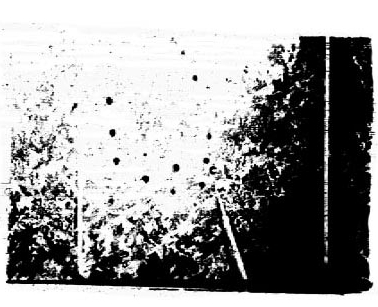 Tuscaloosa UFOs. Image slightly enhanced to remove scratches and dust spots.
They were nearly stationary and were hovering below the balloon between Hovland's plane and the balloon.
They hovered for about a minute and a half while Hovland observed them and took pictures with his movie camera.
"Then they went up — boom, like an explosion," he said. "But they went one at a time and they all followed the same path."
He couldn't estimate their speed.
1,000 Miles an Hour
"It's hard to say," he said, "but going out of sight like that I would say a good 1,000 miles an hour. They went out of sight in a matter of seconds. That's vertically. They took right off."
When he got back to the airbase he was met by air police who confiscated his film and sent it to Washington for development and review.
Later he received a 22-page printed questionnaire in which he was asked to describe what he saw in great detail. These are sent to all persons who report aerial phenomena and are marked "secret and confidential."
Later he was shown the pictures, which indicated the saucers were about 20 feet wide. And they appeared to be transparent because the contour of the ground shows through in the pictures taken from the balloon.
Appeared Silver in Color
Actually, the objects appeared to be silvery from below but apparently were a darker, metallic color from the top. At least, that's what the pictures indicated, Hovland said.
And although they moved at "terrific" speed, he could see no visible means of locomotion. There was no visible smoke, exhaust, light "or anything," he added.
As reported in Time, the other discovery that day was "news to make even a sensation-jaded physicist draw a sharp breath."
A pack of photographic plates had been attached to the balloon to be exposed to the powerful primary cosmic rays that bombard the top of the atmosphere.
While studying the plates later, Dr Schein found a peculiar ray track — a bundle of slim Vs — running through the pack. These were made by pairs of negative and positive electrons and there was no trace of larger charged particles (protons) present.
Hit With Terrific Energy
Dr Schein's conclusion was that "something" had hit the film pack with the unheard-of energy of 10 million billion electron-volts — about 50 million times the energy of a splitting uranium atom.
That "something." Dr. Schein thought, probably was an elusive particle called an anti-proton, which theoretical physicists have suspected but never observed.
He believes this negative proton struck an ordinary proton in the aluminum wrapping of the film pack and annihilated not only itself but the early matter in its target as well, turning the mass into energy. The track was made by gamma rays as they streaked away from the site of the collision.
Where do anti-protons come from? One speculation is that remote stars may be made up entirely of "reversed matter" whose atoms have negative anti-protons as their nuclei and positrons (positive electrons) revolving around them. There would be no way to tell because the reversed matter would send out the same light as ordinary matter. And it would behave itself normally as long as it stayed at home.
Hovland Sees Connection
When he lets his imagination run, Hovland can connect the anti protons and the "saucers."
He thinks it may have been one of the "saucers" which hit the film pack. In that case, the "saucer" would have been a small particle which appeared to be something else because it is so powerful.
"Who can say you couldn't see something with as much power as that seems to have?" he asked.
In any event, he believes in "flying saucers."
"I know there is something because if pilots see it — both airline and airforce — and can't describe it as an airplane, then what is it?"
"Anyway, I saw it myself," he said.
---
Friday, September 10, 1954
Portland, Oregon, The Oregonian
Report Due on 'Saucers'
– BY Robert S. Allen
WASHINGTON—The air force is getting ready to take the wraps off of some of its "flying saucer" secrets. The disclosures will be intriguing, but not earth-shaking. They will debunk a number of UFO (unidentified flying object) reports that made sensational headlines and gave rise to widespread tales about interplanetary visitations.
Most significant revelation will be about the types of guided and other missiles the air force is developing.
One of them was the cause of the scary "ball of fire" story.
This tale, which swept around the country, was first related by a touring family that unknowingly camped inside an air force testing range. According to the fairly accurate account of these folks, the terrifying device flashed a few hundred feet over their heads at an incalculable speed, with a deafening roar and exuding long eerie flames.
Later, other less factual accounts were even more hair-raising.
All the reports were pooh-poohed by the air force.
In the forthcoming disclosures, it will be admitted these "sightings" had substance, although greatly exaggerated. However, it will be evident from the information the air force makes public that it was easy for untrained and astonished observers to arrive at their imaginative accounts.
This particular device is a guided missile capable of speeds exceeding 3000 miles an hour. It has been spotted hundreds of times.
Two other devices are actually shaped like saucers. They, too, have been numerously reported in various parts of the country, in some instances by commercial and other pilots.
The army and navy are also very active in the guided missile field. Some scientists credit the navy with leading the other two services in these developments.
---
INTERNATIONAL UFO REPORTER - SEPTEMBER/OCTOBER 1983
Close Encounter at 25,000 Feet: Government Cover up
by Paul C. Cerny
[Ed. note: There are today so may straws in the wind concerning alleged government cover up of genuine UFO cases that, taken together, they would make quite a haystack. Yet, no definitive proof has been forthcoming, proof that would withstand a severe Congressional investigation, for example. The following story, released by the widow of one of the principal witnesses after an enforced silence of many years, would, if true (and Mr. Cerny holds it is true, based on his private interviews with the narrator), constitute such proof. We present it here for the record through the kindness of Mr. Cerny. In 1954, the date of this event, I was quite active with Project Blue Book and 1 do not recollect ever seeing this report in Dayton. If it had come into Blue Book, it would have stood out like the proverbial sore thumb and it certainly would not have escaped my attention. So here may be additional evidence of Government cover-up.]
| | |
| --- | --- |
| TYPE: | CE-1 |
| TIME: | 4:30 PM |
| DURATION: | Over one hour |
| WITNESSES: | Crews of 3 B-47 bombers |
| PLACE: | 25,000 feet over Texas vicinity of Dallas |
During a radio call-in talk show, in which MUFON astronomy consultant Tom Gates and I participated, we were rewarded with an unusual and highly significant story from the widow of a former Air Force major, a pilot and navigator on B-47 and B-52 jet bombers. She stated that after many years of remaining silent as requested, she felt that the public had the right to know about her deceased husband's, and his companion's, exceptional UFO encounter.
I arranged for several personal interviews which revealed an astounding story of high altitude, extremely close UFO encounter. Her detailed recall of the events of many years ago, as told to her by her husband shortly after the event, was impressive, as was her obvious intelligence. I almost felt that I was listening to her husband retelling the story himself.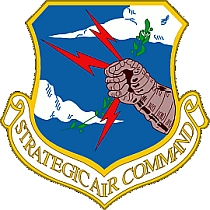 Her husband at the time was Maj. Robert J. Waste (she has since remarried) #73028, classified as a 1037, basically a navigator of a specialized elite crew. He was a Wing Officer with the Strategic Air Command (SAC). He lost his life in the crash of a B-52 bomber on Memorial Day, 1955, which also cost the lives of the entire crew. The UFO encounter had occured (sic) eight months earlier.
On Sept. 3, 1954, Major Waste had gone out with his squadron on routine bombing exercises. They were competing for accuracy by dropping "bombs" of sacks of flour. Each B-47 carried a crew of three – a pilot, co-pilot, and navigator-bombardier. Major Waste was acting in the latter capacity, riding in the nose portion of the aircraft.
They had been over various mid-western States and were now returning home to Barksdale A.F.B., Shreveport, La. At about 4:30 P.M., on this relatively clear day, they were in the general area of Dallas, Tex., when they received a radio communication from Carswell A.F.B., near Fort Worth, asking them to investigate and be on the lookout in their immediate vicinity for reported UFOs. They were cruising at 25,000 feet.
They were suddenly startled to discover a strange craft pacing their plane only 100 feet overhead. The alien machine was a beautifully stream-lined, missile-shaped device slightly larger and longer than their own B-47 fuselage. It was dull metallic in color and had two rows of oval-shaped port holes along each of its sides, about a third of the way up from the bottom. An orange exhaust flame emanated from the rear of the aerial intruder, as well as from what appeared to be smaller control exhaust ports slightly ahead of the main thrust unit. The bottom of the craft seemed to be lighted or glowing. This description of the appearance and performance of the craft resembles that of the famous Chiles-Whitted DC-3 airliner case of July 23, 1948, near Montgomery, Ala.
The immediate concern of the crew was the frightening possibility of a mid-air collision. After pacing the B-47 overhead for a short time, it suddenly shot ahead and then zoomed almost straight up at incredible speed, disappearing momentarily from view. As per their radio instructions, they tried to climb after it at full throttle, but almost stalled the B-47 in the attempt. Nothing we had would come anywhere near the its performance capabilities.
The sleek UFO then came back down to within about 300 feet of the jet bomber and began circling the aircraft. It circled overhead and underneath at fantastic speeds, so fast that they could hardly see it. The object stayed with them, pacing overhead and underneath, doing all sorts of maneuvering around the B-47 for well over an hour.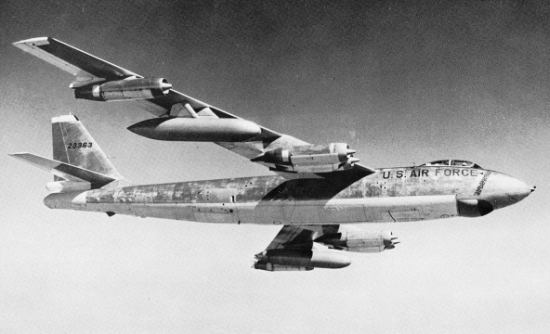 RB-47E Bomber similar to Major Waste's aircraft
During this time Major Waste had made his way back through the inside passageway to the pilot's area where he and the co-pilot shot photos of the missile-like intruder with their personal cameras. Many of their pictures were taken when it was close overhead, displaying considerable detail. Major Waste had a new Nikon sequencing camera with a telephoto lens. An expert photography buff, he shot 32 frames of 35mm color film of the craft during the encounter.
The maneuvering capability was incredible. The object would cut in front of the plane, at one time doing a perfect figure eight, as if showing off. Once it slowed down in front of them, and they started into its exhaust flame. When they were sure they would collide, it pulled away and maneuvered around the aircraft.
Their radio instructions from the ground were to pursue and, if possible, force the UFO down. Major Waste remarked, "No way were we going to be able to force that thing down!" The crew's opinion was that this unusual craft did not come from anywhere on this planet, due to its appearance and maneuvering capability.
The two planes behind were watching and listening to the air-to-ground communications between Major Waste's plane and the air base. When the action started, they did move up for a closer look, but kept at a safe distance. All immediate action was centered around the lead aircraft.
As if content with the time spent "showing up" the inferior B-47, the sleek craft once again shot upward into the sky and disappeared, not returning again.
All the B-47s on this training mission landed safely at Barksdale A.F.B. and the crews were released after debriefing and sent home, except for the crew of Major Waste's plane and the two other accompanying aircraft. The wives and family members of these three planes were all anxiously awaiting their arrival and release from duty at the base, but were told to go back home without them, that they would be detained for some time. The crews are specifically instructed not to discuss military matters or incidents while on duty with anyone, even their wives.
The three involved B-47 crews were confined to the A.F.B. for almost three days for special debriefing as the result of their encounter with the unknown craft. All the film the crews took of the UFO was confiscated. The luggage bags and other personal effects thoroughly searched for any possible additional film. The planes were carefully searched as well. Family members calling the base, inquiring why the three crews were being detained and why they could not come home, were told they could not discuss the reasons. No information at all was available. Major Waste finally came home on the third day at about 9 p.m. to a very upset wife and her son, whose birthday he missed because of the detainment.
Mrs. Waste prodded her husband, promising not to tell anyone the reason for his detainment, and she kept that promise all these years until now. He finally agreed to tell her in the strictest confidence about the unusual encounter, and told her never to tell anyone about it. Since that time, she has remained in touch with the other two crew member's families and three other retired officers acquainted with the incident. She was good enough to phone these retired officers for me to ask for verification and permission to use their names or let me talk to them. All flatly refused and one even denied any knowledge of the event. The others did verify to her that the encounter took place but refused to discuss it, even with her.
It is incredible the "strangle hold" our government agencies have over military personnel, threatening reprisal to silence them about their involvement in a world-wide phenomenon which, in most cases, does not involve classified military information.
In the case at hand, we apparently have an answer to James Oberg's question stated in his article in TRUE 1981. Outer Space and Paranormal World Quarterly, "Where are the UFO photographs?" Perhaps Captain James Oberg's influence with the Pentagon is sufficient to obtain the release of the Major Waste photographs, or at least to disclose where they are filed?
---
PROJECT 1947 Comment: The Editor's Note in the introduction to this case is by Dr. J. Allen Hynek. As in the case of the Navy Skyraider Squadron incident, the above report exists with no official documentation. A number of other reports are also in this category.
One of the best known examples involved the USAF UFO spokesman, Col. William T. Colemen – Public Relations Officer covering, among other things, UFOs from 1961-1962.
Col. Colemen reported his UFO sighting of 1954 or 1955, but after he became Air Force UFO spokesman, he could not locate his report in the Project Blue Book files. It was not listed as a "missing case," but completely absent like the report above, from the Blue Book records.
We have references to several serial numbered USAF intelligence reports on UFOS – i.e., Intelligence reports sent to USAF HQ and recorded in the logs of USAF intelligence files – which apparently are also not in the Project Blue Book files.
When Capt. Edward Ruppelt became Project Blue Book chief, he searched intelligence files in the Pentagon to locate UFO reports not passed on to Project Grudge/Blue Book. He did everything in his power to make sure that all such reports were funneled to Project Blue Book for evaluation. Even so, a few UFO reports from the 1947-1952 period that were not in the Project Blue Book files have been recovered in other USAF activities' files. It has been harder to locate such reports made after 1952.
There continues to exist a large body of reports made by former US military personnel during the Project Blue Book era that do not exist in the project's files.
---
Sunday 19 September , 1954
Portland, Oregon The Oregonian
Reporter Witnesses Mysterious Flying

Cigar Boom Along Over Rome
By MICHAEL CHINIGO
International News Service Staff Writer
ROME (INS)—I saw with the naked eye a mysterious flying "cigar" which flew over Rome Friday night and which clearly registered for 39 minutes on radar sets in the area.
What attracted my attention was the strange sound the object emitted as it passed overhead. Previous reports of flying saucers have described them as emitting no sound.
The sound from this object was not the usual whine of a jet or the droning of an ordinary plane.
Rather it was like approaching thunder but with a staccato effect, a series of explosions that grew louder as the object got closer.
This was followed by dead silence as the "thing" stopped, or appeared to, at a height of about 5000 to 6000 feet.
Suddenly it shot upward and left an exhaust trail of milky white smoke. It went straight up vertically into the sky. The air was perfectly still, and the smoke remained in a vertical trail.
There is some disagreement about the exact shape of the object.
The observatory at Ciampino initially described it as a "flying cigar" with a big antenna amidships.
The defense department pictured it as a "clipped cone" with a smaller surface on the bottom. Or as two semi-circular disks, one bigger than the other, with the bigger one on top.
To me it seemed more like an inverted sawed-off cone. It was difficult to determine how fast it was going.
Mid-Air Parking Weird
Frankly I thought in seeing it that it must be some Italian or allied experimental machine or perhaps a British craft in view of reports of Britain's progress in new type of aircraft.
Air force officials said they do not know whether Italy is experimenting with such a type of plane.
Popular opinion is that the weird object may have come from the communist east, but the communist and left-wing press in Italy ignored the story.
Radar Alert Ordered
The Italian defense ministry meanwhile ordered the country's radar stations to be on the alert for signs of the object.
The radar station at Rome that picked up the "cigar", or "cone" on its screens said it registered for 39 minutes.
Defense officials said the first "flying saucer" reports came from the town of Pitigliano in the mercury mining area 150 miles north of Rome last Tuesday.
One report was sent in by a local post office official, Luigi Becherini, who described it as a flying vessel with strange flight characteristics.
His account was corroborated by friends and other witnesses in the area.
---
Tuesday 21 September, 1954
Long Beach, Calif., PRESS-TELEGRAM
WATERPROOF
Ball of Fire Seen
Skipping on Ocean
A ball of fire that moved in and out of the water without being extinguished was reported seen Monday by the master of a Honduras freighter 45 miles west of Ensenada.
Coast Guard radiomen here intercepted a message from the 7,194-ton freighter Aliki P., which stopped at San Pedro Sunday for fuel oil en route from Vancouver to London.
"Observed ball of fire moving in and out of water without being extinguished," the message said. "Trailing white smoke. Moving in erratic course, finally disappeared."
The vessel is manned by a Greek crew.
---
Sunday 3 October, 1954
Bombay, India, THE TIMES OF INDIA
800 Biharis See Flying Saucer
Calcutta, October 2:   A flying saucer was reported to have been seen recently by about 800 people living in three adjoining villages in Manbhum Bihar.
      Mr. Ijapada Chatterjee, 60-year-old manager of a mica mine, "Kadori", owned by a Calcutta business man, Mr. S. N. Gnose, told The Times of India News Service here today that he was sitting in the verandah of his house on the afternoon of September 15, when he saw a disc-like object descending about 500 yards away.
     Villagers came out from their huts to see the strange sight. Shaped like a saucer, it came down to a height of about 500 feet above the earth making a sound like the whirring of motor-car engine. It hovered for a few minutes; then, suddenly, the two sides seemed to get inflated. This was followed by what looked like smoke billowing from the two ends. Immediately the object soared upwards at an incredible speed.
GREY IN COLOUR
     Mr. Chatterjee said that the object was about 12 feet in diameter and dull grey in colour. At the centre of the side visible to him was a black patch that resembled an aperture. "As it soared upward, there was a tremendous gust of wind which caused doors and windows to rattle," he said.
     Later, the people from the adjoining villages of Borsi and Managalda also said that they had seen the same object.
     A local holy man interpreted the UFO as "something from heaven." The mine also produced beryllium for the Atomic Energy Commission.
---
Tuesday, October 5, 1954
Paris, France, Le Monde
"WHAT ABOUT THE FLYING SAUCERS?"
asks Mr. Jean Nocher to the State secretary for the air
Mr. Jean Nocher, deputy of the Loire, asked, in a written question, to Mr. Diomède Catroux "whether his predecessors at the secretariat of the air had taken care, as one did in the United States and in the U.S.S.R. long ago, to open an investigation into the presence in our atmosphere of unidentified flying objects".
In the affirmative, the deputy of the Loire asks that the publishable results of these investigations are shown.
In the contrary assumption, Mr. Jean Nocher wishes that one constitutes a scientific commission to study the reported phenomena to "separate the truth from the errors or possible mystifications".
[Translation by Patrick Gross.]
---
Tuesday, October 12, 1954
Paris, France, France-Soir
"A Luminous Machine Observed in
Cameroon by Credible Witnesses"
YAOUNDE (Cameroon), Oct. 12 ("France-soir" news brief).— An enormous illuminated disk was observed Sunday in Yaoundé by a group of trustworty people: Colonel Cauvin, director of the health and prophylaxis services of Cameroon; Dr. Menn, chief medical officer of the hospital; MM. Dumont, Director of the Security Services; Poileux, Councillor of the Territorial Assembly; Moreau, administrator and deputy mayor of Youndé. It was the dog of the house who, by barking, attracted the occupants. Under the disc hung a sort of oscillating cylinder. The machine, after a few seconds, disappeared quickly towards the east.
---
Friday, October 15, 1954
Paris, France, Le Rouergue Républicain
The Mystery of the Flying Saucers
A luminous disc
ESCAPES
two jet aircraft
who had hunted it
AVIGNON, October 15th. - Early in the afternoon of Friday, at 1:30 p.m., the population of Fontaine de Vaucluse was in turmoil.
Indeed, a "white disc" was hovering slowly over the small city and one could clearly distinguish it with good binoculars. This white disc was surmounted by a spherical protrusion of the same color.
The lower circular border intermittently bears two powerful lights, varying from white to purplish, passing through the red.
The air base at Caritat (Vaucluse), alerted, immediately directed two jet planes which soon made their appearance, and after two turns on Fontaine de Vaucluse, took altitude and dove on the "disc".
The radio on board the planes, which was in communication with the base, announced that the craft was in sight, that it was being hunted, but that it escaped because its speed was higher than theirs.
From Vaucluse, one could see clearly the disc skyrocketing, pursued by the two jets.
CALAIS. - A baker boy from Calais said he had seen, at 3:40 a.m., at the place called "Saint Pierre Halte", on the road to Saint-Omer a yellow and shiny craft land on the railway tracks. According to the baker, the curiously shaped object was two meters in height and four meters in diameter.
NIMES. - Two people saw last night, as they were returning home, a few kilometers north of Nîmes, a greenish glow in a field. They approached and found the presence of a craft in all aspects identical to a rugby ball and seeming to rest on crutches. The strange device suddenly rose into the air, emitting a faint noise and gradually taking on an orange hue.
[Translation by Patrick Gross.]
---
Saturday, October 16, 1954
Paris, France, L'Est Républicain
CONTRADICTORY TESTIMONIES IN THE VAUCLUSE
Visible from the ground, a white disc
disappears in front of two jet planes
Paris. — One could expect one moment on Thursday afternoon that one of these mysterious objects which furrow the sky of France and Navarre was going to give up its secret. Alas! It was not so, and the claims of the ones and others are so contradictory that one does not know any more who speaks seriously and who is joking.
Around 01:30 p.m., Thursday, the residents of Fountaine-de-Vaucluse were in agitation because of the maneuvers of a white disc slowly hovering above the city, and which was clearly distinguished with the binocular.
This white disc was surmounted by a segment of a sphere of the same color, and the lower circular edge carried, intermittently, two powerful fires, variable from the white to the purplish, passing by the red color.
Then, who is to be believed?
The air base of Caritat (Vaucluse) was alerted at once and two jet fighters took off. A few moments later, they veered above Fountaine-de-Vaucluse.
It is here that testimonies do not agree any more: the residents stated "the two planes took altitude immediately and dove right on the disc which was still visible. But they could not reach it, for their speed was lower than the speed of the disc. Soon, planes and disc disappeared at the horizon."
This report is the topic of an official statement of the secretary of State to the Air who states: "the two pilots of the Orange [Orange-Caritat] air base who flew over Fontaine-de-Vaucluse at various altitudes on October 14 in the afternoon did not observe any unknown machine during their search.
"The two pilots are experienced officers and their report is bulletproof."
Then, who is to be believed?
[Translation by Patrick Gross.]
---
Wednesday, January 19, 1955
Paris, France, Le Provençal
THE SECRETARY OF STATE FOR THE AIR:
"Pursuit of the 'flying saucers' is authorized"
Paris (A.F.P.).— Mr. Jean Nocher, representative of the Loire (no affiliation), has just received the response from Secretary of State for the Air to a written question that he had asked him last October, in connection with the investigations carried out "about the presence of unidentified objects in our atmosphere."
The Secretary of State indicates that "almost all the reported observations – when they were sincere and sufficiently precise – received a natural explanation."
However, it was prescribed to the squadrons of the Air Force, adds the answer, "to establish an objective and detailed report each time an unidentified heavenly object is directly reported to them, to forward this report to the scientific office of the army staff where officers were especially appointed to follow the matter."
The Secretary of State specifies that "the pursuit of these "apparatuses" although it did not give any result when it was tried until now, is authorized every time when it does not involve any risk of accident."
"In any event, the answer concludes, it does not seem necessary to exaggerate the documentary importance of testimonies whose number and good faith are not enough to equate them to objectively controlled scientific observations."
[Translation by Patrick Gross - http://ufologie.patrickgross.org/indexe.htm.]
---
PROJECT 1947 Comment: Very few military cases from the French military forces have been made public. Despite many ground eyewitnesses, the extensively reported 1954 UFO jet chase was officially repudiated. Note that it took several months for the Air Minister to answer the deputy's questions about the October, 1954 wave of UFO sightings.
---
Friday, October 22, 1954
Montluçon, France, Centre-Matin
"Close Approach in North Africa"
Wednesday morning, around 3 hours, Mr. Gaston Blanquère, resident in Oran, was returning with passengers on board his car. A little after the village of Jean-Mermoz, the attention of the motorists was attracted by a sharp gleam coming from the south and which grew bigger quickly.
A luminous disc crossed the road above them, descended a few hundreds meters further and appeared to contact the ground.
The machine had the size of a small car. It was composed of a higher cupola from which came out a yellow gleam. The lower part of the disc let escape a bluish luminous sheaf. Kinds of very powerful headlights swept the plain.
Ten minutes later, the luminosity dimmed and the machine, taking height, moved away quickly and without noise.
The police chief of the Sig, during his investigation, had these statements confirmed by a fellah of a nearby douar.
---
July 22, 1958
Marysville, OH, Journal Tribune
"Object" Still Unexplained
Ex-Chief Recalls 1954 Sighting At School
The mystery of a flying object which pupils and two teachers at Jerome School saw in the sky back in Oct. 22, 1954 has never been solved, says Robert C. White who was at that time, chief of the Air Force's "flying saucer division."
     The teachers, Mrs. George Dittmar, of Marysville, and the late Rodney Warrick, of Raymond, and their pupils saw what they described as a "cigar-shaped silver object travelling at a terrific speed, that wafted a blanket of angel hair for at least three miles."
     Within a minute after the substance was touched, it would disappear, leaving a green stain on the fingers of whoever touched it. This stain did no apparent harm and could be washed off. Warrick said at the time, "I have never seen anything like it or heard of anything like it. It was the most unusual sight I ever saw."
     White, who is winding up a two-year tour as public information officer at this giant U. S. Air Force base 18 miles southeast of Casablanca, will shortly head for a top Pentagon assignment in Defense Department information work.
     Bob White, as he has become known to scores of U. S. and foreign newsmen who have been his guests in this land of mint tea, camels, and palm trees, will be no stranger to Washington.
     From 1953 to 1956, when flying saucers first sailed into the news, White worked in the Pentagon as de facto chief of the "flying saucer division" of the Air Force's central information services.
     This was no hush-hush, top secret research project, as it sounds. It was, however, a job which called for top-level diplomatic skill and the judgment of a King Solomon. Bob had to painstakingly investigate all reports of flying saucers or "unidentified object" sightings.
Heard Bizarre Tales
     An occasional writer of fiction himself, Bob encountered some saucer stories which, in his words, [missing text].
     The one saucer scare which he never could clear up, Bob says, was the one at Jerome school.
     But White is convinced that there never was a single saucer which was not either a hoax, the figment of imagination or which could not be rationally explained.
     "Its just a matter of getting enough information promptly," he says.
Began Writing in Brazil
     He began his Air Force career during the war in 1941 as an enlisted man and won his pilot's wings in 1944. While serving in Brazil he began to write. Several of his short stories have appeared in national magazines since.
     Trying out postwar civilian life, Bob found his taste for unusual places and situations leading him from a schoolteacher's job in Toledo, Ohio to four months of writing at Nogales, New Mexico - which he compares with Morocco in the fantastic beauty of its arid, landscape - and finally to a year on an Indian reservation at Pueblo Pintado, N. M.
     At Pueblo Pintado, Bob was a teacher, counselor and all-around sage to the small community.
     Back in the Air Force, he went to Madrid, Spain for a short tour of duty after completing the saucer assignment at the Pentagon.
     Bob met and married his wife Alice, of Livermore, Calif., in 1946. The Whites have a daughter, Monica, 4, a blue-eyed blond adopted in Germany, whom they hope to take back with them at the end of June.
---