"Looking to the north, I immediately spotted several extremely shiny round objects. They looked about the size of a dime and were rapidly moving toward us. Someone shouted, 'Saucers!'
"Everyone watched as they came closer. They seemed to go over, under and around each other in free easy maneuvers, giving the impression of a bubbling motion. The objects moved. south, then west, back east and finally drifted to the north. They appeared to follow an arc, dropping down as they went into the north, then rising and dropping again as they neared us.
"Suddenly, they formed a straight line and headed west at an incredible rate of speed. From this formation, we could count eight definite objects about the size of golf balls, only flat. The distance from the first to the last object seemed about 3½ feet.
"Bill and Wilma Eden, six children and myself watched the objects for several minutes. We felt certain they were somehow controlled and must be saucers. We did not see protrusions from their naturally round shape. The objects did not leave a vapor trail. No sound reached us.
"I ran into the house for my husband's binoculars. Through the glasses, the objects looked about the size of croquet balls. Each one looked identical with the other. Next, they drifted close to us, broke from the straight line pattern and began the bubbling motion once again. They changed position so quickly that no one knew whether the first, last or middle ones moved first.
"For the third time we watched them move in a straight line, zooming and banking. Someone screamed 'They're landing!' Then when they seemed about 75 feet off the ground, they broke formation and rapidly gained altitude.
"With that, I ran Into the house. Someone had to know about these 'things'". The operator gave me the Air Force detachment in Casper. After several minutes delay, I heard a man answer 'Air Defense, go ahead.'
"The airman was interested, polite and businesslike. He took our names, approximate location and description of the objects. On the following day, the commanding officer of the detachment called on us to obtain a more detailed report of what we had seen. We referred to telephone poles, ridges and drilling rigs to more accurately determine approximate location of the objects. The officer made notes during our conversation, and told us he was sending a report to Washington. He was extremely serious about all details and told us it was one of the best reports he had received.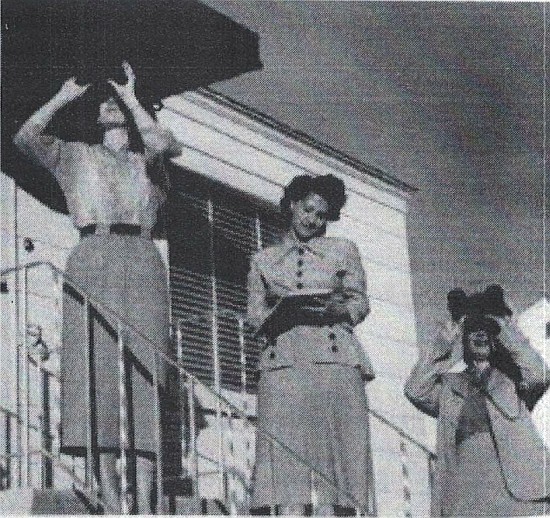 Three members of the South Cole Creek Ground Observer post observe and
spot aircraft. They are (left to right), Marge Michaelis, Doris Yelton, Marie Groth.
"Several days letter, another airman came out to discuss the possibilities of forming a Ground Observer Corps post at South Cole Creek camp. All of us expressed an interest in organizing such a post if we could receive proper instruction and training.
"My husband and I attended an open house at the Air Force detachment later that month. At that time, the commanding officer told us he had received an answer to his report. Washington knows what they are, he said, 'but they didn't tell me everything.'
"'What do we call them, just saucers?' I asked.
"He replied 'We have no better name for them.' He told us that on the same day we saw the objects, a group of pipe line employees working west of Casper had made an almost identical report."
Since the organisation of the Ground Observer Corps at South Cole Creek camp, five Phillips families have volunteered as observers. This group meets once a month to view training films, hear talks by Air Force personnel and discuss material in the Air Force manual.
Marge Michaelis is group supervisor. Bill Hatfield is chief observer. Wilma Eden is assistant chief observer. Other observers are A. L. Michaelis, Bill Eden, Jean Hatfield, Mr. and Mrs. C. L. Yelton, Mr. and Mrs. Bob Groth and Eddie Hatfield.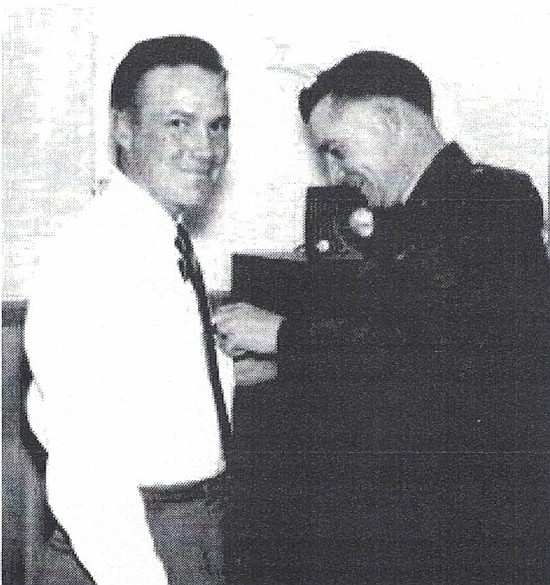 Bob Groth (left), light truck driver at South Cole Creek, receives his silver
observer wings from Major Merlon S. Evans, Casper Air Force detachment.
To earn silver wings, observers must complete 36 hours formal training. Credit hours are earned by attending monthly meetings and demonstrations, observing and reporting irregularities in aircraft flying over the camp and by participating in scheduled alerts.
Phillips families at South Cole Creek are to be commended for their work as ground observers and for the important part they are playing in our National Defense program.
---

Download copy of 1951 edition of the Ground Observer Corps Manual
---
May 2, 1954
The Ultimate Witness? Secretary of the Airforce, Harold E. Talbot
Contained in UFOs: A History, 1954 - January-May by historian Loren Gross, is the following item on page 61:
The Ultimate Witness?
Harold E. Talbot, Secretary of the Air Force, was in an airplane enroute to Palm Springs, California, the afternoon of March 24, 1954. While passing over Fresno, California; Talbot, his aides, and the plane's aircrew, all saw a large metallic-looking object following the plane in a position about a 1,000 feet below and a like distance behind. Talbot ordered his pilot to turn around, but when the plane banked, the UFO made a tight little orbit and streaked away at an incredible speed. There is no record of this encounter in BLUE BOOK files and debate about its existence surfaced in mid-May 1954.
In an article published on May 14, 1954, retired USMC Major Donald E. Keyhoe claimed that Secretary of the Air Force Talbot had seen a "large silvery disk-shaped object" in the sky. Talbot immediately denied Keyhoe's statement, saying "I have never seen a flying saucer."
While the authenticity of the claim is still open to question, we now know the probable source of the rumor: It was contained in a private letter to Donald Keyhoe from former head of Project Blue Book, Edward J. Ruppelt.
1911 Josie Ave.
Long Beach, Calif.
2 May 1954
Dear Don,
Just a short note as I have promised to take the girls to a movie to night. First of all I didn't mean to mislead you on what I said about referring to Dewey Fournet in my True story. I believe that I told you that I wasn't going to mention him. I really thought that it had been taken out but somehow it got back into the final draft.
Second, I rec'd a letter from a person whom I had had some correspondence with when I was on Blue Book. He is a good source as far as I know. I'll give you the interesting part of the letter verbatum (sic) leaving out the names.
"Two friends of mine ____ and _____ had breakfast with Harold Talbot, Secretary of the Air Force, in Palm Springs about four weeks ago. They said Mr. Talbot seemed pretty excited ( ____said badly shaken) over a flight into Palm Springs the previous morning.
It seems that south of Fresno they picked up a UFO which held loose formation /with/ the Air Force plane for over an hour. (About 1,000' below and 1,000' out) It was Large, silvery, and disk-shaped. With the Secretary was a technical advisor (my friends presumed it was Lindbergh.) who gave the Secretary a running account of the plausibility of its shape, why it probably couldn't land on the earth and other data. Also in the plane were the crew and other aides. After about an hour Mr Talbot was still not satisfied that he could exactly make out the shape so asked the pilot to swing over toward the UFO were upon (sic) it accelerated up and out of sight. This was a daylight sighting under extemely (sic) favorable conditions."
Take it for what it is worth Don. It seems to be kosher since the source claims to have known the two people who talked to Talbot. Maybe you could get some info from the Pentagon. Whatever you do, keep me out of it, please. As long as I don't appear in the limelight too much I think I can pick up some good info occasionally. I'd prefer not to have even Al Chop know that I am passing you this info. My reasons are rather long and envolved (sic).
How did your talk in Cleveland come off? I checked the papers out here but didn't see anything about it.
If this Talbot thing has any basis I would certainly like to hear about it.
As ever

/s/

Ed Ruppelt


Download Document as .pdf File
---
Tuesday, 18 May, 1954
Dallas, Texas, Times Herald
Glowed Like a Light
4 Jet Pilots Report Race
With 'Saucers' Over Dallas
By Dick Johnson
The Times Herald Staff Writer
A Marine Air Reserve pilot told Monday how he and three other jet pilots lost a race over Dallas Friday with 16 objects they could only describe as flying saucers.
Charles Scarborough, reserve major and an attorney, said the objects he and three other flyers sighted "glowed like a light."
"It was about noon Friday and I was flying at about 15,000 feet with Capt. Charles Stanton on one side and Maj. E. C. White and Capt. R. L. Jorgenson above us at 42,000 feet.
"We were going north toward Lake Dallas when I spotted the objects out to one side and above me. I radioed Capt. Stanton about them, but he could not see them then.
"However, Capt. Jorgenson cut in to say he could see them below him. The four of us decided to bring our S9F7 Jets into a formation to 'box in' these objects.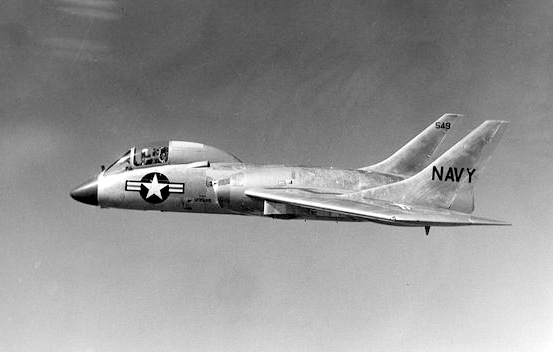 US Navy Chance-Vought F7U Cutlass Similar to Scarborough's Jet
"I peeled off and upward and toward them. Major White and Capt. Jorgenson dropped down. I lost the objects even as I was looking at them in the chase, but Maj. White said he was able to observe them speeding away. He said they went very fast."
The Dallas officer completed two weeks of reserve training at Hensley Field Saturday.
He and Capt. Jorgenson are Dallas residents, Maj. White is from Amarillo and the home town of Capt. Stanton was not known.
"We reported the incident to Col. Bill Crowe, detachment commander at the Naval Air Station," Major Scarborough said.
He quoted Major White as saying "the objects flew at an unreasonable amount of speed. Faster than I ever saw anything fly."
---
Excerpt from a lecture given by Major Donald E. Keyhoe, US Marine Corps, Retired, under the auspices of The Civilian Saucer Intelligence of New York, December 9, 1955 at the St. Nicholas Arena Ballroom in New York City.
"Take the case of Major Scarborough, a Marine [Reserve} jet pilot. On the afternoon of May 14, 1954, he was flying with another pilot at 15,000 feet near Dallas, Texas, when he saw a formation of 15 saucers above him. He immediately radioed to the two other jets of his group at 42,000 feet. The jets above dived, Scarborough and his companion climbed, trying to box in the saucers, but the object raced away from them and vanished. Meanwhile the pilot's radio conversation was heard by a radio ham on the ground, who asked Scarborough for confirmation; the story appeared in the Dallas Herald. The Pentagon at once issued orders for silence. I asked the Navy about it; they said they had never heard of the sighting. The Marine Corps wouldn't confirm it either. I wrote to Scarborough himself: after a long time he wrote and apologized, and said that my letter had been misplaced. Without adding any new details he did confirm the sighting. However, most pilots refused to admit even that much.
"….Since 1953 not one unsolved saucer report has been released to the public, except the few that put into this report [Project Blue Book Special Report #14] as examples to try to convince you that there's nothing to it. Just to test this, about every three months I call Captain Robert White, who is the official Air Force spokesman on flying saucers, and I always say, 'I am asking for the last six months' reports on flying saucers. I would like to see either the teletypes or the written reports, or go to Wright Field.' He says, 'I'll ask.' The next day he calls back, 'The request is denied.'"
- - - - - - - - - - - - - - - - - - - -
PROJECT 1947 Comment: Captain White and Keyhoe were friends and according to Keyhoe's notes he (Keyhoe) removed a reference in his manuscript of The Flying Saucer Conspiracy, then at the publisher, which said that White privately believed that UFOs were probably real, so as not to embarrass White.
---
June 22, 1954 Washington State IFF UFO Radar Case
Not Found in Project Blue Book Files
United States
IR-3-54
[handwritten:] AP624937
Unidentified Flying Objects
Northwest United States
D/I 25th Air Division (Defense)
[Date of Rpt] 23 June 1954
[Date of info] 22 June 1954
ODIN E. SORENSEN, CWO, USAF
See Summary
AFR 200-2 and SECRET Wire 25th/DTG 230730Z DE JWPDM 046B/Priority/ to ATIC
SUMMARY
FLYING OBJECT REPORT GROUND AND AIRBORNE RADAR SIGHTINGS OF UNKNOWN BLIPS OR TARGETS
An unknown blip or target was picked up on TIMOTHY [ADC 759th AC&W Sq, Naselle AFS, Wash.] radar control scope in Georef LE 1604, estimated 200 knot speed, estimated altitude 15 angles [sic] [angels] [15,000 feet], originally at 0314Z and intermittently thereafter for a total of three (3) sightings by TIMOTHY within a ten (10) minutes period after which time blip or target remained off. Upon first pickup, TIMOTHY relayed information to MERCURY ([ADC Air Defense] Direction Center) who took immediate action to vector two [F-86D] fighter interceptors, Pronto Blue #1 and #2, (who were on CAP [Combat Air Patrol], at 0400Z) off CAP to vicinity of blip or target. Pronto Blue #2 obtained an airborne radar pickup lower left portion scope, approximately twenty-eight (28) miles from blip or target which separated into two "clear distinct" blips at 0435Z; altitude 25,000 feet. Blue #2 attempted to close on 30 degree port heading in attempt to center blip, descending from 25,000 feet to 6,000 feet and to within estimated six (6) miles with speed increasing from .85 to .9 Mach. Blip then slid off scope from 30 degree port to 60 degree port. Blue #1 obtained an airborne radar pickup at 30 degrees at approximately 0436Z at 20,000 feet altitude. Blue #1 held pickup for approximately twenty (20) seconds, or three sweeps of AI [airborne intercept] radar after which time blips or targets slid off scope from 30 degrees port to 60 degrees port.
Information for this report was received from Senior Controller, GCI Site, TIMOTHY; Senior Controller, [ADC] Direction Center, MERCURY; Senior Controller, Division Combat Center, LAST CHANCE; the two F-86D pilots; a 25th Air Division pilot who was flying locally in T-33 and who heard all ground-air transmissions between F-86D pilots and ground stations.
RELIABILITY
A. (Pronto Blue #2) 2nd Lt [REDACTED], 317th Fighter Interceptor Squadron, 1124C pilot; approximately 193 hours, of which over half has been in fighter-interceptor work; approximately 270 hours in fighter aircraft; for approximate total hours of 463.
B. (Pronto Blue #1) 2nd Lt [REDACTED], 317th Fighter Interceptor Squadron; approximately 29 hours in F-86D aircraft; 80 hours (approximately) in fighter aircraft; 251 hours other type aircraft; for a total of 360 hours. The F-86D pilots were interrogated singly by Major Eugene L. Zechmeister, Director Of Intelligence and CWO Odin B. Sorensen, Asst Director of Intelligence, within four (4) hours of incident.
Classification ------- changed to
[handwritten:] Unclas, [typed:] effective [hdwrtn:] 5 Apr 78
______under the authority of ACS/I
[page edge cutoff] by [hdwrtn:] AFIS/INS Ltr 5Apr78
---
D/I 25th Air Division (Defense)
IR-3-54
2 2
Reliability (cont'd)
C. At the time of [IFF] first mode return picked up by [ADC radar site] TIMOTHY, question arose as to the possibility of malfunction. The site Tech Representative was on hand and monitored scope. In his opinion, malfunction of radar was definitely ruled out.
D. All weather stations, as well as Seattle AMIS [Aircraft Movements Information Service]; Navy; Coast Guard; 5 ADDC at Vancouver, B.C. Canada, were checked with negative results, ruling out possibility of weather balloons; boats or ships; or aircraft. One Navy P2V was found to be flying at time, but over one- hundred (100) miles from location of incident. A slight 3 degree inversion at 5,000 feet was present at 1900, but would possibly affect only a limited area.
E. The F-86D pilots were queried at great length in reference to the size and general appearance of blips presented on scopes. Both pilots appeared to have a very clear and firm concept of the difference between the observed blips as opposed to seaborne blips and B-36, B-52 type blips previously encountered.
F. All statements were obtained individually either in person or by telephone, ruling out possibility of subconscious innocent collusion. Superficially, all statements appear to support one another and to coincide.
EVALUATION
The blips or targets observed are tentatively evaluated as true airborne targets, similar in presentation size and general configuration (on ground-based and airborne equipment) to B-36, B-52 type aircraft with an estimated pullout speed of Mach One or better.
[/s/]
| | |
| --- | --- |
| APPROVED: | |
[Signed] [/s/]
EUGENE L. ZECHMEISTER
Major USAF
Director of Intelligence
1. Pilot [REDACTED] Statement w/1 Incl; [Map] Overlay
2. Pilot [REDACTED] Statement
3. Pilot [REDACTED] Checklist for UFOB
4. Pilot [REDACTED] Checklist for UFOB
5. Sr Controller (Div) Statement (Capt [REDACTED])
6. Sr Controller (ADDC) Statement (Capt [REDACTED]) w/2 Incls; Violation Report and [Map] Plot
7. Sr Controller (GCI) Statement (Lt [REDACTED])
8. T-33 Pilot Statement (Maj [REDACTED])


Download Document as .pdf File
---
Seattle FBI Documents Pertaining to June 22, 1954
Washington State IFF UFO Radar Case
PROJECT 1947 Comment: Despite official correspondence between the FBI, the US Air Force's Office of Special Investigations, and particulars of the incident being reported to ATIC, no details of this case were found in the Project Blue Book files.
| | | |
| --- | --- | --- |
| Office Memorandum | | UNITED STATES GOVERNMENT |
TO: SAC SEATTLE
DATE: 6/22/54
FROM: SA
SUBJECT: UNIDENTIFIED FLYING OBJECTS; Neah Bay 6/22/54
At 11:10 PM this date Special Agent telephonically contacted this office to report that an identified [sic] flying object was picked up by the Radar station at Neah Bay between 1930 and 1945 this date. The object was 38 to 40 miles S.W. of Neah Bay at an Altitude of 1500 to 2000 feet. Two planes were "scrambled" from McChord Field to intercept and picked up a "blip" on the radar scopes in their planes. The "blip" separated into two "blips" as they were watching. They chased the "blips" for 8 to 12 minutes. The "blips" faded from the scopes presumably because of fast air speed. The objects flew South then turned east when they faded. None of the pilots sighted the objects visually. The pilots were being interrogated by the intelligence officer at McChord. Other Radar stations were being contacted to ascertain if any further sightings were made. The 25th Air Division is submitting a report to the Air Technical Intelligence Center, Wright Patterson Field, Ohio.

stated the report was received from the Intelligence Officer of the 25th Air Division. The above information was furnished to

of CIC at 11:25PM this date. Attempts to furnish information to DIO 13ND. were to no avail as no duty officer was available at DIO.