"Columbia Crossroads," Vol 18, Issue 1, August, 2012
Aircraft Warning Observation Post - Hebron, CT
By Belle Robinson
Did you know that an Aircraft Warning Observation Post once existed in Columbia? Seventy years ago we were at war with Germany and Japan. The possibility of enemy aircraft attacks brought about the Aircraft Warning Service, and volunteer civilian observers were recruited to man observation posts up and down the coastal states.
To aid in this effort, the town of Hebron and Columbia collaborated in the building of an observation post, Freeman #52. It was erected on Lucius Robinson's land on Post Hill (now Skyline Farm on Route 66) in Columbia, and was in full-time use from November 2, 1942 to October 13, 1943. Joseph Barrasso of Hebron was the Chief Observer, Lucius Robinson Sr was first assistant chief observer, Winthrop Porter of Hebron was second assistant chief observer, and Lucias Robinson Jr was deputy chief observer. They recruited, fingerprinted, trained, and scheduled the observers.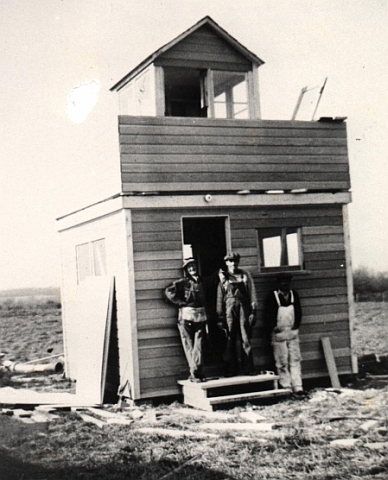 "Freeman 52" in 1942 situated at "Post Hill" on the Robinson Farm
Hebron and Columbia took weekly turns manning the Observation Post twenty-four hours a day, seven days a week. When rain was sluicing down, or snow piling up, or temperature 20 degrees below zero, or wind blowing a gale, or the sun beating down at 90 degrees, somebody was in the building watching for airplanes. Several hundred people from each town volunteered. They took a prescribed oath, wore blue metal badges, and carried yellow identification cards bearing name, signature, observer position, photograph, and left thumb print. National Defense fingerprint cards for identification purposes were sent to the Connecticut State Police and the FBI in Washington, DC.
Inside the post there was a wood stove, a telephone, electricity (but no air conditioner), stairs to the lookout, guides, and aircraft identification charts. Someone kindly donated a studio couch. At times only one person would be on duty, but generally two people would observe for two hours. If relief failed to arrive, they had to stay until someone did come. Every airplane was to be reported by telephone to Boston which could track flights from post to post. The report consisted of a description, location, and direction-of-flight of the aircraft.
Flights to and from Boston passed directly over Hebron and Columbia. Before the use of radar, aircraft beacons were situated in a line along the corridor. They were metal towers with a revolving light, white on one side and red on the other. One was on Clair Robinson's farm opposite the observation post. Of course this was why there was so much air traffic in the area. Fortunately, other than a couple of crows mis-identified as airplanes, no enemy aircraft was ever seen.
Following World War II, Lucius Robinson purchased the building from the two towns. Minus the lookout and railing, the building was placed near the old Hebron firehouse, and later relocated behind the Hebron Congregational Church. Now, with the help of the Hebron Historic Commission, the Boy Scouts and other interested people, the building with a new lookout and railing has a permanent home on the Hebron Town Hall green. This Tower is the only one known to exist out of the 14,000 that were used during the war.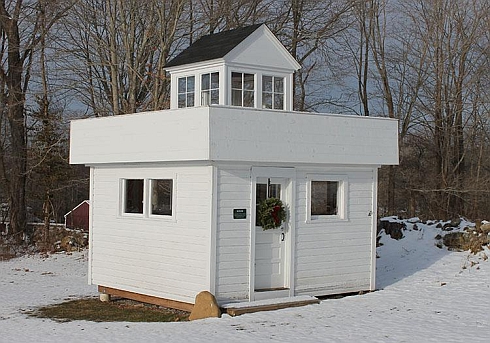 The restored Freeman #52 in 2012. It is the last known civilian
U.S. observation post still in existence
The restored observation post, Freeman #52, was dedicated on Memorial Day 2012. Several Town officials and politicians including US Representative Joe Courtney, state Representative Pamela Sawyer, state Senator Edith Prague and state Representative Tim Ackert, presented both Hebron and Columbia with certificates from Connecticut Governor Malloy commemorating the event. Ingrid Wood, President of the Columbia Historical Society, accepted the honors for the Town of Columbia, and Jeffrey Watt, Chairman of the Board of Selectmen, accepted the honors for the Town of Hebron.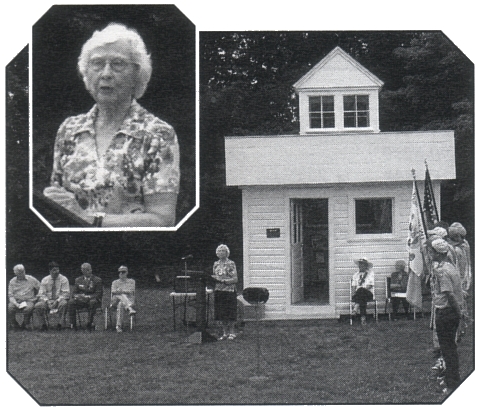 Belle Robinson talks about her experiences during World War II in the newly restored
Aircraft Observation Post, Freeman #52, then located on Route 6A (now Route 66) in Columbia
Thanks to former Columbia resident Dorothy Brehant Taggart who collected Observation Post memorabilia, there is a museum which tells the story of the Aircraft Warning Service and the many patriotic and dedicated towns people who donated hours serving their country during wartime by spotting airplanes. Visits to the museum will be scheduled SOON so that information and memories may be revived.
---
World War II Civilian Aircraft Observation Post.

(Open Saturday Only, 10 a.m. - 1 p.m.).
Located less than 100 yards north of the Hebron Town Office Building on Route 85, this small, wooden structure was originally located atop Post Hill in 1942, on Route 66 just over the Columbia border. From this lofty location, volunteer civilian observers from Hebron would scan the skies and report all passing aircraft to the Aircraft Warning Service's Boston Filter Center. After World War II, the lookout post was moved first to the Hebron Fire House on Main Street, then to the Hebron Congregational Church, and then finally in 2012 to its current site. The post, officially called "Freeman #52," is the last known civilian observation post still in existence.
---
Further details of the restoration and history of "Freeman #52" can be found at The Hebron Historical Society Website
---
The Aircraft Warning Service (AWS) was a civilian volunteer observer network connected by telephone to a filter center which passed along sighting reports to Air Defense Command for possible action.
The Aircraft Warning Service was deactivated on the East Coast in 1942-3. On the West Coast it remained in service until the summer of 1944 and was deactivated just shortly before the Japanese Balloon Bombs – Fugo Balloons – started arriving on the West Coast. To monitor the Balloon Bomb attacks an ad hoc observer network of US Forest Service, military, police and other government workers was established.
Records of the AWS observers have so far eluded researchers. A high percentage of sighting reports were never identified. However, filter center records, just like the post-war Ground Observer Corps records have been located or released. Historians have suggested that AWS records might be in the hands of the states where the observers were located.
---
Some extracts from newspaper articles about Mrs. Gladys Fusaro of Huntington, Long Island, New York, discussing incidents involving her and the Aircraft Warning Service.
New York New York Mirror - August 23, 1958.
They Fly in the Sky 'n' She Tells of 'em
by Harry L. Ober
If a flying saucer alights on Long Island, a crisp unemotionally technically complete report will make its way to an office in Washington, [National Investigations Committee on Aerial Phenomena].
It will be sent by a brisk little woman who saw her first "aerial phenomena" [sic] hanging over Sagamore Hill, across the bay from her Lloyd Harbor home, about 17 years ago. (1941) Since then "aerial phenomena" have made their mark as unidentified flying objects and she has sighted a dozen more.
"They were large, ball-shaped lights, brilliant. They would hang in the sky for some minutes — as many as five — then they seemed to disintegrate," Mrs. Gladys Fusaro recalls.
"Most of them were a blazing white, some were orange, some other colors. Some had flaming tails. I was an Air Raid Warden then, and there was an Army Aircraft Warning Service near us."
"The Army boys and I assumed they were some sort of weather balloon, but now I know better. One was especially brilliant and big, hanging over Port Washington. No, I don't know what they were. But I am trying to find out. But I do know they were objects that did not originate on this planet."
They were observed most often in 1941 and 1942, and again in the 1947-48 period, she said. Mrs Fusaro has [seen] none since 1956....
New York Daily News - September 18, 1958
Saucers Real, Former Raid Warden Says
....Flying Saucers are real, and not something to be scoffed at to Mrs. Gladys Fusaro of Lloyd Harbor. There is nothing new about them either. Long before the sightings of saucers appeared in the newspapers, Mrs Fusaro, who lives on West Neck Ave., had noticed strange sights in the sky. During World War II, she was an Air Raid Warden, and among her reports to her superiors are those dealing with large disk-shaped objects, lights, ranging in color from "red to green to greenish purple." One disc she sighted seemed to be hanging over Sagamore Hill and another over Cold Spring Harbor, she said.
She called other people who also saw the strange object, and she attempted to look at the second object with field glasses but the light was so bright that she had to look away, she said.....
---
1942 Summer [maybe 1943] Los Angeles, California,
AWS, Ground Observer Corps (GOC) member reports unusual object.
Marie K. Hicks of Rancho Cordova, California was then a high school student who volunteered early in the morning to watch for aircraft. At this time during the war, civilians flying near the coasts were banned. The observation station was a press box in the Los Angeles Coliseum.
About dawn a stationary gold colored object like an aircraft fuselage without wings or tail was observed by the two witnesses at the observer post. They observed the object both inside and outside the press box. The object reflected the light of the sun with the same intensity as a silver aircraft would. It appeared solid and had an outline. The weather was clear with no clouds, the morning light was bright enough that the stars were no longer visible. The object appeared on the far horizon. They did not see movement. They reported it to the filter center.
When they reported a subsequent observation, they were told that there were many reports of the phenomenon, but the filter center was not interested and not to make any more such reports. No other observations were made. The Coliseum had no electric lights and the GOC post in the press box used flashlights during darkness.
The playing field was grass, but one morning they observed what appeared to grotesque lumps on the field, which as it grew lighter looked to be dead bodies. As it grew lighter they saw that these were dummies to be used in an Armed Forces presentation at the Coliseum. This bodies incident could probably be used to better date the object's observations.

– Letter and report form from Marie Hicks, 14 November, 1995