Sign Historical Group
---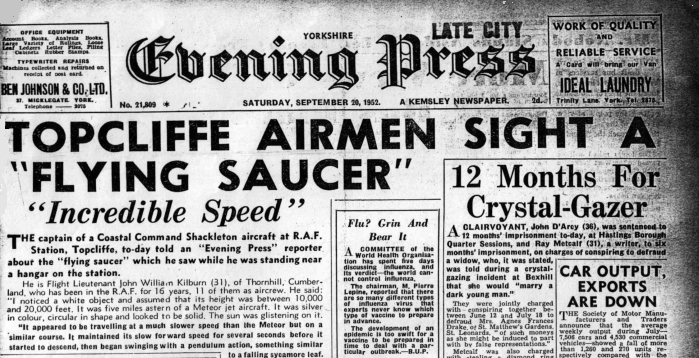 The Topcliffe Incident
With the debate ongoing, events were to take another unexpected turn when a fresh series of sightings occurred during a major NATO exercise in Europe, Operation Mainbrace. The most dramatic was reported by a group of Shackleton aircrew who saw a circular silver object above the airfield at RAF Topcliffe, North Yorkshire, on the afternoon of 19 September 1952. A report made to Topcliffe's commanding officer by one of the men, Flight Lieutenant John Kilburn of 269 Squadron, can be found among the Fighter Command papers preserved at the National Archives. In this Kilburn said he was standing on the airfield with four other Shackleton aircrew watching a Meteor fighter descending:
The Meteor was at approximately 5,000 feet and approaching from the east. Flt Lt Paris suddenly noticed a white object in the sky at a height between ten and twenty thousand feet some five miles astern of the Meteor. The object was silver in colour and circular in shape, it appeared to be travelling at a much slower speed than the Meteor but was on a similar course. It maintained the slow forward speed for a few seconds before commencing to descend, swinging in a pendular motion during descent similar to a falling sycamore leaf. This was at first thought to be a parachute or engine cowling. The Meteor, meanwhile, turned towards Dishforth and the object, while continuing its descent, appeared to follow suit. After a further few seconds, the object stopped its pendulous motion and its descent, and began to rotate on its own axis. Suddenly it accelerated at an incredible speed towards the west turning onto a south easterly heading before disappearing. All this occurred in a matter of fifteen to twenty seconds. The acceleration was in excess of that of a shooting star. I have never seen such a phenomenon before. The movements of the object were not identifiable with anything I have seen in the air and the rate of acceleration was unbelievable. (AIR 16/1199)
As in America, the year 1952 was to be a busy one for UFOs and the Topcliffe incident was just the first in a series of reports made by military personnel that reached the Air Ministry. There were also a growing number of incidents involving the tracking of fast-moving unidentified objects on RAF radars. For example, on 21 October 1952 a flying instructor and his Royal Navy student were in a Meteor jet on exercise from the RAF's central flying school at Little Rissington, Gloucestershire, when they saw three saucer-shaped UFOs. Flight Lieutenant Michael Swiney, who later served in air intelligence and retired at the rank of Air Commodore, vividly remembers this encounter. The circular, plate-like objects were also clearly observed by his student, Lieutenant David Crofts. They became visible when the Meteor punched through a layer of cloud at around 12,000 ft. Initially Swiney thought they were three parachutes descending towards them. Crofts described them as elliptical in shape and iridescent, like circular pieces of glass reflecting the sun.
Shaken, Swiney abandoned the training flight and reported the sighting to ground control. The objects, stationary at first, appeared to change position and then vanished. Subsequently he learned that aircraft were scrambled by Fighter Command to intercept these UFOs. When I interviewed Michael Swiney in 2004 he recalled his reaction:
I was frightened, I make no bones about it. It was something supernatural, perhaps, and when I landed someone told me I looked as if I had seen a ghost. I immediately thought of saucers, because that was actually what they looked like ... I even put an entry in my logbook, which reads: "saucers! ... 3 'flying saucers' sighted at height, confirmed by GCI [radar]."
On landing at Little Rissington the two men were ordered to remain in their quarters until the following day, when an Air Ministry team arrived to interview them. The team took statements and asked the men to draw what they had seen. Swiney's student, David Crofts, recalled he was told "they [Air Intelligence] had been in communication with every country in the world that was likely to have that sort of aircraft in the vicinity and drew a blank." When I interviewed him in 2004 he remembered: "They also said they [the UFOs] had been picked up on radar; fighters had been scrambled and the target had a ground speed of 600 knots, heading east but the fighters saw nothing, didn't make a contact and returned to base."
Despite this clear testimony it appears the men's statements describing this dramatic incident were subsequently destroyed. On his retirement, Air Commodore Swiney made inquiries with the MoD hoping to locate a copy of his original report on the incident. He was amazed to learn that most records of UFOs before 1962 had been routinely shredded. Today all that remains in the files at the National Archives is a single surviving reference in the flying school's operations record book which simply records how the two men 'sighted three mysterious "saucer-shaped objects" travelling at high speed at about 35,000 feet whilst on a high level navigation exercise.' The document adds that air traffic control later reported radar plots that appeared to confirm their report 'but Air Ministry discounted any possibility of "extra terrestrial objects".'
Writing in 1988 Ralph Noyes, who was private secretary to the Vice Chief of the Air Staff, Air Chief Marshal Sir Ralph Cochrane, at the time recalled their 'own embarrassed unease, widely shared by the [RAF] operations staff, that "our own people" had begun to fall for "that saucer nonsense".'
Indeed, as a direct result of these incidents a decision was taken in 1953 that the Air Ministry should investigate UFO reports on a permanent basis and responsibility was delegated by the Chief of the Air Staff to a section of the air technical intelligence branch, DDI (Tech). The memoirs of Captain Edward Ruppelt refer to an exchange visit to Project Blue Book's base at Wright-Patterson airfield, Ohio, by two RAF officers shortly afterwards. In his Report on Unidentified Flying Objects, published in 1956, Ruppelt revealed the officers were in the USA 'on a classified mission' during which one admitted the sightings during Operation Mainbrace had 'caused the RAF to officially recognise the UFO.'
—Extract from The UFO Files: The Inside Story of Real-life Sightings (ISBN 978 1 905615 50 6) by David Clarke. Used with permission of the author.