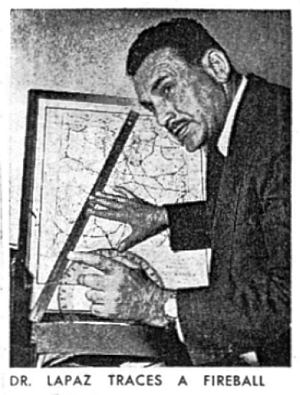 ALBUQUERQUE, N. Mex.– Any discussion of the remarkable "green fireballs" so frequently observed in recent years in the Southwest must begin with an appraisal of the accuracy of eyewitness accounts of these objects. Admittedly, the majority of fireball reports relate to ordinary meteoric phenomena, although those reporting usually believe they have sighted something strange.
Meteoriticists, however, have little difficulty in screening out observations that merely describe exceptionally bright shooting stars. The observations that remain differ in many important particulars from those relating to ordinary balls. Is one justified in accepting these non-conforming observations as dependable?
Perhaps it is well to be guided by analogy in answering this question. The writer's service as Technical Director, Operations Analysis Section, Headquarters Second Air Force, began while General U. G. Ent was Commanding Officer. I well recall that at one of my first conferences with General Ent, we discussed numerous bright stationary fireballs sighted in North American skies. During ordinary shooting stars showers stationary meteors are occasionally seen; but since such immobile luminous objects are produced only by those few grains of cosmic debris headed directly at each particular observer, they are of such rare occurrence that few readers of this column will recall ever having seen one – especially a blindingly bright one.
* * *
IT is therefore understandable why meteoriticists discounted the reliability of frequent reports of bright stationary fireballs. However, they soon had cause to regret their skepticism, for recovery of Japanese balloon assemblies disclosed that the huge hydrogen-filled paper envelopes of these balloons had a half-pound charge of a magnesium flash powder mixture cemented to them.
The reader will recall that the founder of scientific rocketry, Dr. Robert H, Goddard of Clark College, while seeking a signaling device for announcing the arrival of a rocket on the moon, tested many such flash powder mixtures and showed that ignition of a few grains of magnesium flash powder would produce a flash "strikingly visible" more than two miles away. It is therefore not surprising that ignition of the half-pound powder charges which the Japanese attached to their balloons produced a brief flash of such enormous light intensity as to be visible as a "stationary fireball" at very great distances.
Stripped of some of our skepticism about strange fireball reports by the example just given, we can profitably scrutinize more closely some of the characteristics reported for the green fireballs. One of the peculiarities of these objects is that, unlike the ordinary meteors which flash across the sky at all angles to the horizon, with few exceptions, each green fireball is described by all who witness it (irrespective of the positions of the observers with respect to the real path of the fireball) either as falling vertically or as moving horizontally.
A self-destructive device functioning along the terminal arc of a missile-trajectory, such as that traveled by the typical V-2 rocket of 1944 on its way from German bases to London, would give rise to a nearly vertical luminous path.
* * *
POSSIBLE explanation of the horizontally moving green fireballs is suggested by statements on satellite vehicles and their "circular orbits" and "approach ellipses" made by Dr. Heinz Haber and Dr. Wernher von Braun, two of the foremost experts in the space-flight field, in a handbook, Physics and Medicine of the Upper Atmosphere, published in August 1952 by the University of New Mexico Press. This handbook, which should be required reading for those who ridicule the possibility of intercontinental missiles and satellite vehicles, contains on page 576 the following comments by Dr. Haber:
"During the next phase, the development will be directed toward the establishment of a manned artificial satellite as the principal goal. In contrast to general belief, this project does not call for rockets energized by atomic power plants, which are still rather hypothetical. The manned artificial power plants exceeding 1,000 tons. No major objection can be advanced against the possibility of building rockets of this size."
A second curious characteristic reported for the green fireballs is that they are observed to "gang up" those times when ordinary shooting stars occur in greatest numbers. For example, the greatest concentration of green fireballs so far observed occurred during late October, November, and early December 1951 – a period comprising the end of the annual Orionid meteor shower and the epochs of the Leonid, Bielid, and Geminid meteor shows which also put on a display each year. Furthermore, the visible paths of the green fireballs in question radiated from approximately the same position as the northernmost point in the sky from which the ordinary unimpressive Bielid meteors have been seen to emanate.
* * *
ONE interpretation is, of course, that the green fireballs are, after all, simply giant Bielid meteors of unusual composition. Another like the bacteriologist who can readily brew up the cultures he wishes to study in his own laboratory, the fireball investigator is ...[words missing] ..a less reassuring interpretation is suggested by Dr. Louis N. Ridenour's sombre play, "Pilot Lights of the Apocalypse."
On the theory that use of a water pistol will attract least attention in a shower of rain, it may be inferred that the testing of long range missiles (which for one reason or another become, or are purposely made luminous in the terminal portions of their trajectories) will take place during such meteor showers as the Perseids mentioned by Ridenour. Clearly, the identification problem would be still further fouled up if the luminous paths of such missiles were caused to appear to emanate from a known meteoric radiant.
Because of the puzzling nature of the green fireballs, they were the subject of a protracted round-table discussion held during the 15th annual meeting of the Meteoritical Society (an international scientific organization affiliated with the American Association for the Advancement of Science) at the Institute of Meteoritics of the University of New Mexico on September 2, 3 and 4, 1952. A single member of the Society flatly denied that any such objects as the green fireballs had ever appeared, but under questioning conceded that his remark applied only to the familiar skies of his home state, Texas. The consensus of all other members was well expressed by Professor Frederick C. Leonard, of the Department of Astronomy at the University of California at Los Angeles. Dr. Leonard, founder of the Meteoritical Society, stated that in view of the overwhelming observational evidence presented to the Society, he was forced to believe in the existence of the green fireballs which, in his opinion, were certainly not natural objects like the ordinary meteoric fireballs.
* * *
THE reader now will readily understand why meteoriticists heartily welcomed the publicity recently given the "green fireballs" by Columnist Robert S. Allen. Unsingularly dependent on the cooperation of the general public in his search for any fragments that may fall from these objects, descending as they do widely separated in space and time.
The present guest column has been written in the hope of sharpening the interest of laymen in observing and reporting to the Institute any unusual luminous phenomena seen in the skies, particularly during the meteor shower periods of autumn and winter just ahead. All such reports will be thoroughly appreciated and, if desired, will be kept in confidence; but, because of the volume of correspondence already carried by the staff of the Institute, acknowledgment will be made only in those cases where the phenomena reported merit intensive investigation.
---
Charleston, WV Daily Mail - 27 September, 1952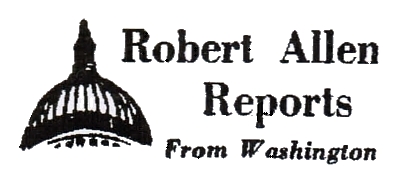 The air force has a breathtaking report on "flying saucers."
The study, prepared by noted scientists and air force experts, expresses the belief that some of the mysterious flying objects are genuine and that they originate from "sources outside of this planet."
That is, these devices are interplanetary aircraft of some kind.
The air force document contains two other sensational findings:
In some instances, flying objects that have been sighted were actually secret U. S. missiles undergoing tests.
Russia is profoundly mystified and worried by "flying saucers" and strongly suspects they are a new U. S. weapon.
The Kremlin now has four different investigations underway in an effort to discover the identity and source of the strange devices.
The air force study is based on more than 1,800 sightings in the past five years.
One important point stressed in the report is that the most authoritative and detailed sightings came from atomic plants and military bases and research centers.
These highly significant sightings number around 20 per cent of the total reported.
Following is a list of the location of the most important of these sightings:
New Mexico - Los Alamos and White Sands atomic plant and testing grounds, Albuquerque, and the Holloman, Kirtland and Walker airbases.
California - Muroc, Travis, Hamilton. George, Edward, Sacramento and Mint Canyon airfields.
Tennessee - Oak Ridge atomic plant, Knoxville and Dickson airbase.
Arizona - Williams, Davis-Monthan and Luke airbases.
Alabama - Maxwell airbase.
Illinois - Scott and O'Hara airbases.
New Hampshire - Grenier airbase.
New York - Mitchell airfield.
Mississippi - Airbases at Jackson, Keesler and Biloxi.
Michigan - Selfridge airfield.
Massachusetts - Westover airfield.
Nebraska - Offutt airbase.
North Carolina - Chapel Hill and Pope airfield.
South Carolina - Spartanburg and airbase at Greenville.
Texas - Kelley and Randolph airfields and other bases at Carswell and San Marcos.
Washington State - Mount Rainier, Mount Jefferson and McChord. airbase.
Oklahoma - Tinker airbase, and Norman.
South Dakota - Airbase at Rapid City.
Ohio - Air Force research center at Dayton, and Lockbourne airbase.
The sensational study is the work of the Air Technical Intelligence Center, Wright Patterson air base, Dayton, O. A number of top scientists are devoting their full time there analyzing reports on flying objects. Their activities are so secret the air force will not permit the publication of their names.
In fact, no one connected with the project or the report would permit his name to be used.
However, air force authorities are considering publishing certain portions of the report. Chiefly deterring them is fear the sensational nature of the findings may cause undue public alarm.
These findings were described by a high air force official as "fantastic but true."
Note: Commenting on the recent flurry of "fireball" reports, Dr. Lincoln La Paz, noted head of New Mexico University's Institute of Meteoritics, said, "Sightings here and in Scandinavia lead me to believe that fireballs and so-called flying saucers may be guided missiles, possibly ours or possibly Russian. In any case, they are earth-born."
---



ROBERT. S. ALLEN

1204 NATIONAL PRESS BUILDING
WASHINGTON 4, D. C.



July 8, 1953




Dear Lieutenant Nash:





I wish I could give you better news about that AF report, but, unhappily, it has never been released. At the time I wrote the column last year, my information was that the document had been cleared and was in the process of being made public – that is, in an edited and abridged form for security reasons. But almost at the last moment, somebody in the Atomic Energy Commission, I assume the Security Director, threw a monkey wrench and the matter was "held in abeyance."




That's where it has been ever since. Nothing has ever happened on it and when it will be, no one seems to be able to say. One reason for that in the last few months has been the many changes that have taken place in the AEC, the AF and the Washington scene generally. In the big turnovers and resulting uncertainties, no one is pushing anything that they don't have to. And this report, not being in the category of a pressing problem, is just hanging fire.




I have been prodding away at it for a long time but have had no luck. If and when anything is ever done about it, you can be assured that I'll do my utmost to publicize it. Also, I'll be more than happy to make my information available to you.




Cordially,

Robert S. Allen



---



ROBERT. S. ALLEN

1204 NATIONAL PRESS BUILDING
WASHINGTON 4, D. C.



October 3, 1953




Dear Lieutenant Nash:





On the chance that you haven't seen the enclosed, I am taking the liberty of sending it to you as you doubtless will be very interested in the item. It is from yesterday's UP "ticker" report, as we call it — a skeletonized telegraphic report of the UP daily wire.






Best regards,

Robert S. Allen






Enc. (See Below)




---
(SAUCERS)
DONALD E. KEYHOE, A RETIRED MARINE CORPS MAJOR, ASKED DEFENSE OFFICIALS TO COURT MARTIAL HIM IF HIS STATEMENTS REGARDING MOTION PICTURES TAKEN OF "FLYING SAUCERS" ARE UNTRUE.
KEYHOE HAS BEEN CARRYING ON A RUNNING FEUD WITH THE AIR FORCE OVER THE VALUE OF THE FILMS, TAKEN IN UTAH BY A NAVY WARRANT OFFICER.
THE AIR FORCE RETURNED THE FILMS TO THE WARRANT OFFICER AS "OF NO VALUE." KEYHOE INSISTS INTELLIGENCE OFFICERS REPORTED THEY SHOWED A "SAUCER" FORMATION THAT "COULD NOT BE EXPLAINED AS ANY KNOWN AIRCRAFT OR OTHER CONVENTIONAL OBJECTS" SUCH AS BALLOONS.
IN A TELEGRAM TO BRIG. GEN. SORY SMITH, DIRECTOR OF AIR FORCE PUBLICATION INFORMATION, KEYHOE SAID "YOUR OFFICE PUBLICLY IMPLIED THAT I MISREPRESENTED THE AIR FORCE ANALYSIS OF THE UTAH FLYING SAUCER PICTURES IN MY (FORTHCOMING) BOOK "FLYING SAUCERS FROM OUTER SPACE." IF THIS IS TRUE, THEN AS A RETIRED MARINE CORPS OFFICER I SHOULD BE SUBJECTED TO DISCIPLINARY ACTION."
KEYHOE SAID HE HAS A SIGNED STATEMENT BY ALBERT M. CHOP, FORMER AIR FORCE INFORMATION OFFICER WHO SECURED CLEARANCE OF A NUMBER OF "SIGHTING" REPORTS USED IN THE BOOK. THE AUTHOR SAID THESE CONFIRM THAT AIR FORCE AND NAVY LABORATORIES ANALYZED THE PICTURES AND CONCLUDED THEY COULD NOT BE CONVENTIONAL AIRCRAFT, BIRDS, BALLOONS, LIGHT REFLECTIONS OR IMAGES CAUSED BY WEATHER PHENOMENA.
THE COLOR FILMS, KEYHOE SAID, SHOW 12 TO 14 UNKNOWN OBJECTS OF EXTREMELY BRIGHT LIGHT MANEUVERING IN FORMATION. KEYHOE SAID THE AIR FORCE ANALYSIS DESCRIBED THE OBJECTS AS A "LIGHT SOURCE" RATHER THAN AN APPARENT REFLECTION, WHICH WOULD MEAN THEY WERE SOLID.
KEYHOE REPEATED HIS ASSERTION THAT "WHEN THE COMBINED AIR FORCE AND NAVY ANALYSIS SHOWED THE SAUCERS COULD NOT BE CONVENTIONAL OBJECTS, AIR FORCE OFFICIALS DISAGREED AS TO WHAT SHOULD BE TOLD THE PUBLIC." THE AUTHOR SAID THE AIR FORCE HAD PREVIOUSLY INTENDED TO SHOW THE MOVIES TO THE PRESS AND TO MAKE AN ACCOMPANYING STATEMENT TO THE PEOPLE.
KEYHOE ASKED SMITH IF THE AIR FORCE "RETURNED ALL COPIES OF THE FILM."
"IF MY CLAIMS ARE INCORRECT, THEN I RESPECTFULLY SUGGEST THAT YOU ASK THAT IT (SIC) BE COURT MARTIALLED FOR MAKING FALSE STATEMENTS ABOUT AIR FORCE ANALYSIS," KEYHOE'S TELEGRAM SAID.
10/2--N419P
---
Miami, Florida Daily News - November 23, 1953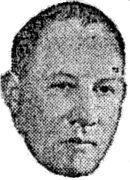 ROBERT S. ALLEN
More Flying Saucers
Washington, Nov. 23 — There is a new of batch significant "flying saucer" developments. While these mysterious objects haven't been in the headlines of late, they are still frequently and authoritatively reported throughout the world, and facilities and efforts to fathom them are increasing both in the U.S. and abroad.
Following are important developments that can be published:
The Air Force is preparing another special report on flying objects.
The Navy has established a research agency of its own to study these aerial devices.
Conducting Probes

Six other countries now have official organizations conducting probes of these mysterious objects. They are Canada, Britain, France, Sweden, Norway and Russia.
So far, in the U.S. alone, more than 200 sightings have been reported this year.
The Air Force will again take a "yes-and-no" position in its forthcoming report.
Claims and rumors about space ships from other planets, and secret foreign aircraft will not be confirmed. However, neither will they be wholly rejected. The Air Force's experts will carefully make certain reservations.
They will admit being unable to explain some 15 per cent of the investigated sightings.
More than 3,500 such reports have been received by the Air Force in the past six years.
Most of them, after thorough study, have turned out to be either weather balloons, astronomical and climatic phenomena, birds, light reflections, airplanes, or radar and other electronic disturbances.
Finest Equipment

But 15 per cent of the sightings do not fall into these categories and the experts have no answers for them as yet. They could be this, that or something else.
The Air Force's "flying saucer" research staff includes the best scientists and technicians in the country, assisted by the latest and finest equipment. Newest addition to that is a number of specially-constructed high-speed cameras.
Air Force authorities are still debating whether to publish anything produced by these stations. They are located in strategic sections of the country particularly in the vicinity of atomic plants where sightings are frequently reported. That is one of the most significant facts regarding these mysterious objects.
---




November 24, 1953
Mr. Robert S. Allen,
Columnist,
1204 National Press Bldg.,
Washington 4, D. C.
Dear Mr. Allen:
I enjoyed your column concerning the latest information you have been able to dig up about the flying saucers. (UFO's as the Military likes to call them). I read it in last night's MIAMI DAILY NEWS.
It looks as though they offer less in the forthcoming report than they were about to release last year. I had hoped for more, especially in the light of President Eisenhower's recent revamping of the government's policy on secret data, asserting the public's right to "a maximum amount of information in keeping with security."
Did you and Mrs Allen see the article by Captain Walter Karig, USN, Special Deputy to chief of information, USN, in the AMERICAN WEEKLY newspaper section of Nov. 22? He calls it the official truth about flying saucers and says almost nothing, but at least it's an admission that Space ships are more than just a probability. I'm still half convinced that our military has more "Hardware" from the saucers than they want to admit to the Russians.
I've been doing a little writing since the first article last October, 52, in TRUE, and have an agent in N.Y. now, who was recommended by John DuBarry, Associate Editor of TRUE. If you and Mrs Allen are interested, I have an article titled "ARE THE SAUCERS OUR FRIENDS?" coming up in the March issue of a new magazine called MYSTIC, by Palmer publications. It will be out on Jan 1st, or thereabouts.
With best wishes.
One of your many readers.


William B. Nash
NEWS FLASHES–The unidentified flying object(s), that have been mysteriously appearing over the U.S. for years, are going to be investigated by the House Space Committee. Representative Overton Brooks, D-La., chairman, has designated Representative Joseph E. Karth, D-Minn., to make the investigation. The Air Force has consistently maintained that the unidentified flying objects (UFO's) are merely mistaken identificatified flying objects, that have [been] balloons, meteors, and jet planes.
Just as consistently, a number of airline pilots have contended that the Air Force is mistaken.....