1937
1 May 37 - Peenemünde established by German Army as secret rocket test site
---
1942
23 Mar 42 - first A4 (V-2) launch at Peenemünde
Jun 42 - Hitler approves development of V-1, Luftwaffe jet cruise missile - range ~150 miles, speed ~400 mph
3 Oct 42 - first successful V-2 flight

23 Dec 42 - first test V-1 with live engine is launched from Luftwaffe base at Peenemünde West. 350 more would be launched over Baltic during test program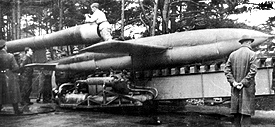 ---
1943
15 Apr 43 - Churchill informed of intelligence on German experiments with long-range rockets

7 Jul 43 - Hitler gives V-2 super-priority

17/18 Aug 43 - Peenemünde bombed by RAF
Aug 43 - R V Jones, chief British technical intelligence expert, learns of V-1:
"On 22nd August an object had crashed in a turnip field on the island of Bornholm in the Baltic, roughly half-way between Germany and Sweden. It was a small pilotless aircraft bearing the number V83, and it was promptly photographed by the Danish Naval Officer-in-Charge on Bornholm, Lieutenant Commander Hasager Christiansen. He also made a sketch, and noted that the warhead was a dummy made of concrete.

At first, we were not sure what he had found. From his sketch it was about 4 metres long, and it might have been a rather larger version of the HS 293 glider bomb that KG100 was now using against our warships in the Mediterranean. Indeed, it turned out that this particular bomb had been released from a Heinkel III, but it was in fact a research model (the 'V' probably stood for 'Versuchs' i.e. research) of the flying bomb about which we were going to hear so much in the next few months."