Four articles from famous Brazilian researcher, Dr Olavo T. Fontes.
During the last three weeks of October, 1954, Brazil experienced an unprecedented wave of "flying saucer" sightings, culminating in two UFOs being seen by over 100 witnesses overflying Gravatai Air Force Base. Dr Fontes details the events of the encounters and reports eyewitness accounts in his article in "The Brazilian Flying Saucer Review".
After the UFO sightings over Gravatai Air Force Base, which were witnessed by many military and service personnel, the Brazilian Air Force (F.A.B.) held a press conference announcing that "the Flying Saucers Are Real".

The American Legion Magazine, December, 1945
"The Foo Fighter Mystery"

December, 1945 American Legion Magazine article, "The Foo Fighter Mystery," by Lt. Col. Jo Chamberlin, aide to Commanding General "Hap" Arnold, USAAF, during WW II.

Saturday Evening Post April 30, 1949
"What You Can Believe About Flying Saucers"

Part One of a two-part Saturday Evening Post article by Sidney Shalett.

Saturday Evening Post May 7, 1949
"What You Can Believe About Flying Saucers"

Part Two of a two-part Saturday Evening Post article by Sidney Shalett.

TRUE Magazine January, 1950
"The Flying Saucers Are Real"

Ground-breaking January 1950 TRUE Magazine article by Major Donald E. Keyhoe which made headlines around the world.

TRUE Magazine March, 1950
"How Scientists Tracked a Flying Saucer"

Guided missile expert and US Navy Captain Robert B. McLaughlin details "flying saucer" sightings by himself and other scientists at White Sands Missile Range in 1949, the first official confirmation that "UFOs" were being seen over secret government installations.

Flying Magazine July, 1950
THE FLYING SAUCERS - FACT OR FICTION?

July, 1950 Flying article by Curtis Fuller on famous pilot UFO sightings. Contains details of sightings that include Kenneth Arnold, Chiles-Whitted, and E.J. Smith.

TRUE Magazine August, 1950
"FLIGHT 117 and the FLYING SAUCER"

Following his headline-making January, 1950 TRUE Magazine story, "The Flying Saucers Are Real," Major Donald E. Keyhoe "adds to the record of responsible Saucer sightings" with the Adickes-Manning Indiana UFO encounter, and other sightings involving veteran pilots.

Cosmopolitan Magazine January, 1951
"The Disgraceful Flying Saucer Hoax"

The infamous Bob Considine article - authored with the assistance of the US Air Force - in which the columnist declares the UFO phenomenon to be a "disgraceful hoax" perpetrated by "true believers," "gagsters," and "screwballs," and a waste of taxpayers' money to investigate.

FLYING Magazine June, 1951
"Airline Captain Reports: Another Saucer Mystery"

Mid-Continent Airlines pilot Lawrence W. Vinther details his multi-witness aerial encounter with a large cigar-shaped object, as the Office of Naval Research reassures America that most "flying saucers" are simply Skyhook balloons.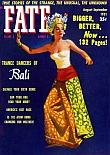 FATE Magazine Aug-Sep, 1951
"The Strange Mystery of the FOO FIGHTERS"

Drawing heavily from Jo Chamberlin's 1945 American Legion article, "The Foo Fighter Mystery", British author Harold T. Wilkins expanded upon Chamberlin's work and introduced the readers of FATE Magazine to "the Strange Mystery of the Foo Fighters."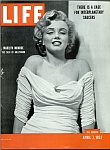 LIFE Magazine April 7, 1952
"Have We Visitors From Space?"

LIFE Magazine, widely considered the most important magazine ever published in the U.S., asks the question: "Have We Visitors From Space?" and concludes: "There is a case for interplanetary saucers."

Look Magazine June 19, 1952
"The Truth About Flying Saucers"
By Donald H. Menzel, in which he outlines his reasons for believing that "UFO" sightings can be explained using science.
"Hunt For The Flying Saucer" by J. Robert Moskin, details the U.S. Air Force's "secret scientific search" to determine what the "saucers" might be.
"Are We Being Watched?" By David Marais, documents several high confidence South African "flying saucer" incidents and the existence of an official "Flying Saucer File".
"I Proved Flying Saucers Are Real" By Ralph C. Mayher, relating his experiences with the U.S. Air Force after filming a UFO on July 29, 1952.
"BOAC's Flying Jellyfish" By John Carnell, detailing the UFO observation made by the crew and passengers of a BOAC Boeing Stratocruiser over Labrador, Newfoundland on June 29, 1954.
"Cosmic Curiosity" by Commander Edward P. Stafford, USN. Ret., detailing the August, 1952 "UFO" sighting by Lieut. John Callahan over Greenland while tracking a Skyhook balloon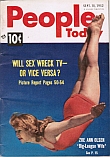 People Today September 10, 1952
"The Flying Saucers Are Real"
The Editors of "People Today" magazine conclude that the "Saucers" are real – the product of Top Secret research by Russian and American scientists.
October, 1952 TRUE Magazine article by Pan American Airways pilots William B. Nash and William H. Fortenberry detailing their July 14, 1952 multi-UFO sighting over Chesapeake Bay.

Coronet Magazine November, 1952
"Flying Saucers: Myth or Menace?"
Lawrence Elliot examines the prevailing theories about the origins of the "flying saucers".

TRUE Magazine May, 1954
"What Our Air Force Found Out About Flying Saucers"
Former head of Project Bluebook, Capt. Edward J. Ruppelt's article for TRUE Magazine

Washington D.C. Sunday Star August 7, 1966
"Flying Saucers Again: Do You Believe in Them?"
Former USAF Intelligence Officer, Lt Col. Charles Cooke, challenges official denialism and argues his case for the reality of the UFO phenomenon.

UFOs – An International Scientific Problem
Dr James E. McDonald's paper presented at the Canadian Aeronautics and Space Institute Astronautics Symposium, Montreal, Canada, March 12, 1968
International UFO Reporter (IUR) Vol. 33, No. 1
"Intelligent Motions"
Michael Sword's IUR article detailing Major Dewey Fournet's evaluation of some classic UFO sightings demonstrating their "Intelligent Motions."

U.F.O. Historical Revue No. 14
"Air Force Vietnam-era UFO Reports Surface"
Barry Greenwood, co-author of 1984's Clear Intent and veteran UFO document researcher, uncovers significant new Vietnam-era UFO reports that never made it to Project Blue Book.