Recent Research Updates and Announcements
Project 1947 is pleased to announce results of ongoing research and some recent developments.
Unidentified Aerial Phenomena - Scientific Research

An examination of aspects of Unidentified Aerial Phenomena (UAP) from a scientific perspective.
1. Keith Basterfield's blog continues to document his always interesting and detailed historical investigations of various UFO incidents. A recent discovery involved a new Australian government file on UFO activity in Papua New Guinea:
Wednesday, July 8, 2015
Unidentified Flying Objects and mysterious happenings in Papua New Guinea" - a file emerges
http://ufos-scientificresearch.blogspot.com/2015/07/unidentified-flying-objects-and.html
and a follow up story:
Friday, July 17, 2015
The mystery of classified file 1969/4393
This news story indicates that after Australia was no longer involved in the administration of Papua New Guinea, the new government was urged to take an interest in UFO sightings being reported in the nation. Also read of official US Air Force interest in other Papua New Guinea UFO sightingss;
http://www.project1947.com/fig/pngufos.htm
http://ufos-scientificresearch.blogspot.com.au/2015/07/the-mystery-of-classified-file-19694393.html
2. Keith was scheduled to speak at the Victorian UFO Action (VUFOA) Conference in September, and reveal details of these new discoveries, but illness interfered. Keith has published the contents of his fascinating VUFOA speech in three parts on his blog, starting here:
UFOs: AN ANFRACTUOUS PHENOMENON
Keith Basterfield
A talk scheduled for 12 September 2015
VUFOA conference - Melbourne
http://ufos-scientificresearch.blogspot.com/2015/09/ufos-anfractuous-phenomenon-part-1.html
Browsing through the blog will provide additional details on much of Keith's decades long research and his discerning insights about the UFO phenomenon.
---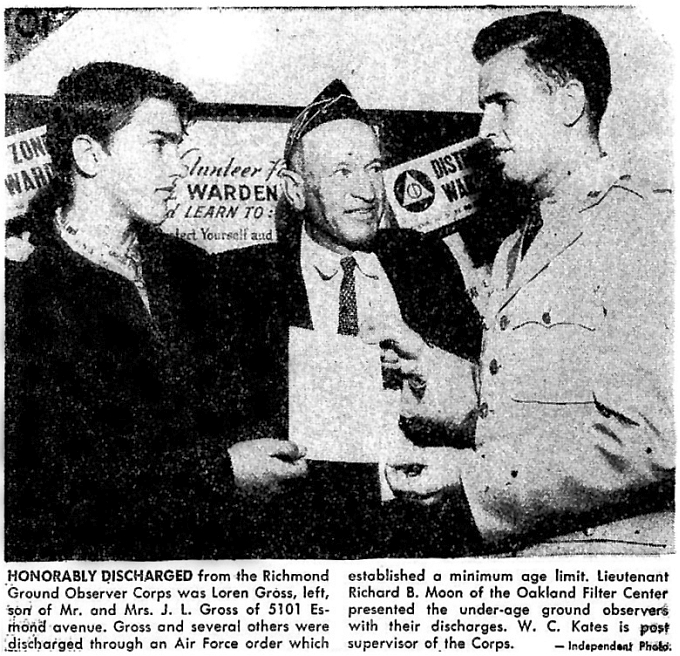 UFOs: A History / The Fifth Horseman of the Apocalypse
By Loren E. Gross
3. Without any doubt, Loren E. Gross authored the best and most comprehensive chronicle of the early history of the UFO phenomenon. Unfortunately, for the longest time his complete work has been unavailable to most researchers interested in the subject.
Recently Loren authorized the complete series of his UFOs: A History / The Fifth Horseman of the Apocalypse publications to be made available on the Internet by Tom Tulien at The Sign Oral History Project:
http://sohp.us/collections/ufos-a-history/
Most of the series had limited availability at the CUFOS website but now the full series of 112 booklets amounting to nearly 6000 pages of UFO material are available in one place.
The works contain thousands of UFO incidents taken from a thorough review of the Project Blue Book archives, files of many UFO organizations such as the National Committee on Aerial Phenomena (NICAP), Aerial Phenomena Research Organization (APRO), Center for UFO Studies (CUFOS) and dozens of other sources both in the US and in other countries. The collection consists of thousands of cases from UFO organizations, UFO publications, official documents, thousands of press clippings and articles from various media sources.
Just by handling such a volume of material, things which others had failed to notice became apparent to Loren. For example:
14 September. Gillette, Wyoming. (2:00 a.m.)
"Twin orange flying eyes."
According to the Sheridan press:
Have flying saucers come to Wyoming?
If so they must be twins, or maybe they are flying eyes.
Anyway, Mrs. V.J. Oedekoven and her husband of Gillette recently witnessed strange lights in the early morning darkness which they are at a loss to explain.
But let Mrs. Oedekoven tell the story in her own words:
"Last Sunday morning about 2 a.m., my husband and I saw a strange phenomenon when we were on our way home from a neighbor's. We were about home when Mr. Oedekoven said to me, "See those eyes, do you suppose they could belong to deer?"
"I replied, 'I don't think so, they are too large and bright, not the right color and too far away to be seen so plainly.'
"The eyes were the shade of burnt orange, very bright and fascinating. At first sight the eyes moved so slowly about you could hardly tell they were moving. Then the eyes slowly moved and merged into one light which appeared round and oval about the size of the moon and then turned into a lighter shade of yellow.
"It stayed almost stationary for a few minutes and then it started to move along the hill slowly into the sky, getting smaller and smaller until it was the same size as the other stars in the sky and took the same shape, only it could be distinguished from the rest of the stars due to its color.
"After it reached the sky it turned a bright orange, the same color the eyes were when we first saw them
"It certainly gave one an eerie feeling." (xx.)
— Sheridan, Wyoming, Sheridan Press, 17 September 52.
COMMENT: THE COLOR ORANGE IS NOT USED ON AIRCRAFT. ALSO, IF THE READER OF THE SUPPLEMENTS COVERING THE SUMMER OF 1952 HAS, OR HAS NOT, NOTICED THE COLOR ORANGE TURNS UP IN MANY OF THE BEST CASES.
THE READER SHOULD ALSO NOTICE THAT THE COLOR ORANGE WAS NOT SINGLED OUT OR PROMOTED IN PRESS COMMENTARIES ABOUT UFO REPORTS. NEITHER KEYHOE OR OTHER PRO-UFO PEOPLE HAVE CALLED ATTENTION TO THE "ORANGE COLOR FACTOR." DOES THIS SUGGEST SUCH REPORTS ARE REAL EVENTS? — Loren Gross.
Another insight concerns how UFOs broke radar lock-ons by USAF F-94 Starfire day/night all-weather fighter aircraft. One wonders if official investigators noticed this, since no discussion of this aspect on UFO interception appears in the Project Blue Book files.
---

UHR - Number 16 Editor: Barry Greenwood, July 2015
4. Barry Greenwood has published another newsletter covering various historical topics listed below:
Mt. Kilimanjaro, Tanganyika, February 19, 1951: Photo Located
See also Project 1947 news article for background on this case:
http://www.project1947.com/fig/1951a.htm#bicknell
and the official Project Blue Book case file:
http://www.bluebookarchive.org/page.aspx?PageCode=MAXW-PBB8-1043
The Estimate Of The Situation - Well, Not Exactly!
Odd National Archive Entry
Film of test flight of an Atlas-F (Test 103) in 1962 with a UFO in the film.
http://www.greenwoodufoarchive.com/uhr/uhr16.pdf
---
5. We continue to research aerial intrusions at the Hanford Nuclear plant during World War II. Fourth Air Force documents revealed plans for countering such intrusions. Barry Greenwood recently found a news article which indicates that the plans became operational. It also supports reports by various Navy flyers who claimed they took part in such actions.
http://www.project1947.com/fig/hendershot.htm#matthias
---
6. Robert Powell recently found an interesting document in the Air Defense Command's 30th Air Division history.
Permission Granted to USAF Interceptor F-47 to Fire on a UFO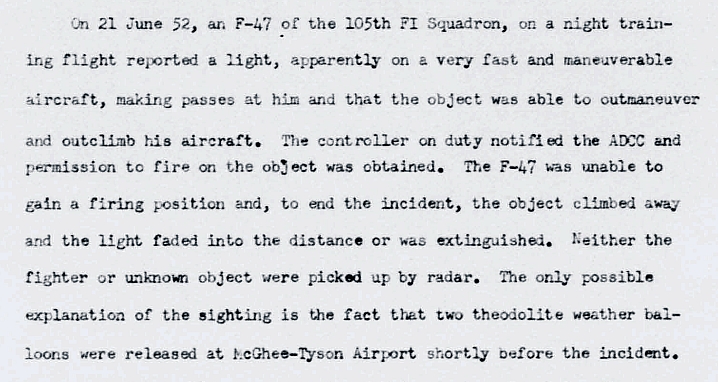 An interesting find indeed. View the full document here:
http://www.project1947.com/fig/1952a.htm#f47
Additional UFO incidents from other 30th Air Division's histories are furnished here:
http://www.project1947.com/fig/30adufos.htm
---
7. We continue to find incidents from the Navy, Marines, Coast Guard and other government sea going services. Barry Greenwood recently obtained a copy of the base newspaper which confirms an incident at Point Mugu, California.
http://www.project1947.com/fig/mugu40778.htm
This report will also be featured in the next US Navy Draft Catalogue update.
---
8. Robert Hastings' self-produced film documentary, UFOs and Nukes: The Secret Link Revealed, is finished. He now seeks a venue to show it on national television.
http://www.ufohastings.com/documentary
---
9. Paul Dean blogs on numerous UFO topics. Recently he has reviewed documents involving UFOs and NORAD, mostly from the 1970s. Here are a number of new aspects not considered by researchers before. The series starts here:
UFOs - Documenting The Evidence
Don't Just Believe Me, But Do Look At The Evidence.
By Paul Dean
- Contact: pj_dean@hotmail.com
Sunday, 26 July 2015
NORAD And The UFO Smokescreen - Part 1
http://ufos-documenting-the-evidence.blogspot.com.au/2015_07_01_archive.html
---
10. Project 1947 continues to make new UFO material from the Korean War available. The Wonsan-Sunchon incident and other UFO incidents from the War is now available at:
http://www.project1947.com/fig/korea52a.htm
---
11. We are pleased to announce that Project 1947 has received a "mini-grant" from the Lucius O. Farish Research and Education Trust.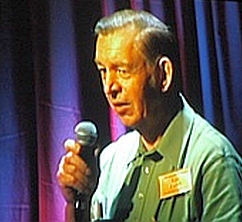 The grant is entitled "UFOs and Government" and will be used to further research in this area.
Lou Farish, Charles Flood, Jan Aldrich and a number of UFO researchers here and abroad participated in a research exchange of pre-1947 items of interest decades ago. Before the widespread introduction of the Internet, this information was laboriously copied and shared by "snail mail", a slow, often expensive and inefficient process.
In time, Lou became a central repository for these findings and published them in a monthly compilation called the UFO Newsclipping Service. Thanks to his efforts, researchers now had easier access to large collections of the best UFO-related articles from around the world. We hope to make serious finds in the subject that would make Lou proud.
---
12. Recently Keith Chester contacted Barry Greenwood to announce that he was abandoning research into World War II aerial phenomena and would be sending him his research files, collected during more than 100 visits to the National Archives. These records show that "foo-fighters" were still being investigated after hostilities ended and involved intelligence officials including Major General George C. McDonald, Director of Intelligence for the U.S. Air Force. Keith's files give us a head start on our continuing "UFOs and Government" project.
---
13. A most interesting film of a UFO taken from a Forward Looking Infra Red (FLIR) camera mounted on a US Customs and Border Patrol Agency aircraft on April 25, 2013 in Aguadilla, Puerto Rico, is featured on the Scientific Coalition for Ufology (SCU) website.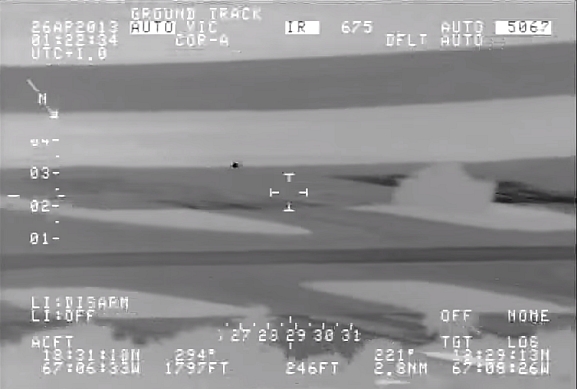 Well-known researcher Robert Powell took part in the analysis of this video.
---
14. In 1954 the South African magazine Outspan carried an article about UFOs and their official investigation in that country. Richard Thieme obtained a copy for us. The article was little seen outside of South Africa and it contains this rather interesting statement, "It is also included in a file in Whitehall because the U.D.F. (Union Defence Force) is exchanging information on the mysterious saucers with the British authorities." Several times in the 1950's the South African authorities hinted cooperation with the UK and the US on UFOs. Some South African reports by meteorological observers do appear in Project Blue Book files. While governments in the US, UK, Canada, Australia, France, New Zealand, Uruguay, Denmark and Sweden have made some of their government files available to the public, the South African government has made nearly none its official UFO information available to civilians.
http://www.project1947.com/fig/outspan54.htm
---
15. Project 1947 advocates care in the study of Close Encounter cases, especially those cases involving effects. Recently Dr. Michael Swords addressed this area and other important aspects in his blog in a series entitled "Digging to the Core." While the blog addresses a number of important facets of ufology, it also highlights the aspect of CE2 analysis.
The Big Study: Digging to the Core, part 1
http://thebiggeststudy.blogspot.com/2014/05/digging-to-core.html
Digging to the Core, part 2
http://thebiggeststudy.blogspot.com/2014/05/digging-to-core-two.html
Digging to the Core, part 3
http://thebiggeststudy.blogspot.com/2014/05/digging-to-core-three.html
Digging to the Core, part 4
http://thebiggeststudy.blogspot.com/2014/05/digging-to-core-four.html
Digging to the Core, Radar, part 5
http://thebiggeststudy.blogspot.com/2014/06/digging-for-core-radar.html
Digging to the Core, Close Encounters, part 6
http://thebiggeststudy.blogspot.com/2014/06/digging-for-core-close-encounters.html
Digging to the Core, part 7
http://thebiggeststudy.blogspot.com/2014/06/digging-to-core-last-time-this-season.html
Dr. Swords has gathered hundreds of CE2e (electromagnetic effect), CE2p (physiological effects), CE2t (trace), and other effects cases. Project 1947 has also gathered a large number of these cases which we shared with him and which evoked some humorous commentary at:
1958 UFO News from the 1947 Mountain
http://thebiggeststudy.blogspot.com/2015/04/1958-ufo-news-from-1947-mountain.html
1959 UFO News from the 1947 Mountain
http://thebiggeststudy.blogspot.com/2015/04/1958-ufo-news-from-1947-mountain.html
UFO News from the 1947 Mountain: Some 1960 Close Encounters
http://thebiggeststudy.blogspot.com/2015/06/ufo-news-from-1947-mountain-few-1960.html
UFO News from the 1947 Mountain: 1961-1962
http://thebiggeststudy.blogspot.com/2015/06/ufo-news-from-1947-mountain-1961-1962.html
---
16. Mark Cashman developed an electromagnetic effects (EME) catalogue for Project 1947 covering many cases not in other works and catalogues. Unfortunately, it is no longer available on Internet.
A number of Project 1947 volunteers are continuing this work, updating and upgrading the information while adding hundreds of additional cases.
Several other EME and related catalogues exist. The most recent, published by the British UFO Research Association (BUFORA), compiled by Geoff Falla comprises vehicle interference cases, one aspect of EME. The UFO Evidence, Volume II: A Thirty-Year Report by Richard N. Hall also details many such cases (1964-1992) which occurred since the original National Investigations Committee on Aerial Phenomena (NICAP) UFO Evidence (Volume I) initially covered this aspect of the UFO phenomenon (1945-1963).
The new Project 1947 catalogue will be available on the Internet shortly.
See also:
A Preliminary Study of Sixty Four Pilot Sighting Reports Involving Alleged Electromagnetic Effects on Aircraft Systems
By Dr. Richard F. Haines and Dominique Weinstein, 2001
http://www.narcap.org/files/narcap_TR-3_2001.pdf
http://www.narcap.org/reports/emcarm.htm
---