---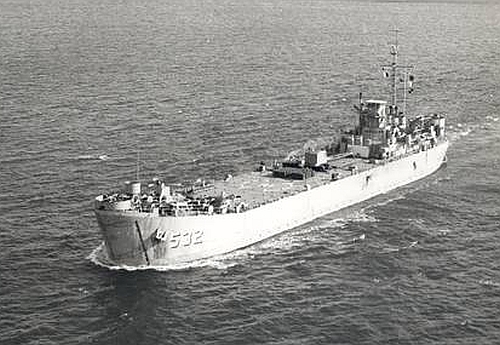 USS Chase County LST-532
Click photo for additional images
Witnesses:
Summary:
Object off port bow. Illuminated with spotlight showed it was above the water. Remained stationary for about 5 minutes, then approached ship, veered off to 200 yards. Captain turned ship towards object and object backed off. Ship stopped, then object approached ship. Boat launched and ran at object which disappeared. Crew questioned by Naval Intel in Malta.
Witnesses:
Summary:
During the tracking of high altitude research balloon by the witnesses in a chase plane they noticed six silvery objects with a sort of "fluorescent glow" in a trailing formation. Hovland used a movie camera to photograph the objects. A camera on the balloon also photographed the objects. The balloon was at an altitude of about 20 miles while the plane was following behind and at a much lower altitude. The movie was turned over to the Air Force and according to Project Blue Book, the Navy was analyzing the films.

The scientific experiment on the balloon confirmed important information on antimatter interactions. An article on the experiment was published in Time magazine with no mention of the UFO sighting.
Witnesses:
Summary:
Round silver-white object with a gold ring around it about a third of the way up. East of Ft Lauderdale, 25,000 ft over the ocean and about 6000 ft above his aircraft, traveling at about twice the aircraft's speed.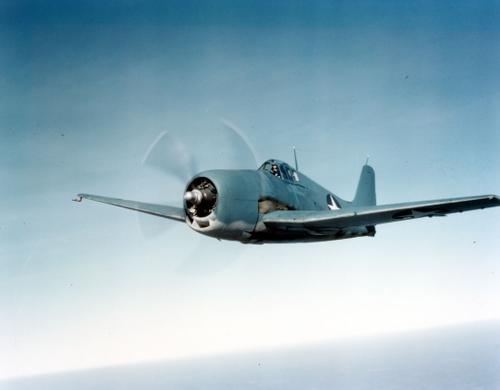 Grumman F6F Hellcat
Witnesses:
Summary:
Flying at 3000 feet near Fentress, he suddenly spotted 2 saucer-like objects about 15 miles away, slightly above moving NE across his course. He banked to the right to follow the objects which moved through 149 degs of arc in 25-30 seconds, disappearing near Cape Henry.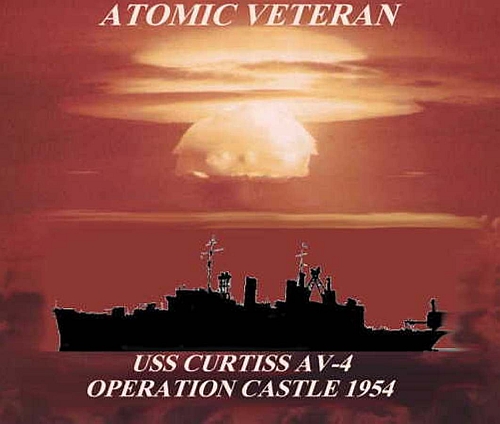 Witnesses:
Summary:
An unidentified luminous object passed over ship from bow to stern. It was yellow-orange in color, traveling at a high rate of speed at low altitude.
Witnesses:
Summary:
While driving a Navy vehicle on base saw 4-6 foot long gray cigar-shaped object with pointed nose traveling just above the ground on a parallel course. The object suddenly impacted the ground, sending up dirt and disappeared from sight. Searched for 20 mins, but found nothing. USN investigations revealed no signs of radioactivity.
Source: Project Blue Book Case #
Witnesses:
Summary:
Huge object on radar maneuvering at 90,000 feet, moved down to 15 miles. No visual.
Source: Keyhoe III, 144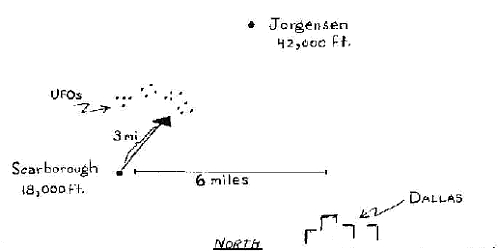 Witnesses:
Summary:
Major Scarborough first spotted the formation of 16 discs in different groups flying above him. Captain Jorgenson at 42,000 feet saw them shortly after below him. Calling the other pilots Major Scarborough ordered them to attempt to box in the discs. Capt. Jorgenson and Major White dived steeply while Major Scarborough and Captain Stanton climbed swiftly, but the 16 discs put on a burst of speed and raced away from the jets. The discs still in formation moved away and vanished.
1954 - June - Atlantic
Witnesses:
Summary:
In the Atlantic an undersea object was picked up on sound gear and was tracked for 2 days on sonar. It dived to the bottom and never came up.
NFIA
Source: APRO Bulletin, July 1954, page 7.
Summary:
An object giving off a dazzling orange-white light every 10 seconds circled above the Santa Barbara Island base. The light was seen from point Mugu to Los Angeles and even ships at sea. NFIA.
Source: Keyhoe III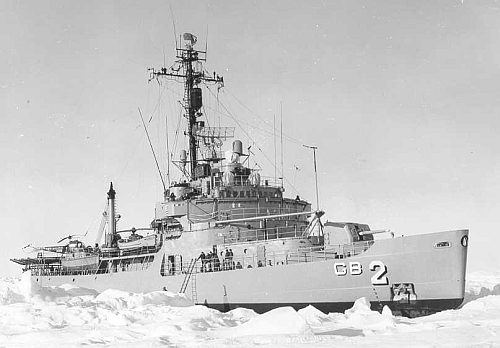 USS Edisto AGB-2, location unknown, 1965
Click photo for additional images
Witnesses:
Summary:
From Loren Gross UFOs: A History for 1954 June-August:
Air Force headquarters, Washington D.C., at the time of the sighting, sent the following teletype message to BLUE BOOK at Wright Field:
"ATTN: ATIC FOLLOWING MSG FM USS EDISTO, ARGENTIA, MFLD DTG 020010Z RELAYED FOR YOUR INFO:'REFERENCE AIR MINISTRY REPORT OF BRITISH AIRLINER SIGHTING FLYING OBJECT OVER LABRADOR X EDISTO POSITION THREE ZERO ZERO ONE ON E FIVE ZEBRA JINE LATITUDE FIVE FIVE FIVE FIVE NORTH LONGITUDE FIVE EIGHT ONE ZERO WEST X SIGHTED BRIG T REDDISH YELLOW OBJECT LOW IN SKY ABOUT TWENTY DEGREES ELEVATION BEARING ONE FOUR FOUR DEGREES TRUE X IDENTIFIED AT TIME AS PLANET MARS X APPEARED TO CHANGE SHAPE LIKE A JELLY FISH SWIMMING TO THE WESTWARD X ALSO APPEARED AS A DART AT TIMES X NO SATELLITES SEEN X MIRAGE EFFECT HAD BEEN PRONOUNCED DURING THE DAY IN ITS FIELD."
Loren Gross continues:
As in many famous UFO cases, authorities failed to follow up leads to gain a better understanding of a possible solution. The BOAC incident is no exception. According to a story in the Washington Star, the crew of the icebreaker Edisto may have seen the same object as the crew of the BOAC airliner:
"Two separate reports received at the Pentagon today mentioned the possibility of a mirage as an answer to the seven weird black objects which reportedly followed a British airliner for 80 miles Thursday night near Goose Bay, Labrador.
"The reports came from the Navy icebreaker Edisto in Ungava Bay, which is north of the Canadian province of Quebec, and from the Northeastern Air Command with headquarters at Pepperell Air Force Base, Newfoundland. [It is not clear to me if the writer is referring to the BOAC encounter as the second sightings or a sighting by someone at Pepperell].
"The Edisto reported sighting an object which was first identified as the planet Mars:
" 'It appeared to change shape like a jellyfish, swimming to the westward,' the report stated. 'It also appeared as a dart at times. No satellites seen.
" 'Mirage effect had been pronounced during the day.'
"The Northeast Air Command evaluated the sighting 'as an unknown natural natural phenomena [Note that this is the same explanation used by the Condon report], possibly a mirage as temperature inversion in the area made this possible."
— Giles, John A. "Mirage Called possible Answer On Objects Seen By Flyers." Washington, D.C. Star. 3 July, 1954.
There are problems with this reporting by John Giles. First of all, no one is named. If it was a crew member of the Edisto responsible for the quote, no easy checking of the facts is possible. One might also believe it is someone in the airliner describing the UFO, but a careful read works against that. No satellites were seen and the UFO was going "west," not north-northeast, following the BOAC flight path to Goose Bay. Moreover, the statement about mirage effects "during the day" indicates a ship on station, not an aircraft in the air space for a few hours. One can't help be impressed by the "shape changing" comments by the apparent Edisto observer. It's very tempting to believe the Edisto UFO was also the BOAC UFO. If true, that complicates the issue. The crew of the BOAC Stratocruiser viewed their UFOs to the port side and Ungava Bay was also on the port side of the airliner. For the Edisto observer to see the same "mirage," he would have to look south-southeast and would be viewing the "back" of the image. (See map below) The optics involved in this solution seem impossible.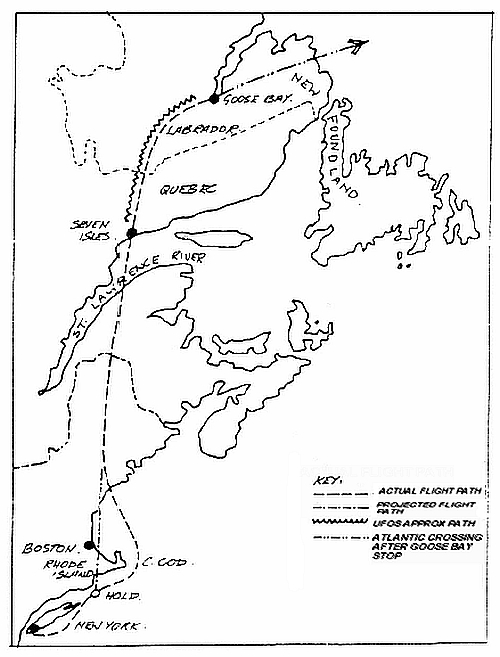 An interesting thought is that when the BOAC airliner turned northeast and approached Goose Bay, the BOAC witnesses had the impression the "mother ship with its children aboard" got smaller and smaller as if pulling directly away. If that was the case and the UFO was a solid object, its trajectory might take it over Ungava Bay.
The original Navy report and Project Blue Book files explain this as a mirage of Mars. See Martin Shough's analysis of this theory:
http://www.caelestia.be/BOAC3.html
and Phillip Robertson's letter to Dr Willy Smith, Some considerations on the Seven Isles, Quebec, Canada case of June 29, 1954.

See also: http://www.project1947.com/fig/1954a.htm#boac
and the FATE Magazine article:
http://www.project1947.com/fig/fate_11_54.htm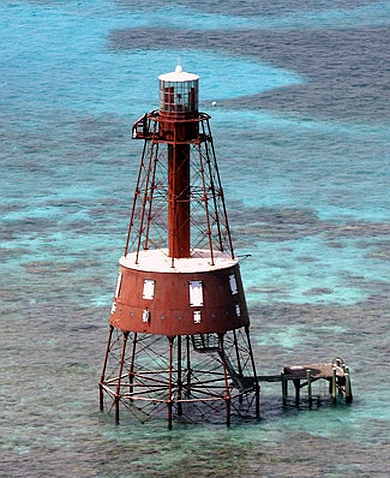 Carysfort Reef Lighthouse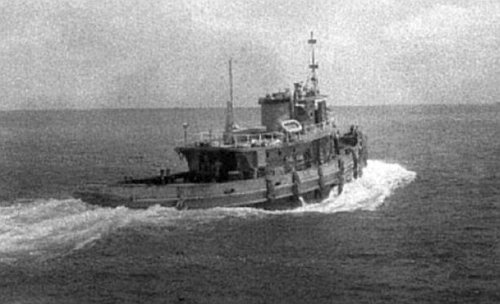 USS Etawina YTB-543 District Harbor Tug
Click photo for additional images
Witnesses:
Summary:
A huge, bright blue egg or blimp-shaped 300-500 ft long object with 4 pointed cones of light ratio 3:1 horizontally, angular size 3X sun traveling at high speed in level flight from West thru South, then East to North East. No sound no trail.
Source: Project Blue Book Case #
Witnesses:
Summary:
Looking toward Lambert Field airport sighted a black object 8-10 feet in diameter at 1000 feet traveling 250 mph.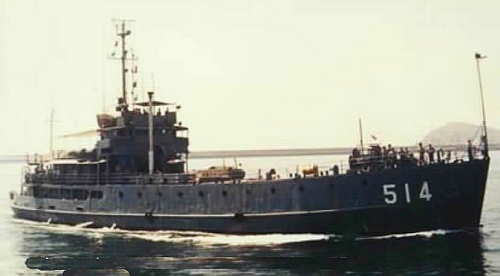 US Army Freight Supply Ship Design 427 Similar to FS-204 Col. Clifford P. Bradley
Witnesses:
Three crew members of the U. S. Army Freight Supply Ship FS-204 "Col. Clifford P. Bradley"
Summary:
Fenton J. Kilkenny, master of the army freight vessel entered in his log: "three miles off Okinawa a brilliant white object was seen in the sky at approximately 10,000 feet." The object was moving at "a tremendous speed" and according to the observers, "a round, disk shaped, [of] a brilliant blue-white color."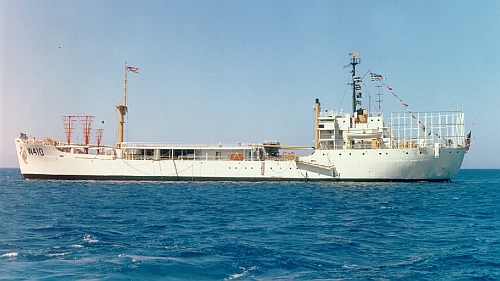 USCG Courier, Voice of America radio station off Rhodes, 1963
Summary:
A luminous flying disc of a very large size was seen during the night over Rhodes. After maneuvering about the Voice of America floating radio post, the disc disappeared with great speed in the western direction. (translation: T. Bloecher)
Source: Agence France-Presse, 28 October, 1954
Witnesses:
Summary:
Object with a bluish-green haze headed toward Detroit, circled the city 6 times in an easterly direction at great speed, requiring only 11 seconds and disappeared.
Source: Detroit FBI agent related information to FLT 3-C, 4602d AISS
Witnesses:
Summary:
UFO appeared overhead, stopped twice and circled station.
Source: Project Blue Book Case # : Aircraft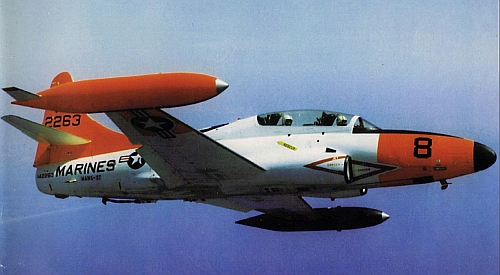 Lockheed T2V-1(T-1A) Seastar
Witnesses:
Summary:
Encountered what appeared to be balloon-like object with a package suspended beneath. Made an effort to circle object which accelerated away at high speed in 20-23 seconds.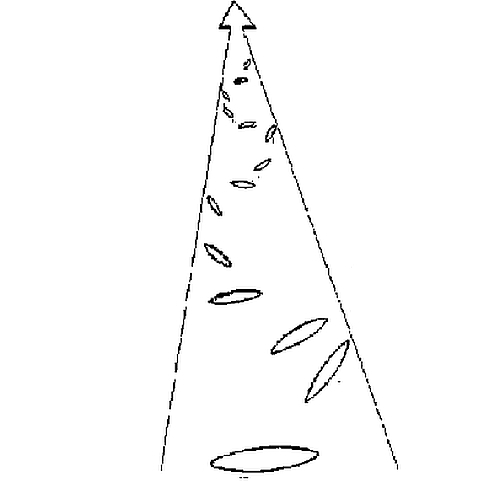 POHANG, Korea, Fall, 1954
U.S. Marine Corps Weather Observer John A. Potter observed a formation of
seven bright orange UFOs moving north to south about 11:00 pm. The objects
travelling at "a very rapid pace," individually fluttered from side to side as pictured.
Witnesses:
Summary:
A formation of about seven discs which moved north to south with a side to side oscillation.
Source: Hall II
Witnesses:
Summary:
While watching aircraft, "a round. silvery thing" came and passed beneath the aircraft. The object was joined by another after which they hovered for a moment before Bolen lost sight of them.
Source: Gross, 1954
---
Summary:
Pilot and missile expert with the rank of commander stationed at Anacostia Naval Air Station (reported to Admiral Delmer S. Fahrney, ret., in January 1957):
While engaged in a periodic flight over the Virginia countryside, the pilot looked over his shoulder to see a huge disc pacing his aircraft about 75 feet away. It appeared to float along off his left wing. It looked like two saucers inverted one over the other, metallic with a domed top through which shone an amber light. The object was about 100 feet in diameter. After a short time, he tried to ease in for a better look. The disc tilted upward, accelerating at a great speed and went through clouds leaving a grey mist swirling behind it.
A "Hidden " NICAP/Keyhoe report.
Witnesses:
Summary:
Project Blue Book: Observer driving vehicle and noticed Navy aircraft landing, sighted object below one of the aircraft. However, object descended at a steady rate. White in color, highly polished surface. Changing from white to reddish-brown color and suddenly accelerated to a tremendous speed. Object left a short brown vapor trail.
Source: Project Blue Book case # : Unidentified
Witnesses:
Summary:
One object shaped like a small portion of the bottom of the moon, with a radiant yellow color, hovered for 30 seconds. The bottom changed to a funnel shape. Duration 1.5-2 mins.
Source: Project Blue Book Case #3427
Witnesses:
Coast Guard cutter crew
Summary:
Coast Guard cutter sighted an unidentified submarine about 30 miles from the missile center at Cocoa Beach, Florida. It submerged when a boat approached it. It was noted that there was a red glow in its conning tower and a light in the superstructure. Jacksonsville Naval Air Station said that an anti-submarine squardron had been dispatched in a search for the submarine. The number of aircraft was not revealed.
Witnesses:
Summary:
From the front door saw a circular silver object with no trail or sound descending from an elevation of 45 deg., receding along the line of sight before disappearing into the haze.
Source: 4602d AISS UFO files, NARA
Witnesses:
Summary:
A circular bluish-silver object observed by a number of sailors on various ships. The size of the object was larger than the moon. It hovered for about 10 seconds. It departed in a southwesterly direction. Total duration 30 seconds. No follow up information in files.
Source: Message in Project Blue Book files.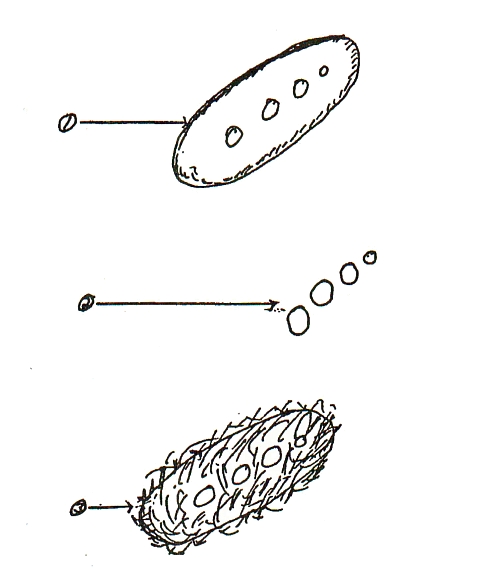 Sketch of object drawn by Captain Richard S. Barry
Witnesses:
Summary:
Three sightings of the same object over about a half an hour's time.
No. 1
Stewart visited Capt. Barry to point out an unusual sight in the southwestern sky towards Dallas. It was a dull red object changing to a whitish-yellow. It dropped from from an elevation of 70 degrees to an elevation of 40 degrees. They could not estimate the altitude. The object hovered momentarily then accelerated at a speed that seem faster than a jet aircraft. After the burst of speed the object was sighted hovering in the western skies. Capt. Barry rushed into his house to obtain a pair of 8X30 binoculars. He was able to focus on the object in the northeastern sky before it faded. The object appeared round, flat, and red with three lights in a straight line. "Three white lights preceeded by a red glow." Duration about 90 seconds.
No. 2
Object appeared in the west about 10 minutes later and seemed to travel in the direction of the witnesses. It changed in color from red to yellow-white and came out of the west at an angle of 60 degrees, veering to the right and disappeared to the northeast.
No. 3
The third sighting was similar to the first, colors were the same and the object appeared and disappeared in the same area. This time it did not hover.
Witnesses:
Summary:
From Loren Gross, UFOs: A History, 1955:
11 July. China Lake Naval Air Facility, California. (10:10 p.m.)
A strange fireball was reported by CW3 Carl Z. Russ, A02 Richard F. Lundy, and ACAM Charles P. Chitwood. All reports were essentially the same. Control Tower Operator Lundy reported that the fireball was first noticed in the northwest part of the sky moving at high speed, and it flew out of sight at a theodolite-measured angle of 277 degrees.
The Air Intelligence Information Report filed on this case had this very interesting conclusion by the Preparing Office Captain Patrick O. Shere. The conclusion contained a number of suggested explanations. Among those suggested was this one:
"Optical phenomena seems to be the best possibility. The fact that no other individuals observed this object, although it was in sight for approximately 23 minutes, lends credence to this theory. The area is sparsely populated and it is possible that other people saw it and failed to report it. The inability of the interceptor planes to make either visual or electronic contact helps this possibility."
In a rare difference of opinion, the Approving Officer, "J.M.K," reviewed the paperwork and came to a conflicting conclusion, listing the following comments:
"This headquarters does not concur with the possible causes of this sighting offered by the Preparing Officer for the following reasons:

a. Balloon possibility: The sudden reversal of direction, the high rate of speed, and the conical tail would eliminate balloon activity.
b. Aircraft possibility: The duration of the sighting, the slow movement to the west, and the area of the sighting (restricted area) would eliminate the possibility of air craft.
c. Astronomical activity: The fact that this object was initially sighted by radar, coupled with the duration of the sighting would eliminate the possibility of astronomical activity.
d. Optical phenomena: This object was initially picked up on radar and was seen by three people for a long period of time, thereby eliminating the possibility of optical phenomena.
"This report is forwarded to ATIC as 'unknown.'"
This "unknown" conclusion was not put on the BLUE BOOK record file card.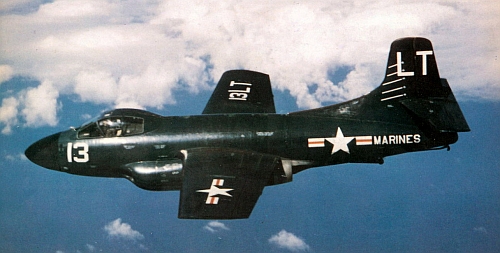 Douglas F3D Skynight
Witnesses:
Summary:
After finishing practice intercepts, they were heading for base when Nelson saw a red light in the distance at about the same altitude, 25,000 feet. Not long afterward it seemed to parallel the fighter at 300 knots about 150 feet away. First he thought it was a passenger plane sharing his airspace, but there were no navigation lights and no cabin.

Suddenly it turned on an enormous jet-like, orange-colored exhaust like a giant afterburner 10 feet wide and 150 feet long. Nelson yelled for Moreau to look. He came out of the hood to see it vanishing in the distant after 10 seconds.
Witnesses:
Summary:
The men were on the roof installing a television antenna when something in the sky came to their attention. A solid-looking body, silver-white in color, and round in shape appeared overhead in level flight. There was no surface wind and visibility was unlimited. "The object was traveling in an east-south easterly direction, at an estimated altitude of 5,000 feet, and at a speed estimated to be in excess of 1,000 miles per hour." The object which left no visible trail nor made any sound was observed for approximately ten to fifteen seconds.
Source: Gross, 1955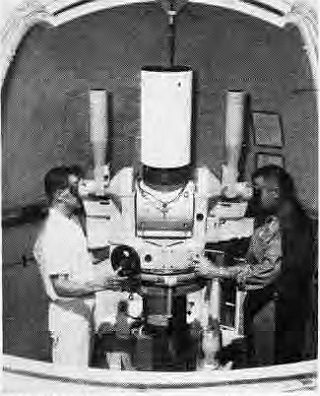 Askania Kth Cinetheodolite with 120-inch lens
Witnesses:
Summary:
During a missile test using a drone F6F and an F9 as the firing aircraft, several chase aircraft and the observer saw an unusual orange colored object.
"The drone aircraft was flying on a heading of 340 degrees and had already passed my station which was about 23,000 feet downrange from ground zero. The firing craft was flying a tail-on pattern and as it came into view an elliptical object appeared behind and above it. The object came down in a curve until it was flying same course as the firing aircraft and came up rapidly behind it until (here I am using my own judgement to estimate distance and size) it was roughly a quarter of a mile behind the aircraft, and then simply disappeared. If it was at the same distance as the F9 I would have judged it to be approximately one third the size of the aircraft. It was a glowing orange in color. The drone that was up that day was painted fire orange which (was) flat in comparison to the color of the UFO. As I recall the weather, it was an overcast day, temperature probably down in the 30's…. I would estimate that the object first appeared 2 to 3 miles behind the F9 and about 2 to 3 thousand feet above it."
She had seen objects like this several times before and had attempted to photograph them. One attempt failed because the wrong film was in the instrument. The other attempt showed no object when processed. She had not reported other incidents because they had no additional witnesses. (Dr. James McDonald did go out to investigate the location of the observation and several other reports from China Lake.)
Source: Letter to Dr. James McDonald, 26 February, 1962
Witnesses:
Summary:
A fast-moving round orange-red object was reported by two airline crews and by witnesses on the ground. Two Navy jets on practice maneuvers were directed to the area by the Jacksonville NAS control tower. The pilots located the object, but when they attempted to close on it, it shot up to about 30,000 feet, then dived back, circling and buzzing the jets, while the incident was watched by controllers on radar.
---
Witnesses:
Summary:
During night-flying exercises a bright, round glowing object shot in from the Pacific Ocean. Coming in at about 1500 feet, it stopped abruptly over the air station, then descended to about 300 feet. After hovering briefly, it rose and raced away to the SW. All personnel were ordered to make individual reports which were sent to Washington DC. No explanations were given to the witnesses.
Source: "NICAP UFO Investigator," Vol. 1, #10, pp 6-7
Witness:
Summary:
"Starr Henderson, Marine Air Reservist, watched a UFO travel 'far in excess of the speed of sound' over the Mount Hamilton Range and 'probably over the San Joaquin Valley' at 9:07 p m. It returned half-a-minute later and streaked intermittenly faster then slower east across the heart of San Jose, 'then made a loop and headed toward San Francisco and out of sight and hearing.' A bright orange-white light, which dimmed when the UFO slowed its speed, was observed in front of the craft and a dimmer light at its rear."
Witnesses:
Summary:
A number of UFO tracks noticed and two rolls of film taken of the objects. USAF checked the radar photos and concluded that there were several causes; radar clutter, surface ships, ground targets and interference from other radar equipment.
Source: Project Blue Book files
Witnesses:
Summary:
Saw a metallic ball shaped object motionless after missile malfunction
Witnesses:
Summary:
While watching a movie being shown outside alongside the landing strip: "…at approximately 9 p. m. the audience shouted to stop the movie. Everyone watched as an object with the equally spaced row of round white lights moved down the length of the 10,000 foot runway then quickly zipped off out of sight. We called the base authorities who contacted the air force project blue book. It was written off as a flight of seagulls in formation flying down the runway and the runway lights reflecting off them. But the (thing) about it was, the runway was inactive, so the runway lights were off."
(Date is approximate.)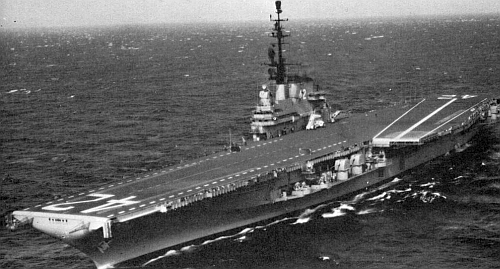 USS Franklin D. Roosevelt CVA-42, circa 1956
Click photo for additional images
Witnesses:
Summary:
"At about 2130P/25 or 26 July 1956 (0030Z/26 or 27 July 1956) I was standing a signal watch in USS Franklin D. Roosevelt (CVA 42) then anchored in Rio de Janeiro, Brazil. The sky was clear.
"As I recall, the signal bridge was called by the Combat Information Center (CIC) asking for visual verification of an air search radar contact in our vicinity, holding stationary. Inspection revealed a cigar-shaped object at about 5,000 feet, close by the zenith. It was displaying at least one row of white light – I do not remember if any were flashing.
"After about 10 or 15 minutes, it suddenly started moving in a northerly direction, accelerating smoothly and rapidly, until it disappeared from view in one or two minutes. It may have disappeared more quickly than that, as CIC later said it went off their scope 'in two or three sweeps.' Unfortunately, I did not think to ask what range scale they were using at the time."
CWO Hau also wrote that the incident was reported to the officer of the deck and probably to the Captain.
Source: Letter from Hau to Grusinski in the FUFOR/Grunsinski file
Witnesses:
Summary:
During the 0000 to 0400 hours watch, one lookout and then another reported two strange objects in the air. VL (height-finding radar) was off line. The CIC started up the VL radar and Treadwell went to see the objects for himself.
Object were viewed through binoculars. One was above the other about several hundred feet apart. The radar fixed them several miles from the FDR and about 2000 feet high. They were roughly disc-shaped with counter-rotating lights which could be seen around the middle of each object. The objects appeared between 75 to 100 feet in diameter. One released a fireball that dropped into the top of the lower one, then they both disappeared at tremendous speed.
A report was prepared and forwarded. All observers were told not to talk about the incident.
Dan Wilson was able to find a log entry for July 26:

560726 - UFO sighting Rio de Janeiro

NFIA
Captain John T. Hayward wrote in 1992, "Yes I was the skipper of the FDR in Rio but have no knowledge of any UFO sightings."
Project 1947 Comment: The reports by CWO Hau and Lee Treadwell do not seem to refer to the same object. Also, the ship's log entry contains no details of the UFO observed. Probably there is an official document somewhere which could furnish further information.
Witnesses:
Summary:
Hovered over the Naval Academy. "They looked like little dishes on which you would serve cake or pie."
A news story from Annapolis reported:
Three teen-aged volunteers at the Waterwitch Fire Department early last evening saw objects they considered to be flying saucers, and an Annapolis housewife and Naval Academy employee who saw them agreed with the boys.
James E. Chance, 18-year-old Annapolis High School student, said he saw four silver discs with reddish overcasts [?] shortly before 8 o'clock cavorting in the sky above the Naval Academy. His observations were supported by John Jarrell, 16, and Jerry Cerrone, 16.
"Agreeing with them was Mrs. Ethel M. Paul, 19 East Street, to whose house they rushed to get a better look. "They looked like little dishes on which you would serve cake or pie," she said.
"Harry F May, 65-year-old Naval Academy employee who was sitting on his porch at the time at 24 East Street, also reported seeing the objects. He said there were only three of them, however, and their color was white. "They looked like great big plates," he said.
May reported that the objects appeared to be "just fooling around and not making any noise. They were flying in a straight line, with one in front of the other."
But Mrs. Paul's 22-year-old son, William A. Paul, who last year served seven months in the Air Force, had some doubts.
"It's pretty hard to say what they were," he observed. "They were probably jets although I didn't see a vapor trail. I did think I could see the outline of the stabilizer. But they were so very high and far away it was difficult to say. They could have been 20 miles away."
Paul advances the theory that the objects were probably brilliant reflections of the sun.
Chance said he called the Pentagon in Washington almost immediately after the boys saw them to report the findings to an officer concerned with unidentified flying objects. The officer made a check to see whether they were jets in the area, but Chance did not learn his findings. Later he called back to check with Chance on any other persons who might have seen them.
Chance reported that three of the objects were flying slowly in a line with one beneath it. The boy's attention was called to them at 7:57 p.m., he said, when they heard a roar and looked up to see the cause.
Witnesses:
Summary:
A light like a large star changing to a red color remained stationary for about 20 minutes, then moved west at about 200 knots.
Source: Project Blue Book files #4348
Witnesses:
Summary:
One silver gray cigar-shaped object, size of a quarter at arm's length. Object had a diffused light similar to an aircraft landing light but lacking a beam. Object was initially sighted in the SSE at a 45 degree elevation. Object seemed to hover and made two 90-degree turns before returning to a SSE direction and disappearing over a hill. Object was viewed visually for four minutes.
The petty officer described it as a cigar-shaped object with a smooth-surface and "no projections of any kind" and "flight characteristics different from that of a normal aircraft, specifically in its ability to hover, and make 90 and 180 degree turns."
Witnesses:
Summary:
From Project Blue Book:
3 Marine Corps pilots from USMC Air Reserve Squadron 241 flying out of Los Alamitos Naval Air Station.
A shiny, silver-colored disc-shaped object at 24,000 feet seen by the marines from their planes during a morning flight as it shot overhead going in the opposite direction.
NFIA.
Project Blue Book: No case (Information Only)
The press account – not found in the Project Blue Book files of this incident – is far more detailed than the official PBB record:
Pilots See Saucer
A group of F9F-B Grumman Panther jets streaked over west Orange county the morning of October 13th. The four plane flight was from Marine Air Reserve Squadron #241 based at the Naval Air Station, Los Alamitos. The jets were in an in-line formation when Lt Lawrence Ball spotted something: "I saw a shiny, definitely circular object pass above and going in the opposite directions."
Another pilot confirmed the "saucer" observation. Major Herman Bushong was quoted as saying, "It definitely had no appendages, was circular like a disc and gave off a reflection."
A third pilot witness also confirmed the "saucer" description. Major Lloyd Chamblin said the UFO was "silver and definitely circular, it had no appendages of any kind."
Summary:
Several UFOs seen over NAS.

NFIA
Source: "Infinity Newsletter," May-August 1957, page 6.
---
Witnesses:
Summary:
During a Regulus missile test "unidentified aircraft" (high performance type) one minute prior to object on film. 2 seconds of 16-sided white colored object on film. Navy refused to release film to the USAF because it contained classified material.
Witnesses:
Summary:
"They were around the family swimming pool when they saw what appeared to be a solid white disc-shaped object hovering between two drifting cirro-stratus clouds. After about six minutes, 'the object appeared to rock from side to side, rising straight up and out of sight in approximately three seconds,' according to the 10-year Navy veteran and Pensacola graduate."
Source: Hall, II
Witnesses:
Summary:
One bright light pulsating bright red to reddish-yellow observed for two minutes. Also, picked on airborne radar APG-51A at range of 20 miles. Radar range increased in jumps to 30 miles. The aircraft's airspeed was 450 knots. UFO speed estimated at 950 knots. The altitude of the object was about 24,000 feet. The pilots visually followed the object until it faded from sight. Radar blip was larger than a B-47 at comparable range. All known traffic in the Warning Area 14 was under positive ground control and were eliminated as potential UFOs.
Source: CIRVIS report in Project Blue Book files.
Witnesses:
Summary:
"Sighted a constant, conical, greenish-blue object, phosphorescent glow….Observed it with binoculars. In sight approximately 1 ½ minutes. No navigation lights seen through binoculars. Traveling faster than a jet plane on a track from NE to SSW. Came out of the NNE horizon and toward the end of its path made three "crazy" gyrations (like oscillations) then vanished, possibly behind cloud cover. Object had no tail like a comet or meteor." Called in to Satellite Tracking Program, Cambridge, MA, as a possible sighting of Sputnik I. It was not.
Source: "International UFO Reporter", January-February, 1993
Witnesses:
Summary:
Object low on the horizon, then high going from dim to bright, moving swiftly, then slowly. Pilot flying on a bearing of 40 degs. saw object 80 degs to his right. He was describing actions as they occurred to the tower.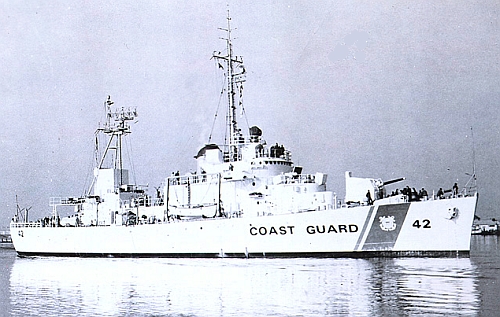 USCG Cutter Sebago WPG-42/WHEC-42
Click photo for additional images
Witnesses:
Summary:
Object tracked on radar moving north to south. A brief visual sighting of a brilliant planet-like object moving across the sky was seen at 5:21 a.m.
Witnesses:
Summary:
Star-like object bearing moving N to NW varying color and brightness. Details lacking. "You Asked For It" scheduled a segment on the sighting, but it was cancelled by Navy.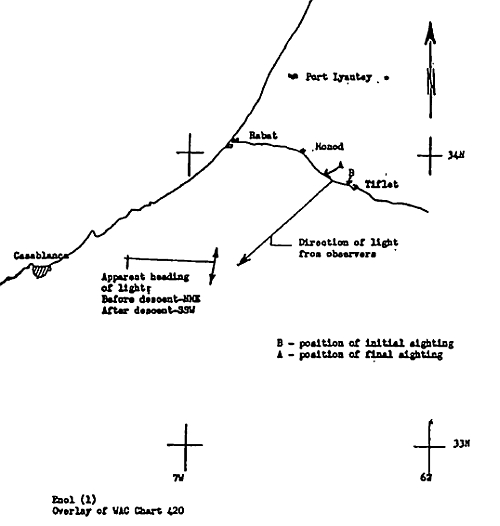 Project Blue Book Map of Tiflet-Monod UFO Sighting Location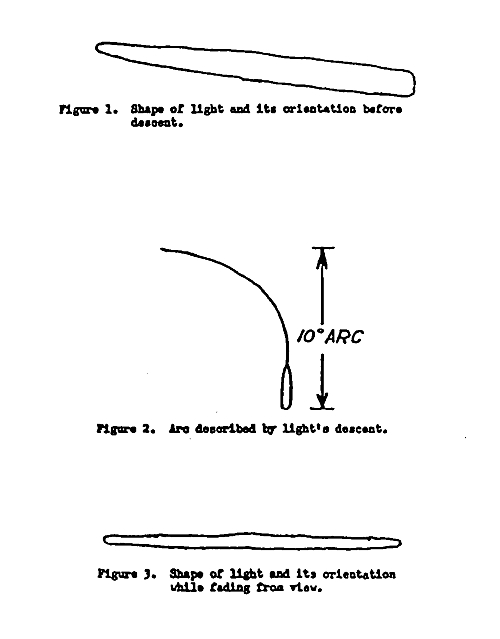 Eyewitness Illustration of Tiflet-Monod UFO Sighting
Witnesses:
Summary:
While traveling by automobile, a bright yellow to orange light about the size of the moon was observed to the southwest for about 15 minutes. After a while the light descended towards the earth and for about 30 seconds it was blocked from view by some trees. When seen again the light was at its former altitude in a horizontal position. The car was stopped and the bearing of the light did not appear to change. The light became dimmer and faded from view.
Loren Gross Comment: This Navy intelligence report form was forwarded in 9 copies to the CIA and only one copy to USAF Director of Intelligence
Project 1947 Comment: It can be demonstrated that despite the few UFO documents released by the CIA, many official UFO reports were in fact submitted to the CIA in multiple copies. Considering that most intelligence agencies microfilm such documents, the assertion by the CIA that it had only a small collection of documents to release cannot be taken seriously. Further, if such denials are true then the Central Intelligence Agency has shown itself incapable of centrally filing documents for retrieval.

Download official Navy Intelligence Report found in Project Blue Book files. One page is missing. Note that this report was sent to the CIA in multiple copies.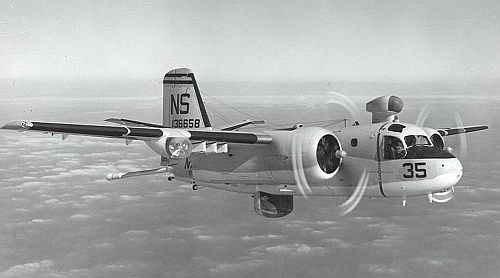 Grumman S2-F Tracker
Witnesses:
Summary:
Bright light bearing 210 degs T. about 300 feet over Point Loma for 2 minutes then faded. Was viewed through binoculars by tower. Light reappeared further North and lower. S2F pilot awaiting take off on runway heard tower making radio calls to unidentified aircraft and saw the light. After take off he headed toward Pt. Loma as they drew abreast of the object off the right wing, it rapidly accelerated. S2F Tracker gave chase heading 230 degs. Radar indicated object 12 miles ahead. It drifted right 10 degs. After 3 minutes at 10 miles distance, 40 miles from Point Loma, lost visually and on radar. It reappeared visually only until 50 miles out, then faded out. All crew saw it.
---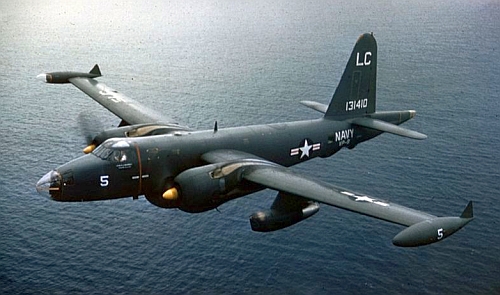 Lockheed P2V-5F Neptune
Witnesses:
Summary:
Formation of 3 lights also tracked by airborne radar at 900 knots heading across path of aircraft.
Source: Project Blue Book Case: Radar anomalous propagation, aircraft. Distributed to CIA
1950s - No Later Than (NLT) 1958 - June - Location not stated.
Summary:
Navy transport pilot approaching home station encountered a UFO visible by its orange-red glow looming up ahead and coming in at what was estimated to be supersonic speed. The pilot took evasive action and dived under it. Both he and the crew were startled. The incident was reported to the Air Force and the NAS executive officer told the crew to keep quiet about it.

Information about the encounter was given to Keyhoe by a navy captain who was a former classmate.

A "Hidden" NICAP/Keyhoe report.
Source: Keyhoe, IV, page 211-212.
1958 - Location not stated
Summary:
US Coast Guard cutter (name not stated.)
"The domed disc that hovered over a Coast Guard cutter in 1958."
1958 or 1959 - Night - over Virginia and North Carolina, USA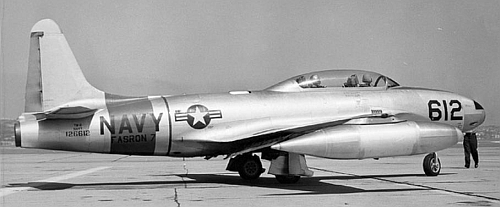 Lockheed US Navy TV-2D Training Star
Witnesses:
Summary:
2 US Navy pilots practicing instrument night flying in a US Navy TV-2D "Training Star" jet. At 35,000 feet, heading 165 degrees true, an object heading 080 true at the same level crossed in front of the aircraft. They observed 10 to 12 windows from which brilliant light shone thru. Object continued until out of sight over the Atlantic.
1958 - March 1 - Atlantic coast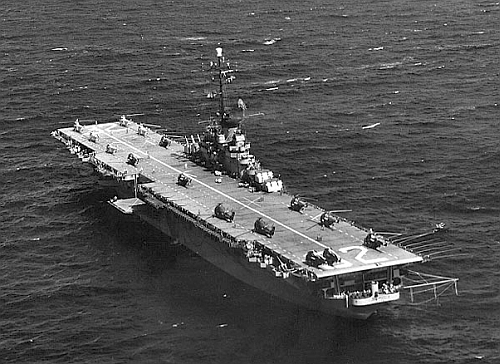 USS Leyte CVS-32 in 1957
Click photo for additional images
Witnesses:
Summary:
A statement from Navy Headquarters in Washington Thursday (Feb 27) night said vessels "sailed from East Coast ports to investigate a reported contact in the Atlantic. It is standard procedure to investigate such reports from any source." No further comment.
Media speculated that a ballistic missile had been destroyed by a submarine radio signal. The Jacksonville, FL Journal reported the sighting of a Russian submarine off Florida. The Navy denied knowledge of the report.
USAF spokesman denied that a missile was blown up by a submarine signal.
Witnesses:
Summary:
An undersea "object" which refused to identify itself was spotted by Navy pilots 50 miles northwest of San Francisco. Nearby Naval air and sea craft and 11 destroyers from San Diego were rushed into the area, but nothing was found.
NFIA
Source: Associated Press, March 18, 1958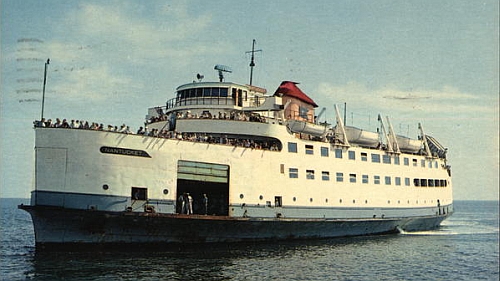 SS Nantucket
Witnesses:
Summary:
Log entry:

"Time 1455. Entrance Nantucket Channel. While outbound from Nantucket for Martha's Vineyard, Woods Hole, and New Bedford, sighted unknown object hovering in the sky, estimated height 8,000 to 10,000 feet, at an angle of about 160 degrees. Object remained stationary for a minute or more, then shot up and away to the N. E. and disappeared out of sight at a rapid rate of speed. Color of object grayish. Oval shape."

Ratio of major/minor axes 2.5:1 The object hovered almost directly overhead before zooming away.
Transcript of interview with Captain Joseph Gwodz:
Captain Gwodz: "We were bound out on the Nantucket in 1958 about 4:30 in the afternoon, and I noticed some passengers on the deck were pointing up. So, naturally being curious, I looked up, and I saw this object hovering about 70 degrees ahead of us perhaps 1200 or 1500 feet up in the air."
Reporter: "What did the object look like to you?"
Captain Gwodz: "Well, it was oval-shaped, an egg-shaped, dull aluminum color, and it appeared to have skids underneath instead of wheels on it."
Reporter: "And it flew away before you could get the glasses on it?"
Captain Gwodz: "Well, I went into the box, got the glasses out, and I swing to the bridge, by that time it was gone. So I said, 'What happened?' and they said, 'well, it went that way,' pointing off to the northeast."
Reporter: "Did any other members of the crew see the...."
Captain Gwodz: "Yes, the quartermaster, Antoine Jardin [transcriber unsure of spelling]. The pilot was at the wheel. Naturally, he didn't see it. It was high up, not on the horizon."
---
Witnesses:
Summary:
Saw a metallic gold, oblate-shaped object ratio 9:1, with sharp edges, fly straight and level.
Source: Project Blue Book Case #6409: Unidentified
Witnesses:
Summary:
"Three round lights, apparently oscillating discs, maneuvered SW of the test station."
Source: Hall, II
Witnesses:
Summary:
Observed a large, roughly spherical, luminous object glowing with a pale light hovering over the lake. A number of very bright smaller lights circled around the equator of the object as if it were rotating on a vertical axis. The object bobbed around erratically, but maintained the same relative position above the lake.
Source: "NICAP Bulletin", November, 1959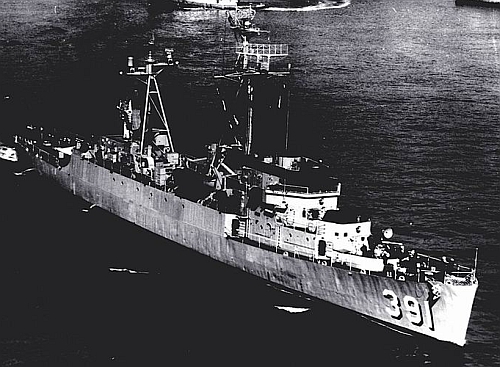 USS Chambers DER-391
Click photo for additional images
Witnesses:
Summary:
After coming off watch, witness was called on deck with other sailors to observe a pulsating bright red ball of fire about 1000' astern and at an altitude of 500'. Followed ship for about an hour, then moved straight up at 200 mph.
Witnesses:
Summary:
A large round or oval object changing color from red to red-orange, flew straight and level. Duration about 15 minutes.
Source: Project Blue Book case # 6538
1959 - 5 October - Atlantic Ocean off Portsmouth, New Hampshire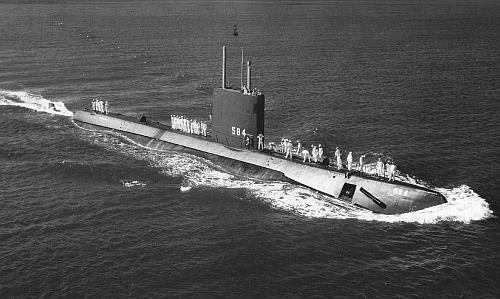 USS Seadragon SSN-584, September, 1960
Click photo for additional images
Witnesses:
Summary:
During sea trials the Seadragon returned to Portsmouth for repairs where it was reported the nuclear submarine had been hit by a whale during its four day tests. Damage was reported to one of the propellers and shaft.
Project 1947 Comment: The accident and ship trial reports should be very interesting reading.
Witnesses:
Summary:
Star-like UFO slowed, joined by second at high speed; two objects sped away.
Source: Hall, II
Witnesses:
Summary:
While on leave from the US Navy, Rehill was using his Argus C-3 camera to take a picture of the city. He glimpsed a "sudden flash" and snapped the shutter. When the transparency was developed it showed five white spots in the sky, one disc-shaped followed by a white streak. He did not look for any objects in the sky after taking the picture.
Air Force intelligence officers examined his camera and the complete set of transparencies from that roll of film. Rehill was not very cooperative with others seeking information.
Source: APRO Bulletin, January, 1960, page 10.
---
Witnesses:
Summary:
Object crossed road North to South in front of his car; traveled slowly. Roughly elliptical in shape
Witnesses:
Summary:
2 large bright white objects with long smoky luminous trails. One turned right and disappeared, the other continued West to South, disappearing at 0945 GMT
Witnesses:
Summary:
While attempting to recover a data package from Missile Test #1802, the crew of a small boat launched by the ORV Whiskey observed a steady bright glow appearing about 100 yards from the direction to the cassette and about 25 degrees from the boat. It lasted for about 10 seconds. A copilot in one of the aircraft observed that the light was on or above the surface waves which did not appear to break over the light.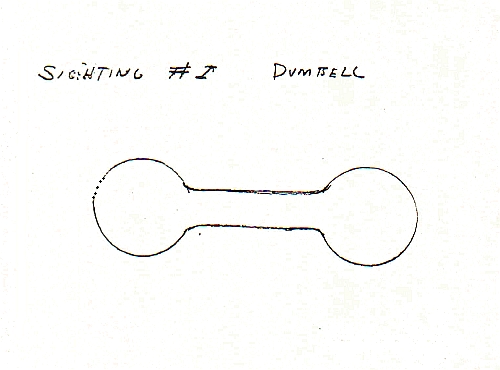 Illustration of China Lake UFO by J.H. Kirkpatrick
Witnesses:
Summary:
"This sighting occurred on September 4, 1960 at approximately 2 p.m. Pacific Standard Time. Our group had a non-piloted target on station flying at approximately 8,000 feet in a Northwest direction, when one of my coworkers (Warren E. Specht) and myself spotted an object flying several feet above our target. It seemed to be pacing or matching its' (sic) exact speed as if watching it. We continued to watch the object for approximately two (2) minutes, then with a burst of speed it made about a forty-five degree turn sharply and climbed out of sight within a few seconds, leaving no trail of any kind. Our target was a bright red so was easily seen. The object itself was very bright, like shiny metal and reflected the sun. It's shape was very unique I think. It looked like a dumbbell, that is two spheres interconnected by a tube or tunnel. Its' (sic) height made it impossible to see any parts, fins, antennas, or determine any type of propulsion system. The sun was at our backs which made the target and the object stand out very distinct against the light blue sky."
Source: Letter from J. H. Kirkpatrick to Dr. McDonald dated 16 May, 1969 McDonald's papers
Witnesses:
Summary:
A dull grey object, with a translucent glow and little spots of lights around the edge flew across the eastern sky, beneath heavy rainclouds. The object was at about 5000 feet with an apparent size of 30 degrees (?) of arc. They heard a whirring sound like a glider. It was first thought that it was an aircraft in trouble.
The huge object was round with a flat top and bottom and five bumps on the front end. During approximately the next two hours it made several passes on different courses, north to south, south to north and at last it pulled up at a steep angle. The same night a truck driver parked off the highway saw the object twice and reported it to the Ridgecrest newspaper which ran a story on it.
Witnesses:
Summary:
Morrison saw a red pulsating object circling over the Inyokern airport about six miles away. It came in his direction, looking like an inverted "V." It appeared as "red lights, feathered out at the bottom," not as a solid body.
1960 - 16 September - 10:10 GMT
USNS Geiger T-AP-197
Click photo for additional images
Witnesses:
Summary:
A Navy troop ship reported by MERINT (Merchant Intelligence) message the sighting of a bright, luminous disc-shaped object traveling east at an estimated 200 m.p.h. "The object appeared to hover at times and change direction." A merchant vessel also reported a sighting at the same time via the MERINT system
Witnesses:
Summary:
A bright light approached the tower. The watch went onto the catwalk to observe and reported the apparent size of the object increasing as it got closer. It looked about 75 to 100 feet across, oblong in shape, orange in color and at about 1000 feet altitude. It hovered over the station for about 15 seconds. It changed color to white, then to "purplish" and departed to the northeast at high speed until it faded out. It had a bright tail three times its length. When the object hovered and passed the tower, the radio was completely blocked by static. Duration was 1.5 minutes.
Project 1947 Comment: The most complete and detailed CIRVIS report seen to date! Found in Project Blue Book files with no evaluation card or other indication of further investigation. View the document here.
Learn more about Coast Guard Lifeboat Station, Hatteras Inlet
---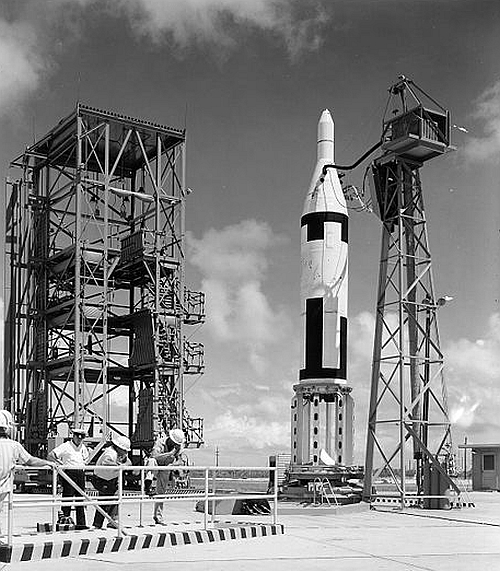 Polaris A-1 Missile on launch pad LC-29A at Cape Canaveral, Florida
Witnesses:
Summary:
During a US Navy Polaris rocket test launched from the ground facility, a UFO temporarily disrupted the tracking system. Clark McClelland viewed the object through 10X50 binoculars. The UFO was a disc about 20-25 feet in diameter and 6-8 feet thick at the center.
"Proof that an unidentified flying object disrupted AF tracking of a rocket, earlier this year, has just been received by NICAP. Similar reports had been received previously, but this is the first to be fully documented. In this officially recorded case, the UFO suddenly appeared above an AF test range after a rocket had been fired. Officials reported it was such a strong radar "target" - evidently larger than the rocket – that the automatic tracking system immediately switched to the UFO.
"For over 10 minutes, AF radar tracked the unknown flying object as it alternately hovered and moved rapidly above the range. Later calibration showed no radar malfunction; the UFO was definitely a solid object, seemingly operating under control. From the recorded evidence it appears the UFO approached swiftly from one side as the rocket was fired, or else it descended quickly from a high altitude. Whether its appearance was labeled a coincidence or an observation of the rocket test is not shown in the record.
"Though no military security is involved, this significant report has been withheld from the press for several months, either at the base or by AF Headquarters."
"UFO INVESTIGATOR", Vol. II, No. 6 (Nov 1962) Tracking information appeared in an unclassified technical report.

A "Hidden" NICAP/Keyhoe report
Source: "UFO Investigator" November, 1962
USS Franklin D. Roosevelt CVA-42, circa 1962
Click photo for additional images
Witnesses:
Summary:
SPS-12 radar track of speed of 3960 knots for one minute traveling south.

USAF conclusion: Polaris missile test from Cape Canaveral.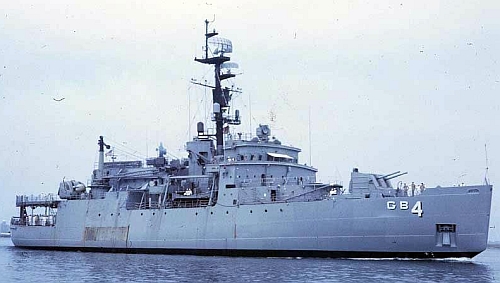 USS Glacier AGB-4 at Boston, August 1960
Click photo for additional images
Witnesses:
Summary:
About 50 degs elevation a tear-shaped "luminous body" crossing sky from NW to SE which divided in two; too slow to be a meteor.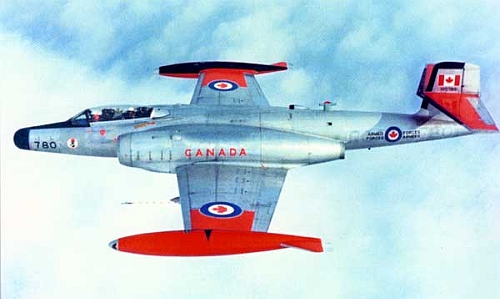 Avro Canada CF-100 Canuck jet interceptor
Witnesses:
Summary:
Prior to a US Navy Polaris missile launch at Cape Canaveral:

"UFO was observed on radar, Cape Canaveral, 1457Z, 11 April 61. It was observed for at least 30 minutes. Object appeared to orbit which extended from 10 miles from the Cape to a position approximately 55 miles from Cape Canaveral and the orbit was at all times on an azimuth of 125 degrees to 127 degrees SE of Cape Canaveral. According to radar reports the object disappeared when it got 44 miles away from Cape Canaveral, appearing on radar and disappearing at the farthest end 6 or 7 miles. Made 6 or 7 long orbits. The object finally disappeared approximately 1530Z in the direction 125 degrees away from Cape Canaveral." — USAF summary
Speeds were between 150 to 600 knots. A C-54 aircraft was vectored to within two-and-a-half miles of the contact, but saw nothing. The reporting [investigating] officer was of the opinion "that this UFO was an enemy aircraft of the U-2 type which was observing Polaris test operations with a continuing knowledge of the missile launch status."
One observer stated the action of the UFO indicated a current knowledge of the missile launch countdown in that the UFO would retwine [remain?] beyond the range of the radar scope during the periods of hold and would return when the count was resumed. Radar observers stated the UFO remained in a hovering position or in an extremely tight circle for several seconds periodically. At other times the UFO speed was approximately that of a C-54 aircraft which was being tracked on the same screen, and at other times the speed was similar to that of the RCAF CF-100 jet, approximately 400 knots, which was also being tracked on the same radar screen. Upon final departure of the UFO it attained a speed estimated by the radar observer to be 600 mph.
Project 1947 comments: This was part of a message drafted by Major (later Colonel) Robert Friend: "Recently there have been several radar sightings of unidentified flying objects at Cape Canaveral during the preparation and launching of test missiles." Several years earlier a letter from a CSI-NY member who later joined the Air Force and was stationed as a radar operator indicated a number of unknown contacts there which were not considered important or reported.
In this case the possibility of a Navy aircraft being in the area was considered.
Source: Project Blue Book files.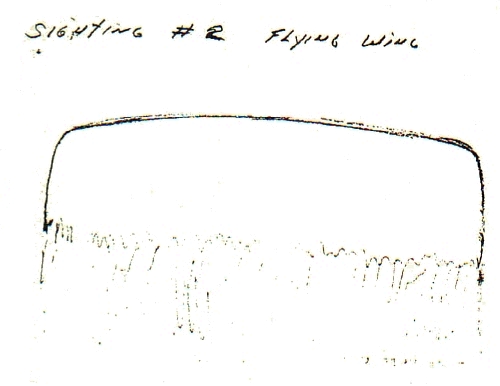 Ridgecrest, Ca. "Flying Wing" UFO sketch by witness J.H. Kirkpatrick
Witnesses:
Summary:
"It was on the night of August 25, 1961 at approximately 8 p.m. and several of us including my parents were sitting in our back yard watching the satellite ECHO going over when almost directly over head and slightly to the east we saw what appeared to be a gigantic flying wing. Its' (sic) outline was just visible (in fact had we not been looking directly at it we could have missed it) and blended so well into the dark sky. As it slowly passed over head it was blocking out the stars so we were able to determine its general outline. It was dark and showing no lights of any kind. There was no sound. The leading edge and tip were smooth and did not appear to have any kind of nacelle or engine housing, rudders other protuberances. It appeared to be tailing off a semi-luminescence. Had it been during the day I would have described it as being a heat wave, but since it was at night it could still be seen. It would be hard to estimate its size, but I held both hands up finger tips to finger tips (and) could not cover it. We all just sat in wonderment and watched it until it went out of sight, which was about a one minute duration. It seemed to be going very slow, too slow for conventional aircraft even if it had made any sound at all."
Witnesses:
Summary:
While returning home, Savage and his companions noticed an unusual object with an elongated pear-shaped tail stationary in the sky. When Savage started to film the object the UFO changed position, then began to move rapidly. The film was loaned to NICAP, but after a time a conflict developed between NICAP and Savage. The movie was returned after a copy had been made. The film appeared to show a contrail, but it was never, as far as can be determined, evaluated. The case is unresolved.
1961 - 6 October - 3:25 p.m. Sensitive US installation in Newfoundland
Witnesses:
Summary:
Sentry sighted an orange-white, meteor-like object which maneuvered over the area for four minutes before speeding away.
Source: "NICAP UFO Investigator"" Vol. II, #4
---
Witnesses:
Summary:
Brilliant white light approximately 20 times brighter than a first magnitude star observed at bearing 250 degrees true, elevation angle 30 degrees. Light remained stationary for about 5 minutes. It was observed with 7x50 binoculars, through which it appeared circular and dazzling gold similar to the reflection of the sun off a polished gold surface.
Light was situated between two mountain peaks. The sun at that time was below the horizon. After five minutes the light moved in a southerly direction and disappeared behind a mountain peak. It did not reappear on the other side of the peak as would be expected if the southern course had been maintained. No smoke or vapor trail seen.
After sighting the sky was searched for several days for a similar reappearance which proved negative.
Project 1947 Comments: Two other sightings on 22 June and 7 July appeared to be identified, the former a meteor, and the latter a satellite decaying from orbit.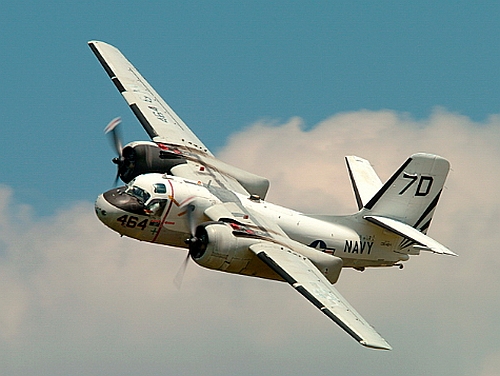 Grumman S2F ASW Tracker
Summary:
Disc buzzed Naval Air Station. Excerpts from a report sent to NICAP:

" At 7:10 a. m….a group of S2F Trackers were making touch and go landings….Suddenly a discus-shaped object came in very fast and low, slowed over the runway and hangar, then went out of sight while climbing at a 20 to 30 degree angle….only unusual feature aside from the fact that it was a non-conventional aircraft, was a rotating dome on top that appeared to be equally divided into two sections, one half light gray in color, the other half black. Estimated speed of rotation about 90 RPM. The main section did not appear to rotate…. No S2F's were sent after the object (which) accelerated rapidly, was soon out of sight."
---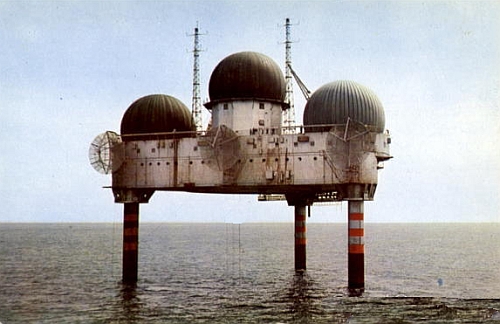 Texas Tower II off Georges Bank, east of Chatham, Mass. early 1960s
Click photo for additional images
Witnesses:
Summary:
The members of a dismantling crew on Texas Tower II, an abandoned, USAF early air defense radar site built off Cape Cod, watched an unidentified object sink into the sea before they were able to render aid. "They said it had a controlled white light and smoke appeared on the surface and seemed like steam….They searched for about 15 minutes and found no debris so when they notified us (US Coast Guard), we sent a plane which searched from 8:40 to 9:46 and they found nothing. They dropped flares to search and found no debris."
The tower personnel later stated that the only vessels in the area were on the horizon far from the spot.
---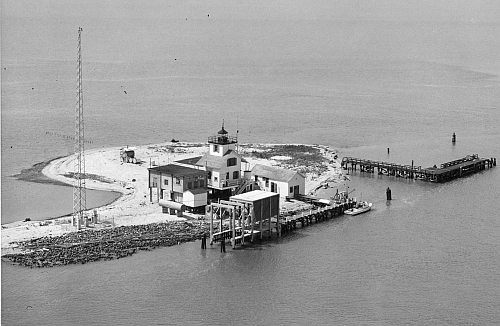 USCG Point Au Fer Reef Lighthouse, 1963
Witnesses:
Summary:
Received from AFCP at 040135 Mar 65: "Service [CIRVIS] Report from U.S. Coast Guard Station at Point AUFER (sic) REEF. Position 2919.8 North 9122 West reported the following: Observed ball of light 040421Z to 040427Z hovering over water 1000 ft. above surface. Was not a helicopter. It hovered in one spot East of the station then moved back again. When it departed it headed in a Southwest direction at great speed."
Point Au Fer is about 80 miles southwest of New Orleans.
New Orleans Air Traffic Control stated to AF that there was no traffic scheduled in the area at the time. State Police had no reports of such an object.
Source: Project Blue Book files.
Witnesses:
Summary:
USN ship heading W at 265 degrees, speed 15 knots, sighted an unknown aircraft at bearing 000 degrees approaching. At 9:14, the SPS-6C air search radar detected 4 targets at ranges up to 22 miles for the next 6 minutes, traveling at up to 3000 knots, and various maneuvers. Viewed through binoculars there appeared to be three lighted objects, one bright as a 1st magnitude star, the other 2 as 2nd magnitude. Objects hovered directly over the ship for 3 minutes observed by Commanding Officer and other witnesses. No IFF response, one object to starboard appeared larger on radar. Objects departed to the SE at extremely high speed.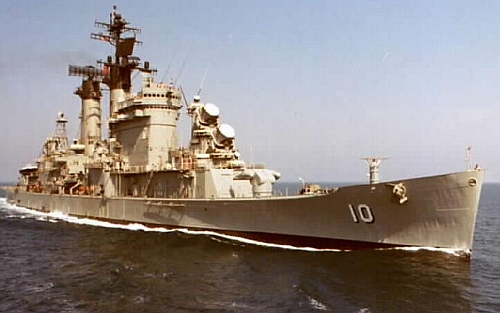 USS Albany CG-10
Click photo for additional images
Witnesses:
Summary:
3 radar contacts, no visuals following at a distance of about 40 miles for over an hour. Jets scrambled, but could not close to less than 20 miles to objects speed. No visual contact only radar. Objects stayed in triangular formation.
Source: NUFORC 2/15/2007+
---
Summary:
A luminous object flashing red, blue, and green lights, landed in the woods. A second object was later seen to join the first one.
Source: Vallée, Magonia Catalogue
Witnesses:
Summary:
4 pairs of flashing red lights in changing geometric formations. The pilot reported an oblong object with body lights. About 1 mile over the ocean.
Source: Hall IV, page 19
Witnesses:
Summary:
While camping, heard a fluttering sound, then they saw a disc-like object 20 feet in diameter with double row of lights around rim, 150-200 ft away at tree top level. It appeared to be rotating and a blue light pulsated around its rim. It gradually accelerated away to the South West.
Witnesses:
Summary:
While driving to the railroad station, an illuminated 25 ft diameter disc with " portholes" on its lower convex surface was encountered. Object descended low over the car and hovered above it. When 2 other cars approached the object it extinguished its lights, then shot straight, up leaving a trail of bluish light.
Witnesses:
Summary:
A flat, round disc-shaped object with red and yellow segments on the underside. The object had dark center sections and colors around the rim. It flew slowly overhead for 5 Minutes as a storm gathered.
Source: Hall IV, page 32, from a NICAP report form
Witnesses:
Summary:
First seen from rear of aircraft. They saw a light for two seconds moving upward at an angle of 70-80 degrees. In 5-10 seconds the light appeared again, same duration. The light appeared for a third time, then the object flew over the aircraft. It seemed to the pilots that it was a light aircraft with an unusual light – white and flashing. It passed 100-200 feet from the plane vertically with "negligible horizontal clearance." Lt. Gould had the impression of swept wings on the object.

Account was given to Ray Fowler at a speech he presented at the USCG station, Salem, MA. Rear Adm. Childress was also present due to interest in the UFO subject.
Source: NICAP Mass Subcommittee case
---
Witnesses:
Summary:
"Dr. McDonald recently interviewed two men involved in an interesting close-range daytime sighting out on the Baker Range at NWC in January 1967. This sighting and several others will be one of several that have been made in the area that Dr. McDonald hopes to discuss at the RESA [Research Society of America, China Lake Branch] meeting Tuesday night." NFIA
Project 1947 comment: This may be an incorrect date and refer to a sighting on Baker Range, 18 January, 1966.
Witnesses:
Summary:
While on guard duty at post #7, in a roving patrol with a truck driving to a secluded area of the combat engineer section, he saw an object about the size of a two-man helicopter which looked like an egg on its side. It landed in the brush about fifty feet from him. Against his better judgment, he decided to go closer to investigate. He got out of the truck and walked down a dirt road about 20 feet and observed it. Its color was gunmetal, without any light while on the ground. There were four legs supporting it. He proceeded closer to about 15 feet behind the cover of a thicket and pulled his .45 calibre automatic pistol and cocked the hammer. As soon as the hammer cocked, an object resembling a periscope came out of the top of the "egg" and seemed to point right exactly at his position. It pointed in his direction for a few seconds, then it was drawn back into the object. The object proceeded to take off with a green glow shining from the bottom. It drew in the landing gear and another green glow shone from the end of the egg as it rose rapidly somewhat like an airplane and disappeared over Courthouse Bay. He did not report it. ("…because I was and still am afraid of being locked up a nut by the Marine Corps.")
Duke's letter to NICAP was sent to the North Carolina NICAP investigative subcommittee and Dr. James McDonald. Dr. McDonald tried to telephone him only to find he had been transferred. McDonald send him a letter which was never answered.
NFIA
Project 1947 Comment: Resembles the Australian Centurion tank encounter of about the same time. (Tape recording in McDonald's file.)
Witnesses:
Summary:
While driving along Washintgon's car suddenly stalled and his radio faded out. He saw a large object with a dome above him. The top was gunmetal blue and the bottom was the color of old lead. It was moving east, passing 300 feet over his car, crossing the highway titled upward to the right. It then accelerated and disappeared into low clouds, with a swishing sound.
Source: Project Blue Book files # 11869
1967 - 6 October - About noon - China Lake area, California
Witnesses:
Summary:
A Navy pilot was buzzed more than one time by an unidentified aerial object. Vandenberg Air Force Base Operations Control Center was queried by the Naval Weapons Center (NWC) whether any aircraft from Vandenberg might be flying in the area. The answer was negative. (Incident occurred the same day as Condon Case 35 at Vandenberg AFB.) NFIA
Source: McDonald's papers.
---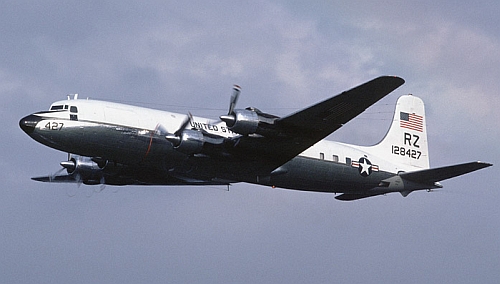 US Navy Douglas C-118 Liftmaster
Witnesses:
Summary:
On a clear night with no moon and few clouds, about 60 miles from Stockton, they observed a bright white object judged to be about 20 miles away. It appeared to rise and fall twice after coming to complete stops. It disappeared after a rapid descent on a 30 degree angle. They noticed the object because of its high speed compared to objects they were familiar with seeing during their aviation careers.
Source: "SKYLOOK", July 1968, page 3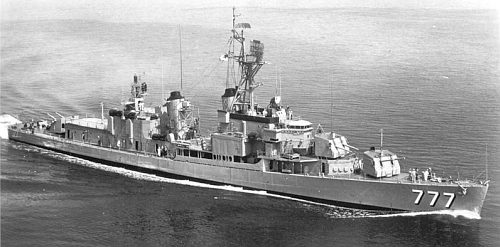 USS Zellars DD-777, circa 1967
Click photo for additional images
Witnesses:
Summary:
A number of lights like flares rose out of the water off the port beam. Lights appeared to come from the sea, rising up and disappearing in the sky. Seconds later the 5 lights dropped down into the sea again. A few minutes later they rose out of the sea and performed synchronized maneuvers moving up and laterally in formation. Then they rose up in the sky and disappeared. Initially, it was thought a ship was in distress and the USS Gearing was dispatched to check with negative results. No radar fix on the object. Not logged as a UFO sighting, but as an unsubstantiated ship distress signal.
Source: NUFORC 2/7/2009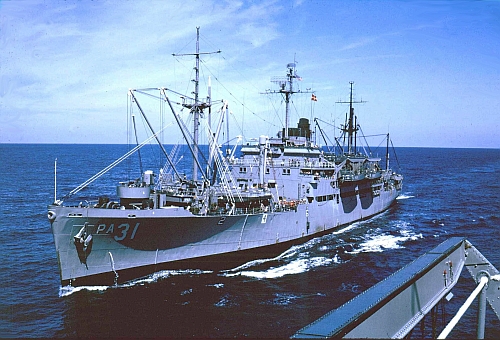 USS Monrovia APA-31, mid 1960s
Click photo for additional images
Witnesses:
Summary:
Returning from a deployment to the Mediterranean, a large submerged object was sighted on the starboard side just aft of the stern.
The object was an elongated ovoid in shape, luminescent orange in color, and appeared to have a translucent quality.
The USO matched several course and speed changes. It rendered compass, radar and radio equipment inoperative. When the object disappeared the equipment returned to working order.
Project 1947 Comment: One more Keyhoe/NICAP "hidden" case which has some relevance to this incident was referred to briefly in an issue of "UFO Investigator":
1966 (date and exact location deleted due to the witnesses still being on active duty with the Air Force at that time). An active duty USAF Captain and pilot came to the NICAP office and related that while he and other Air Force pilots were on a routine mission over the Atlantic at night, they sighted a large disc-shaped object rotating under the surface of the water which was clearly visible because of a brilliant blue-greenish glow.
(Like other NICAP hidden cases the whereabouts of this file is currently unknown.)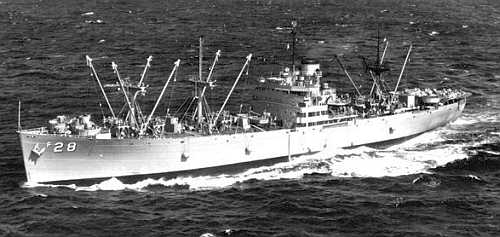 USS Hyades AF-28
Click photo for additional images
Witnesses:
Summary:
When USS Scorpion was overdue in Haydes area, ship was pressed into search. On second night, an object was reflected in the searchlight. As the ship turned toward the object it went out of the beam and was lost in darkness. Next day they were relieved from search duty and continued on their way to join the 6th Fleet.
Source: NUFORC 3/12/2002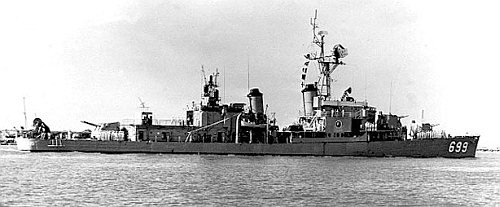 USS Waldron DD-699 in the 1960s
Click photo for additional images
Witnesses:
Summary:
Two objects tracked on radar. No IFF. They were moving at about 400 mph and making right angle turns. Crew watched them visually at about a few thousand yards. One submerged into the water while the other waited above. When the first emerged, they rapidly left at a 45 degree angle, disappearing in about 10 seconds. Reported to Washington.
Source: MUFON CSM case #3683
---
Witnesses:
Not identified in Navy message. Probably an aircraft or ship north of Cuba
Summary:
THIS DOCUMENT DECLASSIFIED BY
COMNAVSECGRU ON APRIL 30, 1979
AT 220032 AUG, VIS OBSVD BRIGHT WHITE LIGHT APPEARING AT BEARING 026 (TRUE NORTH), ELEVATION APPROX 15 DEGREES POSIT OF MULLER 23 17 N 82 19 W. DURING THE FIRST MIN OF OBSERVATION THE LIGHT WAS PULSATING OR FLUCTUATING IN BRIGHTNESS AT APPROX ONE SECOND INTERVAL. FOR THE NEXT TWO MINS OF OBSERVATION THE LIGHT BEGAN PULSATING [AS IF IT] CONCENTRIC RINGS OF LIGHT, WHICH FLOWED FROM THE CENTRAL SOURCE IN A RIPPLING, SHIMMERING FASHION DIMINISHING IN BRIGHTNESS AS THEY GREW FURTHER AND FURTHER AWAY FROM THE ORIGINATING SOURCE. DURING THE FOURTH MIN OF THE OBSERVATION A BLUISH-GREEN BEAM OF LIGHT APPEARED FROM THE CENTRAL CORE OF THE CONFIGURATION, EXTENDING OUTBOARD AND DOWNWARD TO THE LEFT AT AN ANGLE OF APPROX 45 DEGREES, AND REACHING TO THE FADE OUT POINT OF THE RADIATING RINGS OF LIGHT, APPROX FIVE MINS AFTER THE APPEARANCE OF THE BLUISH-GREEN BEAM (SIMILAR IN APPEARANCE TO A SEARCHLIGHT BEAM) THE RADIATING CIRCLES OF LIGHT DISAPPEARED, LEAVING ONLY THE [CIRCULAR?] WHITE CORE OF LIGHT AND THE COLORED BEAM. FOLLOWING THE DISAPPEARANCE OF THE CIRCLES, THE BEAM SEEMED TO RETRACT TOWARD THE CENTRAL CORE, GROWING BROADER AND STOUTER AS IT RETRACTED. FINALLY, THE BEAM AND CORE SEEMED TO FORM INTO A NEBULOUS CLOUD-SHAPED MASS, WHICH DRIFTED ON THE WIND FADING FROM VIEW AFTER APPROX 14 MINS. DURING THIS EVENT. THE FOLLOWING ATMOSPHERIC DATA WAS ACCUMULATED: BAROMETER 29.91 TEMPERATURE 83 DEGREES DRY/78 DEGREES WET, VISIBILITY EXCELLENT, FOUR-TENTHS CLOUD COVER 9STRATUS AND CUMULUS) WIND E X N.S. AT 12 KTS. ELECTRICAL STORM FORMING OVER IMMEDIATE AREA OF CITY OF HAVANA.
Project 1947 Comment: This document was found in the National Security Agency (NSA) files and listed in the result of the FOIA lawsuit against the agency. The document was referred to the Navy for possible declassification and the Naval Security Group Command Headquarters determined that the document was releasable under the Freedom of Information Act. A number of other documents held by the NSA were referred to various agencies including the Defense Logistic Agency, Defense Intelligence Agency, Air Force and State Department which were also released.
Source: Re-written message released by US Naval Security Group Command Headquarters
---
Witnesses:
Summary:
Observed three saucer-shaped objects hovering near rifle range for 15 to 20 minutes.
Source: NUFORC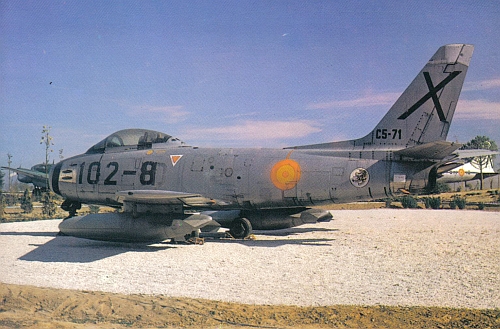 Spanish Air Force F-86F Sabre as flown by Sáez-Benito and Carbayo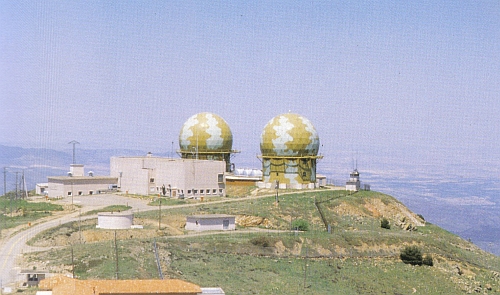 Radomes of Escuadrón de Viligancia Area #1 (EVA-1) in Calatayud, Zaragoza
Witnesses:
Summary:
During a "Red Eye" air defense exercise two F-86F pilots from Zaragoza air base observed one bright grey egg-shaped object flattened in the upper portion with two porthole-like windows. The object seemed to be flying at a speed of 800 km per hour at an estimated altitude of 27,000 to 33,000 feet. Radar at Zaragoza tracked the object for about 25 minutes. Elements of the US VI Fleet participated in the Red Eye exercises, but there is no information regarding any contact with this object. Spanish results of Red Eye exercises are still classified.
The two pilots were extensively debriefed about their encounter, but when the Spanish Air Staff began declassifying their UFO files in 1991, inquiries about this case were met with the response "FILE MISSING". Most of the information about this case comes from witness interviews long after the event.
---
Witnesses:
Summary:
A cluster of 9 blinking lights was sighted at low altitude over the ocean from a hotel. The lights appeared to be moving in some sort of formation toward shore. As they approached, they split into two groups, the first forming a straight line and coming to a stop, the second continuing in its original arrangement. One light from the latter group suddenly separated from the rest, dropped down to the water, then returned to the others. The lights then regrouped into a 'V' formation and disappeared. When a report was made to police, the police said other reports had been received and the Coast Guard had been alerted. About 20 minutes later a helicopter was seen circling the area where the lights had been observed.
Source: NICAP "UFO Investigator", September 1971, page 3
---
Witnesses:
Summary:
An object giving off a bright, yellowish-white as it traveled slowly across the sky. The object appeared to stop at times and change color. The Coast Guard also indicated that channel 16 UHF band used by the Coast Guard was filled with a strong code signal which could not be deciphered. Michigan State Police contacted the USAF which said that Selfridge AFB was not interested in assisting, although press reports indicated that a government investigation would be conducted.
Source: NICAP, "UFO Investigator", May, 1972, page 3
Witnesses:
Summary:
"Real bright light appeared over top of our gate house". The power went out and the phone was dead. As fast as it appeared, it disappeared and power phone worked again. Guards reported it to superiors.
Source: NUFORC 10/4/2003
Witnesses:
Summary:
Stationary object viewed for 30 minutes, shaped like an Apollo capsule, or triangle. Object disappeared in cloud cover. Radar station contact after sightings said they tracked object for 7 or 8 miles.
---
1973 - 22 May (date approx.) - 2300 - Ocean station duty Atlantic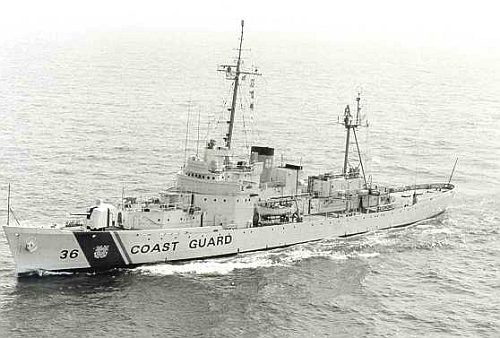 USCGC John C. Spencer WHEC-36 in 1969
Click photo for additional images
Witnesses:
Summary:
Sighted bright object that changed colors. The object moved and hovered above the ship. It appeared to have portholes. It rotated as it hovered, then it would accelerate upwards very quickly and appear very small. Flew across the sky at very high speed making right angle turns. Photographs were taken and reported. On return to Governor's Island, Yankee Pier, the crew was questioned by men in civilian clothing, and photos and cameras were taken. Crew told to sign affidavits stating that nothing had happened during cruise.
Source: NUFORC 7/31/2010
Witnesses:
Summary:
2 controllers observed a fast moving blip on 150 mile radius radar screen. It traveled 25 to 35 miles in one sweep. Reported it to supervisor who watched for one sweep, then instructed the witness to go outside. He was able see a light move from East to West, then turn South. When he returned the supervisor confirmed the same action on radar and instructed him to say nothing about it.
Source: NUFORC 12/30/2001
Witnesses:
Summary:
"A large black airborne object" at about 8 km away, 600 meters altitude was seen by Lt Cdr driving from base South along the Murat Road toward Exmouth. It hovered for about 25 to 30 seconds, then accelerated "at an unbelievable speed" to the North. Fire captain on base saw the object over Area B (Mt. Athol) hovering with a halo around the center, either revolving or pulsating. Went North at high speed.
Witnesses:
Summary:
The Rices and Ryans were mullet fishing in the mud/oyster bed flat area southwest of Pascagoula. Sky was clear, little moonlight, slick calm with intermittent breeze from the north. Water was about 4 to 6 feet in the area. Rayme Ryan first spotted a stationary glowing object in the water and attempted to strike it with an oar. When he did so, the object dimmed. It regained its original brightness when left alone. When disturbed it would dim, move and "reilluminate" (Navy report). The object eventually disappeared and fishing resumed.
About 30-40 minutes later Rayme Ryan was retrieving his net about ½ mile southwest of the original sighting. As he came up on one of his buoys, he again saw the object stationary near the buoy. He called for the others who decided not to disturb it and called the Coast Guard. A launch was dispatched from the Pascagoula Coast Guard Station with Nation and Crews.
The Coast Guard men repeated earlier attempta to explore with the object which dimmed or moved when attempts were made to strike it with an oar. After 10-15 minutes the object extinguished its light and could not be relocated. Coast Guard men returned to station and filed their report and the fishermen resumed fishing. (Their total catch was only 400 pounds compared with a normal run of almost a ton per boat.
A 3-inch light source shone from the object which appeared to be 10x12 feet at the surface. Its color was "yellowish-amber with a red tint" and "almost too bright to look right at" to almost dark depending on the amount of disturbance. When struck with an oar the object appeared metallic, but attempts to strike it were not possible sometimes because of the difficulty seeing the oar when it entered the object's brilliant light. The object when traveling appeared to make 4-6 knots.
Various investigations, both by officials, journalists and ufologists yielded no explanation. The US Navy conducted an "informal investigation" by a number of officers.
Project 1947 Comment: A large number of UFO sightings were reported during this time in the southern US and specifically in Mississippi.
---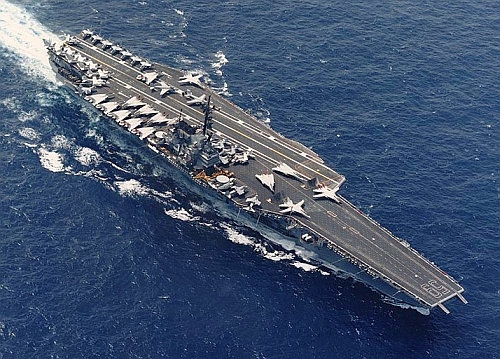 USS Forrestal CVA-59 (redesignated CV-59) in 1987
Click photo for additional images
Witnesses:
Summary:
A bright light under the water seen through binoculars 210 degrees off the port beam. Informed bridge and was told there was no Sonar contact. Shortly after, the Captain, XO, Flight director and other officers came to the signal bridge. For 20 minutes the object moved back and forth across the bow at about 60 mph, all under water. Suddenly it pulled away and disappeared into the depths. Witness was called into the Captain's' quarters with his log. He was told to leave the log and not to talk about the incident.
Source: NUFORC 6/5/2004
---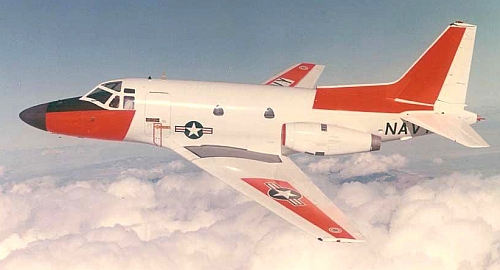 T-39D Sabreliner
Witnesses:
Summary:
Descending from about 30,000 ft, witness saw a red light. Attempted to close but light sped away. On landing filed a written report.
Witnesses:
Summary:
1. Round metal ball about 20 feet in diameter floating on the surface of the water. Marked position, but when aircraft was turned to check on it, could not find it. As it was getting dark, and there was a mission to do, finding the object was abandoned.

2. 20 to 25 minutes later, someone said there was a light on the starboard side of the aircraft. Could not see anything behind the light which was bright, glaring, day-glo green. It was about half a mile away and stayed in the same place keeping pace with the aircraft. The flight crew then witnessed it accelerate towards the front of the aircraft and disappear in just a couple of seconds. Crew did not want to report it, but it was entered in the Nav-Com log, which was turned in. There were no questions about the two incidents to witnesses.
Source: MUFON CMS System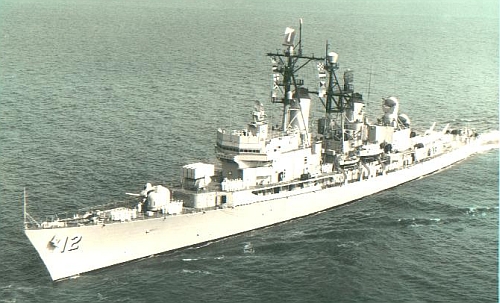 USS Dahlgren DLG-12, underway in 1965, location unknown
Click photo for additional images
Witnesses:
Summary:
Rapidly moving object approached the ship which was then closely observed at a distance of about 2000 feet hovering about 50-100 feet over the waves. It was round with unusual multi-colored lights coming from the bottom of the object in a circular glowing pattern (and shining?) on the water. It was not picked up on radar. After about 15 minutes, it shot off so fast, it was like a "flash."
Source: MUFON CMS System Case #3890.
USS Steinaker DD-863 on Chesapeake Bay, fall of 1974
Click photo for additional images
Witnesses:
Summary:
Normal steaming conditions when the OOD asked the CICWO to come to the bridge to view an unusual object in the air. CICWO instructed radar operators to search for the object. When that failed, CICWO went to the bridge to see a strange object 20 degrees off the starboard bow about 5-6 miles away. OOD changed ships course to head toward the object. It was never picked up on radar. The Captain was summoned to the bridge as they steamed toward the object. After a time the ship sailed under the object which was estimated to be 300 feet in diameter and appeared to be about 100 feet under the cloud deck floating along sedately. "The entire surface of it was a total roiling mass of 'lightning' completely surrounding it and moving in every direction all over the object." Its light was bright enough to read by. Ball lightning was mentioned and the Captain agreed it might be just that.
Source: MUFON CMS System Case #14537
---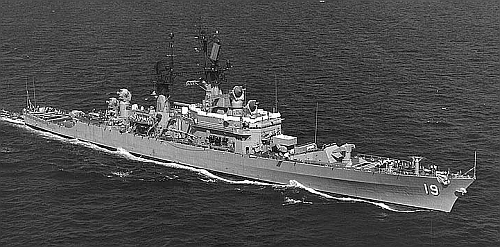 USS Dale DLG-19 off Roosevelt Roads, Puerto Rico, 5 June 1975
Click photo for additional images
Witnesses:
Summary:
A sailor brought Bauer's attention to a yellowish-orange object in the western skies. He obtained a 10x50 binoculars and watched the object rise so that the upper portion of the object was seen to be dome-shaped. Two lights issued from the object and moved about for a few second, then returned to the dome-shaped object. The object just disappeared.

Bauer reported it to the Captain and asked if it should be logged, but the Captain told him not too. The Captain told him of an incident during the Vietnam War in which his ship was paced by two UFOs, but the incident was never logged.
Source: Interview by Robert Powell, May 2013
Witnesses:
Summary:
The ship, bound for Boston, encountered a green light seen dead ahead in a light fog. No radar or sonar from a surface vessel other than the destroyer's own. Ship ordered to change course to investigate. During this time the light started to pace the destroyer about 50 yards away. The destroyer emerged from the fog, and then radar contact was made. The light maneuvered around the ship and entered the water and then only a dim green glow in the water could be seen. The Captain twice ordered the crew to forget the incident. The Captain made a log entry which said the ship had encountered an unidentified vessel displaying a green light and course was altered to avoid same.
---
Witnesses:
Summary:
UFO tracked making "instant reversal of course" at 400-500 knots and "accelerated at a rate too fast to track," then reversed course, stopped, and radar locked onto it again. Civilians in Ocala National Forest observed an oblong object at treetop level with flashing body lights. Its glow illuminated trees.
---
Witnesses:
Summary:
Brian spotted UFO. Upon being notified "Coberly contacted NASF radar and verified visual contact. Also verified visual." "UFO approaching base: radar on runway obtained primary fix on object." UFO moved off scope to East.
Source: FOIA request to Naval Air Station Fallon 15 Feb 1980
Witnesses:
Summary:
Williams was backing a truck up, when he spotted a brilliant white, stationary light in the eastern sky, about 30 degrees in elevation. The light appeared be larger in size than the full moon with a dome protrusion, but it was hard to tell as the the light was so intense, he could not look at it for longer than a few seconds. It lit up the Mississippi River below it. It rushed straight up, climbing 40 degrees, changing color from white to red. It stopped for a second then the light extinguished.

He went in to get the radio man, and when they returned, they saw the same or another light in the NE sky about 2-3 miles away. It appeared like a cluster of lights on a distant airplane. It was observed through binoculars which revealed two red lights and a white light flashing irregularly. Then it flew low around the horizon over the Keokuk dam and into the distance in the WNW in a matter of seconds.

The District Coast Guard Office told the witnesses to contact CUFOS and report the sighting.
Source: CUFOS report
---
1980 - Vicinity of Puerto Rico - (over a period of several weeks)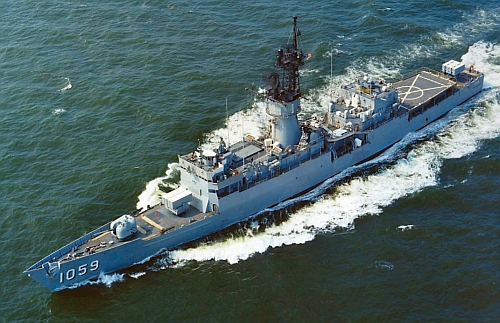 USS W. S. Sims DE-1059 off the Virginia coast, 23 July, 1981
Click photo for additional images
Witnesses:
Summary:
Initially crew told the ship was to observe underwater contact of undetermined origin. Later it was said to be of a Russian submarine. Divers said it was another "Shag Harbour" which the source did not at the time understand. Later they were told it was a natural phenomena of undetermined origin.
Source: NUFORC 8/29/2003
---
USS John King DD-3 at Antwerp, Belgium July 4, 1983
Click photo for additional images
Witnesses:
Summary:
During ISE approached and observed a green glow ahead similar to the glow of stirred algae, but brighter. The six circles were like dots on a dye. With no alteration of course the ship passed over the three on the right. The glow illuminated the bottom, the ship's draft was 20 ft. Circles were uniform with each larger than the ship. Sea state 1, moonless, warm and clear. Captain not woken, OMOW logged incident and OOD called it glowing algae.
Source: NUFORC 12/12/2011
---
Witnesses:
Summary:
Saw what thought was an aircraft coming in and called the tower which said no traffic scheduled. It was stationary and would dart to the right and drop down to the bay. Drove to the end of the runway and saw the light dim and disappear.
Source: NUFORC 1/25/2006
---
Witnesses:
Summary:
Saw a huge, cigar-shaped UFO while mowing his lawn. The object appeared to rotate about 90 degreees until it was pointed directly toward him. Then as it moved toward him, what appeared to be an orange flame shot out from the bottom which seemed to stretch like a rubber band and disappear instantly from his sight.
---
2007 - 2 October - 2200 - 100 miles off S Virginia coast
Witnesses:
Summary:
During a routine weather observation aboard a naval vessel during flight operations, 1 object was seen to the East moving at great speed and changing direction rapidly. "Moving at a 45 degree elevation from East to West it abruptly changed course "it made a right-angled turn" and disappeared." No radar contact. It appeared to be 5-7 miles away.
Source: NUFORC 10/7/20070
---
"NFIA":(No Further Information Available) has been added to catalog entries for which no other details or information is known to exist.
"Hidden Cases" A number of cases given to NICAP were often from serving military personnel or people in other high security capacities where their identities had to be protected from possible official repercussions. The authenticity of the cases were certified or sworn to by NICAP Board members or officials and they were referred to as "Hidden Cases." See: Introduction to the First Update of the Catalogue for more information.
---
---
UNITED STATES NAVY, MARINE CORPS, COAST GUARD AND OTHER GOVERNMENT SEAGOING SERVICES UNIDENTIFIED FLYING OBJECT SIGHTING REPORTS
Some Notes on Sources
Since UFO Evidence was published in 1964, few collections of US Navy UFO reports have been compiled. Notable exceptions on the Internet are:
Water UFO: (Carl Feindt) which covers not just US Navy UFO reports but reports from foreign navies, merchant marine, fishermen, and other vessels on oceans and bodies of water:
http://www.waterufo.net/

See also Carl's book: UFOs and Water

Blue Book UFO Report at Sea by Ships by Tony Rullan. This is a compilation of Navy and other reports from ships in the Atlantic and Pacific Oceans with discussions and analysis:
http://www.waterufo.net/bluebook/bbpdf.pdf
One other large source of Navy reports is contained within a Chronology of general UFO reports. See the National Investigations Committee on Aerial Phenomena (NICAP), The UFO Sighting Chronology:
http://www.nicap.org/chrono.htm
The current preliminary listing covers about 60% of the reports collected. They are from diverse sources: official documents, especially the US Air Force Project Blue Book files, media sources, various UFO books, and collections of reports from various UFO organizations:

Project Blue Book Archives
Official Project Blue Book and other government microfilms converted to PDF files:
http://www.bluebookarchive.org/
National Investigations Committee on Aerial Phenomena (NICAP)
J. Allen Hynek Center for UFO Studies (CUFOS)
Mutual UFO Network (MUFON)

and other UFO organizations. Authors' works cited include the following:
Bloecher, Ted
Bloecher, Report on the UFO Wave of 1947
Chester, Keith
Chester, Strange Company
Gross, Loren. UFOs: A History (cited by year of the booklets) later titled The Fifth Horsemen of the Apocalypse: UFOs: A History.
Greenwood, Barry and Larry Fawcett, Clear Intent
Haines, Richard, PhD
Haines I Advanced Aerial Devices Reported During the Korean War
Haines II Project Delta
Hall, Richard
Hall I Airships to Arnold
Hall II UFO Evidence, Volume 1
Hall III UFO Evidence, Volume 2
Hall IV Alien Invasion or Human Fantasy? The 1966-67 UFO Wave
Hynek, J. Allen, PhD
Hynek I The UFO Experience
Hynek II The Hynek UFO Report
Keyhoe, Donald E. Major, USMC, Retired
Keyhoe I The Flying Saucers Are Real
Keyhoe II Flying Saucers from Outer Space
Keyhoe III Flying Saucer Conspiracy
Keyhoe IV Flying Saucers Top Secret
Keyhoe V Aliens from Space
Ruppelt, Edward J.
Ruppelt, The Report on Unidentified Flying Objects
The other main source is the Internet reporting site National UFO Reporting Center (NUFORC)
Large collections of newspaper clippings from Barry Greenwood, Loren Gross, the late Robert Gribble, Katherine Brisendine, and Project 1947 were used in this compilation. The authors of UFOs and Government contributed materially to this compilation, especially Professor Michael Swords and Robert Powell.
Other collections consulted were The Keyhoe Archives, Dr. James E. McDonald's papers, Dr. Willy Smith papers, George Fawcett's papers at the Roswell Museum and several other sources.
Origin of Reports and the Quality of Sources
The biggest reservoir of official Navy reports is the Project Blue Book files. No complete listing of Navy reports within the Project Blue Book files has been made although Tony Rullan's paper probably contains the most comprehensive for ships in the Pacific and Atlantic Oceans.
World War II cases in the current list mostly come from personal accounts in various civilian publications and reports to UFO organizations. Few reports have official documents to back them up either as ship logs or official war diaries. However, four decades after Commander Hendershot's 1945 letter voicing concerns about unknown aerial intrusions over the Hanford Nuclear installation, we find official backing in 4th Air Force documents suggesting the Navy uses its Pasco Naval Air Station, Washington, to counter the unknown incursions.
The Navy reports of flying discs sightings during the 1947 UFO wave come mostly from the media. Some are from official documents in the Project Blue Book files. More report went to the press as opposed to those which went through intelligence channels.
After the Air Force established Project SIGN more reports started to go through channels to the Air Force, and sometimes were also reported in the press. Occasionally the accounts only appeared in the local press. A New Zealand woman wrote to Sgt. Harold Fulton who led a UFO organization in New Zealand, Civil Saucer Investigations, New Zealand, that her son-in-law, an officer in the US Navy stationed near San Diego had seen a UFO in 1952. Recently, the San Diego Union newspaper became available online and Barry Greenwood was able to recover the news report.
Interestingly there was a report mentioned in the CSI-LA newsletter number 2 about an incident at the Naval Air Station at San Diego:
http://www.project1947.com/shg/csi/csiv1-2.html#aero
A very well confirmed report from an aerographer of San Diego, California, North Island Navy Station, reports that he saw numerous objects through a theodolite while tracking a weather balloon. The spectacle continued for such a long time that he informed his chief officer. Also the latter saw the objects passing by in large numbers. Other witnesses present were an aerological officer, a group of USAF and Navy pilots, the control tower operator and the commander of the field.
So it appears that rumors of this account were kicking around for years. Although in the CSI-LA newsletter the context implies it happened in 1952. A letter in the Project Blue Book files indicates the date was December 1950.
Beside official records and media reports there is a vast area of personal reports and rumors, some which have fantastical elements as one would expect occasionally from men that go down to the sea in ships. However, we have tried to maintain a serious demeanor here and eliminate the journalistic hoaxes and tall tales while keeping an open mind. Some of these reports have explanations, but are still listed here because they have historical significance.
This is a work in progress with many more accounts to be added in the future. As always, Project 1947 welcomes the addition of new accounts, clarifications, comments, criticisms at:

— Jan L. Aldrich